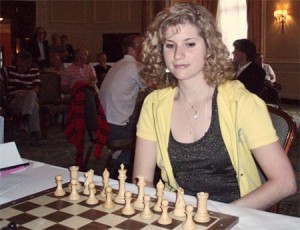 Jovanka Houska, who recently won the individual Silver medal for Board 1 in the Women's European Team Championship, is one of the most active English professional players on the circuit. She has long been a regular member of the English Women's Chess Team, for whom she has consistently performed successfully on a high board, and she has achieved many individual tournament successes in both women-only and open events.
She had her first big success in 2000, when she won Gold in the U20 women's competition of the European Junior Championship, which also gave her the final norm needed for her WGM title. In 2001, she won the Women's Commonwealth Championship, beating GM Barua along the way, at the Mind Sports Olympiad. She became an IM in 2005 and was voted ECF Player of the Year in 2006. She won the British and English Women's Champion title on 3 consecutive occasions from 2008-2010 and reached her career high Elo Rating of 2433 in the latter year, by which time she was firmly established as the British Women's Number 2, behind the far less active Harriet Hunt.
Jovanka has seen a slight decline in her Elo Rating over the last few years but excellent results at the 2015 Gibraltar International, where she was the highest placed female competitor against formidable opposition, and the aforementioned European Team Championships, will push her rating over the 2400 mark with the distinct possibility, given her present form, that she will equal or surpass her career high.