Book of the Year 2013 – click here
Book of the Year 2012

The choice for 2012 is one of the most original chess books the judges have seen for a number of years. Move First Think Later by Willy Hendriks (published by New in Chess, £18.99) manages to be both serious and highly entertaining at the same time.
The subtitle gives an indication of Hendriks subject matter –"Sense and Nonsense in Improving your Chess". The author is an IM and for 25 years a professional chess trainer. He graduated from university with a degree in Philosophy and is very well read in modern developments in neural research, learning theory and associated subjects. Hendriks believes these disciplines now have much to teach us about chess teaching and playing.
As a result he is interested in questions such as, for example, why are all chess players are not grandmasters? Is there a methodology for how strong moves can be found? Or, what is the role of planning? Above all Hendriks offers a substantive criticism of much of traditional chess training and literature, in particular statements such as "Against a wing attack, counter in the centre" which can be misleading generalisations. The judges are well aware that not all readers will readily accept that all his ideas are entirely valid, nor all his propositions sound, but considered that the arguments in the book will stimulate a lively debate on how chess is taught and played.
The book consists of 27 creative and thought provoking short essays on a wide variety of related chess subjects. Each chapter is illustrated by challenging chess exercise positions (certainly not of the routine White to play and win type) which serve to illuminate the text.
All the above describes the book, but does not give an adequate impression of its originality or especially of the stimulation which it provides the reader. Hendriks is also an entertaining writer with wit and a sense of humour, often against himself, which makes the book a pleasure to read.
All these qualities combine to make, Move First, Think Later a worthy Book of the Year 2012 winner.
- Ray Edwards, Julian Farrand, David Friedgood, 4th October 2012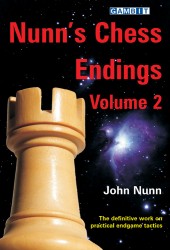 The judges unanimously decided that John Nunn's two volume work, Nunn's Chess Endings Volumes 1 and 2 (Gambit, £17.99 each) was a worthy winner …
Follow this link to visit the London Chess Centre and buy this award-winning book. See for yourself what all the fuss is about … and if you do, the ECF receives a small commission to help further the cause of English chess!
The question may be asked whether another lengthy work on the endgame is required (670 pages in all). In fact the author asks this question himself. Nunn's answer is that he is approaching endgames from a different angle than normal manuals. First of all he is focusing on endgames requiring precise analysis, rather than the strategic endgames of players such as Karpov and Smyslov. He concentrates exclusively on end games from practical play; in other words the real life situations that so often cause difficulties for the player over the board. As always with Nunn his exemplary use of the computer ensures that the analysis is faultless.
This is not inconsiderable, but of itself not sufficient to win the award. Where the book excels is the combination of analysis with excellent and clear narrative which enables the reader to understand the lessons from the well chosen examples. Here Nunn's experience as a world class player and his established writing skills come into play. He is careful to illuminate the difference between computer analysis and the human approach over the board. As a result the instructional value is considerable.  To take but one example only, Nunn gives interesting game positions where the maxim "the outside pawn always wins king and pawn endings", would appear applicable. He then demonstrates the circumstances in which it may not apply.
Another major feature is the correction of previous published analysis. This shows what a difficult and complex game chess is and how even strong grandmasters can reach incorrect conclusions both over the board and in published analysis. Nunn has undertaken a considerable amount of work in writing these two volumes. The result is not just an excellent text book, but one which expands our knowledge of chess endgames.
We should point out that a basic knowledge of end game theory is necessary to get the best out of these two volumes. Lastly, though the books may appear somewhat daunting, there is much pleasure to be had in working through fascinating positions (some of which match endgame studies with their aesthetic appeal) with John Nunn as your erudite guide.
- R B Edwards, J Farrand, D Friedgood — 3rd October 2011
The judges this year were faced with a particularly difficult choice as all the four books listed had considerable, but differing merits. The choice finally fell on a two volume work which had taken the author no less than eight years to write.
The book is 'Attacking Chess Volumes 1 and 2′ by Jacob Aagaard, published by Quality Chess at £23.99 each.  These constitute a substantial work totalling 720 pages in all, excellently laid out and printed. The volumes are written in a lively manner, which keeps the reader entertained as well as interested.
The genesis of the book is found in the introduction to Volume 1. Aagaard felt that the role of intuition had been undervalued in chess writing. Good players not only calculate but also have a feeling for what might be possible in a given position, which can be described as intuition. Aagaard also felt that there was a shortage of good books on attacking play – by which he means attacking the King. There are many excellent titles on combinations, but Aagaard is looking for the conditions when an attack may be possible (King in the middle is an obvious example) and how that attack may be prepared and prosecuted. In other words Aagaard is trying to develop the reader's attacking intuition.
Volume 2 is, in the words of the author, "what to do when the attack is up and running".
Whilst doing this, Aagaard introduces new concepts and ideas into the text. To help in this process he gives preview diagrams of the positions to be discussed, which the reader is invited to consider before reading on, a valuable learning tool.
The author has obtained the games and positions for both volumes from a wide range of contemporary sources, many of which were new to the judges. It is also clear that throughout Aagaard has provided fresh commentary and analysis. The reader can simply enjoy the many fascinating positions or study in depth, but either way there are many hours of pleasure to be found in these two books.
Aagaard has written a significant and original treatise on the fine art of attacking play and is a worthy winner of the Book of the Year 2010.
- R B Edwards  J Farrand  D Friedgood – 27th September 2010
Book of the Year 2009

Excellent though the other books on the shortlist were, the judges had no difficulty in selecting the winner this year …
Kasparov vs Karpov 1975-85
Garry Kasparov
(Everyman) pp424 £30
This volume is the second in the series Kasparov is writing on the development of chess since the 1970s. The first, Revolution in the 70s (Everyman) concentrated on developments in opening theory during that time. The second and third volumes will concentrate on Kasparov's 5(!) epic matches with Karpov for the world title. The volume under consideration covers the first two, the first of which involved no fewer than 48 games and was unfinished, the second a mere 24,which finally established Kasparov as world champion.
Kasparov has written earlier in the 1980s about some of these matches. But here, he writes in the preface "I now see many situations more deeply, through the prism of my life experience…….My commentaries have become more frank, and far more accurate. But the evaluation of individual moves will take into account the psychology of the struggle!" All this is reflected in the book, plus lengthy descriptions of the background to the matches and in particular Kasparov's views of the controversial first match termination.
The book can be read on several levels – as a dramatic story, or as providing insights into opening theory, or as great games enhanced by deep analytical annotations. Kasparov succeeds triumphantly in illuminating every aspect of this historic struggle. He is establishing as formidable a reputation as an author, as he did as a player.
Finally, Everyman have produced the book to the same high standards they have used throughout the series
- R B Edwards, J Farrand, D Friedgood – 9th October 2009
Short List -
Blindfold Chess | Eliot Hearst and John Knott (McFarland) pp437 £49.95
Kasparov vs Karpov 1975-85 | Garry Kasparov (Everyman) pp424 £30
The Berlin Wall | John Cox (Quality Chess) pp322 £16.99
Winning Chess Middle Games | Ivan Sokolov (New in Chess) pp286 £21.99
The judges this year had no difficulty choosing a book which gives a remarkable inside view of match play chess at the highest level …

From London to Elista
Evgeny Bareev and Ilya Levitov
New in Chess pp398 £21.95
This volume, which is in three parts, covers in sequence the three world title matches Kramnik has played. The first part "Overthrow of a Colossus" was his defeat of Kasparov in London 2000; the second "Photo finish in Brissago" was the 2004 drawn match against Leko where Kramnik held onto his title by winning the last game. Lastly, "Big Brother in Elista" refers to the controversy- ridden match with Topalov in 2006 which Kramnik won on the tie break.
Grandmaster Bareev was one of Kramnik's seconds for the first two matches and a closely involved spectator in the match with Topalov. Levitov is a journalist and an enthusiastic amateur chess player.
There are also contributions from Smyslov, and two of Kramnik's other seconds Lautier and Svidler. The basis of the book is a dialogue between Levitov and Bareev. Levitov, a spectator and outsider to the professional chess world, seeks to understand the complex inner workings of world championship chess matches. Bareev as the professional insider explains what is going on. Bareev also annotates all the games in depth concentrating on the critical moments of play in the openings and the interface between the contestants.
Well written and translated the quality of the book resides in the open and frank way Bareev answers the questions. Amongst the many subjects discussed (and we can only list a few here) are stress, opening preparation, team working, relations with Kramnik, the opponents, fatigue and exhaustion of players and seconds. But above all the narrative captures very well the psychological issues behind the drama of the matches. When will Kasparov's fight back take place? How to keep an ailing Kramnik going when behind in his match with Leko? And last but not least can Kramnik keep his composure after being defaulted a game against Topalov?
London to Elista gives a unique insight into world championship chess. Without doubt this is one of the most original and interesting books to have won the Book of the Year award
- Ray Edwards | Julian Farrand | David Friedgood 1st October 2008
Short List -
From London to Elista | Bareev and Levitov, New in Chess £21.95
222 Opening Traps | Muller and Knaak, Edition Olms, £14.99
Secret Notes | Bronstein and Voronkov, Edition Olms, £19.99
True Lies in Chess | Comas Quality Chess, £14.99
Previous BOTY winners -
2002 Fundamental Chess Endings by Karsten Muller and Frank Lamprecht Gambit £19.99
2003 My Great Predecessors Part 1 Garry Kasparov Everyman £25.00
2004 Pal Benko My Life, Games and Compositions GM Pal Benko and IM Jeremy Silman Siles Press £31.50
2005 My Great Predecessors Part 4 Garry Kasparov Everyman £25.00
2006 Van Perlo's Endgame Tactics New in Chess £18.95
2007 San Luis 2005 Alik Gershon and Igor Nor Quality Chess £19.99