Rounds 10 & 11
The last two round days were the best in terms of weather at Santiago. There was even a time during these days that people sweated in the tents that are provided for parents – the last day in particular was nice and warm. The photographers were training their cameras at top boards on the last day, but there were no England players on the top boards, unfortunately. However the England juniors have been improving fast, based on last few years results. If there is good supporting environment for kids, we may soon find some promising players and results. What do you think?
Some parents were seen busy basking in the sun of the last couple of days, and some were seen checking the airport transfer times as published. It was difficult to conclude whether the parents and coaches were more relieved because the tournament was coming to an end or that the weather was turning better. Overall the trip was a mix of bad weather and good chess. The parents and coaches had a good time and the players enjoyed their games. A normal free day would have been lot better, but who can control the weather?
In terms of results I am summarising both individual performance and overall team performance in the graph and the table below —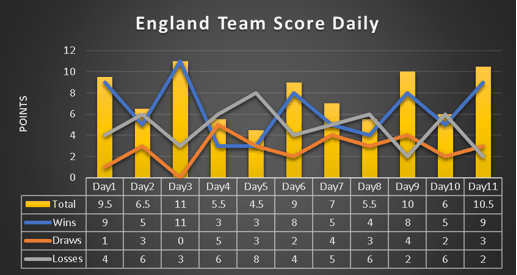 | | | | | | | | | | | | | | |
| --- | --- | --- | --- | --- | --- | --- | --- | --- | --- | --- | --- | --- | --- |
| Players | Section | R1 | R2 | R3 | R4 | R5 | R6 | R7 | R8 | R9 | R10 | R11 | Total |
| Keerthana Easwar | U10 Girls | 0.5 | 1 | 0 | 0 | 1 | 1 | 1 | 0 | 1 | 0 | 1 | 6.5 |
| Roxolana Chaban | U10 Girls | 1 | 0 | 1 | 0 | 1 | 1 | 0 | 0 | 0.5 | 0.5 | 1 | 6 |
| George Clarkson | U10 Open | 1 | 1 | 1 | 0.5 | 0 | 0 | 0.5 | 0 | 0 | 1 | 1 | 6 |
| Nishchal Thatte | U10 Open | 1 | 0 | 1 | 0.5 | 0.5 | 0.5 | 0.5 | 0.5 | 0.5 | 0.5 | 0.5 | 6 |
| Shreyas Royal | U10 Open | 0 | 1 | 1 | 1 | 0 | 1 | 0.5 | 0.5 | 1 | 0 | 1 | 7 |
| Anum Sheikh | U12 Girls | 1 | 0.5 | 0 | 0.5 | 0 | 1 | 0 | 0 | 1 | 0 | 1 | 5 |
| Jessica Mellor | U12 Girls | 1 | 0 | 1 | 0 | 0 | 1 | 1 | 1 | 1 | 0 | 0 | 6 |
| Abigail Weersing | U12 Girls | 1 | 0 | 1 | 0 | 0.5 | 1 | 0 | 0 | 1 | 1 | 0.5 | 6 |
| Niamh Bridgeman | U12 Girls | 0 | 0 | 1 | 1 | 0 | 0 | 0.5 | 0.5 | 1 | 1 | 0.5 | 5.5 |
| Julia Volovich | U12 Girls | 1 | 1 | 1 | 0.5 | 0.5 | 0.5 | 1 | 1 | 0 | 0 | 0 | 6.5 |
| Jacob Yoon | U12 Open | 1 | 1 | 0 | 0 | 1 | 1 | 0 | 1 | 0.5 | 1 | 0.5 | 7 |
| James Merriman | U12 Open | 0 | 0.5 | 1 | 1 | 0 | 0 | 1 | 0 | 0.5 | 1 | 1 | 6 |
| Giulio Sahinoz | U12 Open | 1 | 0 | 1 | 0 | 0 | 1 | 1 | 0 | 1 | 0 | 1 | 6 |
| Adam Hussain | U12 Open | 0 | 0.5 | 1 | 0.5 | 0 | 0 | 0 | 1 | 1 | 0 | 1 | 5 |
That is all from Santiago – we shall see you soon in England. I wish all the players, parents and coaches of England and rest of the delegations a safe journey and good times. Good bye and good luck from me … Nasarullah, HOD WCCC2018, Santiago, Spain
---
Round 9
The rain is now just a distant memory and everyone is enjoying the sunshine and warmer temperatures. The dreaded tent, where organisers expected the guardians of 850 players to wait in hurricane weather conditions, has now become a pleasant place to hang out. The team are making good use of the clothing stand, with most of our children wearing their World Cadets team hoodies when relaxing around the hotel. Fluorescent orange seems to be the colour of choice so far. Parents are finding creative ways to pass the time – one group of parents were participating in a crossword challenge (not University Challenge standards but still difficult none the less!) Fortunately the WiFi connection is working well at the venue so that any unknown answers could be Googled. It just shows that us parents don't quite have the stamina and determination to succeed like our England players! Today was also the day to thank the Head of Delegation for the fantastic job he has been doing to make sure everything continues to run smoothly for the team. That included a lot of administration with the organisers immediately after landing in Santiago airport. The HoD stayed behind at the airport well into the early hours of the morning, organising players' passes while the rest of the team were tucked up in bed. The HoD has also been the first person in and last person out of the playing hall, staying until every one of the England Team's players have finished their games, making sure that the children are met by their guardians and that they all get back to the buses safely. We showed our appreciation by presenting the Head of Delegation with a Santiago de Compostela cup displaying a picture of an umbrella and rain clouds and a souvenir jumper. So look out for him at chess tournaments wearing his jumper with pride!
Back to the chess news for WCCC2018. The England team scored an impressive 10/14 in Round 9.
Highlights
U10 Girls – Keerthana won a nice game in about 3 hours time. She was all smiles and enjoyed her win to reach 5/9.
Roxolana looked a little disappointed with a draw and wanted to bring the whole point home. Still a couple of rounds left – better luck next time.
U10 Open – George met a powerful Kingside attack with some good defence then found another good defence idea to make his position even better. Sadly a slight flaw was found in the idea and George could not recover from the attack – he's looking to bounce back tomorrow. Shreyas played very well for most parts of the game until he made a blunder. Having said that, he still managed to hold onto the game and win. Amazing fight back!
U12 Girls – Niamh's home preparation enabled a favourable middle game and she was able to build a strong attack from this. She then huffed and puffed at her opponents King and blew his house down!
Anum's game was an incredible feat of hard work and memory. The game was 100% preparation on her part and an amazing attacking masterpiece win for a very mature performance. The preparation ran deep into 18th move when the game was actually over for the opponent.
Jess won after getting her preparation reaching a pawn up ending where white has compensation. Jess played very accurately and the game only ever looked like there would be one result.
Abbey played a very aggressive opening today, going for the kill from move 1. Her tactical prowess was far too much for her opponent to deal with – it was a fantastic game!
Julia was playing the leader on board one today, there was a certain buzz about it. The arbiter came over to congratulate me when he saw the English flag on board one. Congratulations, Julia, we are proud of you, no matter what the results are. When the clocks were pressed Julia started well and the game looked balanced till the 15th move, when probably she overlooked a move to create an annoying passed pawn. After further moves the game worsened and ultimately ended in a loss. This was the first loss in the tournament for Julia, so far. Two more rounds and lot to play for, we are looking forward to some brilliant chess again.
U12 Open – Giulio played a smooth opening and gradually increased his advantage before building up so much pressure that his opponent had nothing left, giving Giulio the nice win.
Jacob's opening didn't go as planned and it slowly developed into a massive attack for his opponent. However, the player missed a six move checkmate and Jacob was able to obtain a draw by perpetual check.
Nishchal played another marathon game today, another draw. He has now drawn six games in a row! So near to bring the other half point too. Keep working Nischal, you will get it soon.
James had the longest game today of the England team – he kept fighting till the 4th hour. The game ended equal in the end.
Adam played a steady game today, and his opponent at one point missed tactics which Adam took advantage of to bring the whole point home.
Tomorrow is going to be the last day to have a round start at 16:00 local time. The day after, the rounds start at 14:00 local time. The players need a final push to play with same energy and focus if not more. The parents and coaches are doing their best to make sure the final rounds go as smoothly as possible. We will bring you more chess and news for the last two rounds soon …
---
Round 8

What a welcome break to be able to enjoy a leisurely walk to breakfast this morning – a pleasant change to the usual dressing-up in ponchos just to brave the 10 metre dash to the dining room in the main hotel building. Due to this change in the weather, some of the parents made the most of the blue skies and headed into the historic town. Having the rest day cancelled because of the severe weather warning meant there is a danger of many of us never seeing anything of Santiago (other than the hotel and venue). Your reporter today managed to get his kid away from a chess board for 3 hours and took him reluctantly to see the cathedral. Certainly not a highlight of his trip, but it was a welcome break. The tennis court is also getting some good use now, with the girls playing together to enjoy some fresh air and exercise.
James is managing to combine his talent for both football and chess by taking on the Canadian delegation in the morning football game. Quite a few of us are also having a break from the hotel food. I'd like to say that the local Spanish cuisine is on the menu, but the children are opting for the more popular pizza option.
Back to the black and white jungle, where the kids are playing at highest level they can. The England team scored 5.5/14, but the score you are reading here, dear reader, does not tell you the level of fight, the depth of emotions and the amount of energy these kids spend on the board. It needs to be seen here on the battlefield, first hand, to be able to comprehend.
Highlights
U10 Girls – Keerthana had a great opening but missed a critical pawn break and unfortunately got her Queen trapped. She is sure to make a successful come back in the next round.
Roxolana tried hard to play against the slow 1.c4 and got a good game. Somewhere in the middle she lost control of the position and the result was not in her favour. Another game, another day and you can come back.
U10 Open – Shreyas battled on from a losing position and wore his opponent down to force the draw. His opponent fell into time trouble and although still in a winning position, couldn't act on the advantage. Well done Shreyas for keeping up the fight.
George was clearly better from opening but then he rushed his advantage and allowed a Sniper Bishop counter attack! It proved to be deciding factor in the game. George – still three more rounds to go, so keep trying.
U12 Girls – Abbey had a tough game, which went both ways from time to time. The pendulum swung many times, but Abbey was the one who ended up making the last mistake. Another day, Abbey, you can make a new start and I wouldn't like to be your opponent in the next round! Abbey will be determined to get the win.
Jess had her best result ever – she sent a clear message to the U12 European Champion and Russian Number 3 that she means business. Jess played better the whole game and has only just turned 11 – great job, Jess!
Julia was psychologically prepared for her opponent's highly aggressive instincts and she indeed managed to engineer a reasonably scary piece sacrifice. However, Julia defended well and an error for the opponent clarified Black's advantage, after which Julia mopped up very efficiently to move to an excellent 6.5/8.
Niamh started well, and could actually see an early advantage. However, after some moves the advantage disappeared due to some natural, but maybe not precise enough, moves. After that she fought like a tiger to secure a nice draw!
Anum has not been able to play as well so far as she might have liked. Today she was on Black side of a Sicilian and found herself against a well-prepared opponent. The game went into a sharp English attack and both players found themselves in a position where the kings were castled on opposite sides. There was a time scramble to complete the first 40 moves. In the time trouble Anum was the first one to go wrong and it was decisive.
U12 Open – Adam got a great position out of the opening, but the game soon slipped to an equal position. Adam wasn't going to let it finish there, however. He then played very well to win – well done Adam!
Jacob played an opening that his opponent just wasn't prepared for. The Spanish player made a blunder early on and was completely lost after 10 minutes. He continued to play an unknown position and Jacob didn't give him a chance for a comeback. Jacob's quickest game of the tournament, finishing in just 90 minutes.
Nishchal had the better of a complicated game, but missed the chance to break through a few moves from the end. White was then able to block the break with his queen, which curiously could never be dislodged, and a rather frustrating fifth draw in a row became inevitable.
James was better after the opening, but chose a plan which lost him control above the important d4 central square. He later lost material and the game too, but James is not one take this lying down and will be focused on the win in the next round.
Giulio missed his chance for a lethal middlegame attack and his opponent capitalised with his own lethal attack. After a good night's sleep we will surely see a refreshed Giulio back on the table, ready to go for it.
Just three more rounds to go – come on England, let's have a strong finish!
---
Round 7
First thing we need to talk about in Santiago is the weather. Today the weather improved – it only rained for part of the day (a relief in itself)! While you are enjoying your weekend, dear readers, there is no such thing here. Chess rounds are held and played every day, even through the weekend. Players will have some respite only at end of this week – till that time we have to go through these 4-5 hour battles.
Santiago de Compostela is a UNESCO World Heritage City, but our hotel is perched on a hillside outside of town, and the funky modern venue is perched on another hillside, also outside town, with buses shuttling us between the two. So for the dedicated England kids and parents, all of the historic city centre remains unseen. Your reporter today, though, exploited the break in the weather and found a beautiful stone city, full of hikers with backpacks, waterproofs, staffs and scallop shells undertaking a watery pilgrimage along the Camino.
Back to the chess, pilgrims! After yesterday's strong showing, the pairings were tough. We scored 7/14, not bad. Today was the shortest day for England team in the playing hall. All rounds were wrapped up in roughly 4 hours. Are we tired – coaches, please check the players out …
In the U12 boys, we had 2 wins and 2 losses. James won quickly to cheer his grandfather Peter, who is taking over parental duties from John. Giulio continued his strong bounce back with his second win on the trot. Sadly, though, Jacob and Adam lost tough encounters.
In the U10 boys, Shreyas drew a long game against a Ukrainian who leads the event in FIDE points gained. Today also a dreaded England – England pairing occurred in the U10s. Nishchal and George fought to a gentlemanly draw after flexing their French theory, and the game balanced overall.
Yesterday the girls scored 6.5/7, so today was going to be a lot harder. However, Keerthana in the U10 girls continues strongly with another win, this time from a nice kingside attack. Tomorrow she faces her strongest opponent yet as she closes in on the live boards. Roxolana sadly lost to a higher-rated opponent.
In the U12 girls, Julia continues her fine form – undefeated in the tournament so far – winning this time against a higher-rated Women Candidate Master (WCM) and she is third equal overall now, facing another WCM tomorrow. Jessica also won again in a complex rook endgame, exhibiting very good technique. Abbey and Anum, however, unfortunately lost this round. Niamh had a very long game which ended in a draw.
We also had a very special guest visit today. Andrew Horton, who becomes an IM on Monday, and who played in U14 and U16 Worlds not so many years ago, is on a gap year in Spain from Durham University. He dropped in to the parents area and took on our coaches at blitz today! I'm confident we've got the talent participating in this event to bring on the next generation of titled players like Andrew!
We are now moving to the business end of the tournament – a final push and we can get good scores. Players, please keep going. We are almost there, and you can see the finishing line now …
---
Round 6
10th November was relatively pleasant while coming to the venue. There was no rain (at least when we arrived at the hall). In the evening however, the rain gods again got busy. We almost felt like we had a shower while we walked from hall to the buses outside, while going back. During this time in Spain, when it rains it pours …
In general the parents have fallen into a mundane routine by now, rain or no rain. Coming to the venue, waiting for hours together outside and tuning into the Whatsapp group has become a kind of schedule. It seems within no time at all we are half way through, even with such a bad weather. The routine has made time fly. The England delegation is enjoying the time here – the group is wonderful, irrespective of some issues here and there.
Coming to the results, a much stronger round today with the team scoring 9/14 to bounce back well after a tough round five. This is my modest table —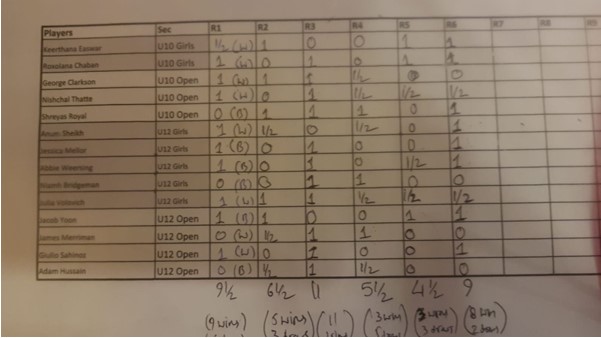 Highlights
Julia, U12 girls, maintained her unbeaten run with a great draw against the top seed from France on the live boards, and moved to 4.5/6, remaining amongst the leaders. It was a very long game, longest for any English player so far … and for the second day running both U10 girls won their games.
Keerthana played a strong attack, sacrificing a rook and bishop to achieve checkmate. Roxolana beat a French opponent with black and is well positioned on 4/6.
U12 Girls
Abbey played strong game, maybe the best for her in the event to achieve a nice win. Jessica launched a fine kingside attack to achieve an excellent victory. Niamh was unlucky to lose a difficult game and is ready to bounce back after a tough set of games. Anum played well with black to beat a determined opponent from Spain. It was a quick win.
U12 Open
Jacob showed great inventiveness in the opening to reach a strong position, from where he moved on to win and should be back on live boards in round 7 with 4/6. James played aggressively in the opening to fall into a well-known opening trap, which has caught out many good players – hewas not able to recover against a higher-rated opponent. Adam played a strong game before a small misjudgement in the middlegame cost him the initiative, and he went to lose to a higher-rated Spanish opponent. Giulio won a quick, confident game against an opponent from Thailand .
U10 Boys
Shreyas got back in his winning groove to beat a talented candidate master from Mongolia. George played a very long, exciting game where he was narrowly beaten in the closing stages by a strong American opponent. Nishchal maintained a very solid run to draw with a German candidate master. It looked scary in the end, but the draw was the correct result.
The team is looking forward to carrying the momentum into round 7. Everything is possible, even 14/14 maybe (who knows)?
---
Round 5
Friday the 9th of November saw another orange weather alert at Santiago. WCCC2018 will be remembered by the weather, along with the good chess our players are playing in the hall. We could hear the hiss of the wind all day long in the venue. Most of the players were drenched with rain while coming to the venue and had to dry themselves up before they could start the game. The round started at normal time though, and this time the organisers did not suspend play. It was largely a tough day for the England team who scored 4.5/14.
One feature of the event so far has been the large number of long games for the English in the Girls U12 event, where most of the girls have been regularly going into the last hour of play while the majority of competitors have finished. Great credit is due to Abigail, Anum, Jessica, Julia and Niamh for battling so hard, and to their parents for braving the waiting areas in gale force winds with limited refreshments!
Highlights
Julia's excellent run continued as she secured a strong draw with black. The match became very complicated in the middlegame, and Julia successfully navigated the complications, which at one point looked challenging, to draw with the 7th seed from Albania. Julia remains amongst the leaders on 4/5
A great day in the U10 Girls – Roxolana and Keerthana bounced back from round four defeats to beat players from Canada and Italy respectively. Keerthana played a fantastic game, her best game so far of the tournament. I heard one of the coaches say that it was almost a perfect game with only a very minor mistake, and they would have been proud to play a game like that! What a compliment and what a time to play such a game!
George (U10 Open) played an incredibly complicated game against the number one Russian player. The early middlegame featured some tremendous complications where there were chances for both sides. The complications resolved in his opponents favour, but George again showed great ingenuity on the live boards, keeping spectators interested. We are looking forward to the next round, George …
U12 Girls
Abigail showed fantastic resilience to draw another very long game after five hours – her fifth game beyond four hours, and she was the last England player to finish. Jessica fought very hard in a complex position but was narrowly beaten in a tight ending. Anum, against a strong Chinese player, worked hard to obtain a position where an advantage seemed likely, but she made a small miscalculation, which gave her opponent a decisive advantage. This was so far her shortest game, and hopefully the things will improve after a good night's sleep. Niamh had a back-and-forth battle, where the advantage changed hands several times, and unfortunately her opponent eventually took final advantage – Niamh lost after five hours. In the endgame, even the England spectators were trying to find a draw, but it seemed to be a difficult position to hold.
U12 Open
Jacob launched a strong attack in the middle game, which gave him a strong material advantage, which he converted into a positive win. This was a welcome relief on a tough day. Keep it up, Jacob! James made a positional mistake in the opening and chose to enter complications instead of accepting a long term disadvantage. The complications did not work out and he lost to a higher-rated opponent in the middlegame. Giulio lost a complicated game against an underrated player from China with white. He had a promising position in the middlegame, but a lapse in concentration meant he suddenly lost the advantage. Unlucky I would say – the next day will be better. Adam lost a difficult game against a higher-rated Spanish opponent with black.
U10 Boys
Shreyas got into trouble in the early middlegame, but fought valiantly to stay in the game. A number of exchanges were made in the middlegame, and at one point it looked like there may be an opportunity for perpetual check. Unfortunately, the checks ran out and Shreyas lost to a late tactical exchange. Nishchal continued a solid run in the tournament, achieving another draw with a strong player from Poland. Nischal enjoyed the middlegame, with two nice Bishops, and was calling the shots for most of the game. In the end, an opposing passed pawn made things equal.
That is all from Santiago for now – hopefully we will bring more chess and better weather …
---
Round 4
It was back to rain in Spain on 5th day, Thursday. The Rain God is busy here in Santiago – the weather is one of the most talked about things after may be e4 or d4 or c4 or Nf3. The England team was put to a severe test here at the WCCC – most of the players were playing stronger opposition. Overall it was not such a bad score, and fights over the board did not reflect the final score. Most of the players spent a lot of energy on their matches – a scene I will never forget, so hats off to all the players, one can only admire their commitment and will.
England 5.5/14. The team still achieved some fantastic individual performances, with the majority of the team still playing after four hours.
Highlights include — Julia U12 Open
On 3/3, Julia continued her excellent run to hold a difficult draw with black against a strong Russian opponent. The game lasted over five hours, and Julia showed great determination to defend a position where her opponent was creating many tactical threats. Julia remains amongst the leaders in her section on 3.5/4 and takes great confidence in remaining unbeaten

George U10 Open – on 3/3 and facing a very strong opponent some 500 points higher-rated, this was always going to be tough game! Coach, parent and player decided playing for a draw was a very wise approach and preparation went very well as the gane was played out live on Chess24.com. George faced some early problems but handled them very well to achieve equality before securing a small edge as the middlegame surfaced. A timely draw offer, with an equal position, saw his opponent happy with the draw and leaving George with a great half-point with Black. More live board action to come tomorrow!

James U12 Open – facing an opponent rated 2100 from Spain, James produced a strong attacking performance with Black, seizing the initiative from the outset, which he gradually translated into victory after four and half hours. This was an excellent win.
Shreyas U10 Open – after a difficult opening, Shreyas recovered fantastically to outplay his opponent in a very instructive endgame. Shreyas moves on to 3/4 and has great momentum, getting closer to the leaders after a loss in round one. Watch out leaders – Shreyas is coming …
U12 Girls

Anum – her preparation saw her apply direct pressure with Black, not an easy feat at this level. Her middlegame saw her secure a Bishop Pair, but she swapped this advantage a bit too early. Even that was a comfortable plus in the end. It was all going fine, but in the 5th hour of the game there was a endgame blunder which allowed her opponent to draw. She was the last warrior on the battlefield yesterday from England.

Niamh – her preparation secured a small advantage, which translated to a very secure Super Knight. Could she then improve her remaining pieces? Yes, excellent technique ensured she brought home another full point for England. After a tough start she has bounced back with 2/2. Can she make it 3?

Abigail showed remarkable strength and resilience to play her fourth game lasting longer than four hours. She made brave decision to look for win when a draw was possible. Unfortunately the plan did not work out and she was narrowly beaten. It is so impressive to see the kids work hard on the board for more than 4 hours. Abbey – way to go!

Jessica faced a tough game against a WFM from America, and she was narrowly beaten in some middle game combinations which became favourable for her opponent.Another great effort from Jessica on the live boards

U12 Boys

Adam had a good game drawing against a higher-rated Spanish opponent with white. Jacob was unfortunate to lose a tight tactical game against a strong Canadian player, making an unexpected error in a complex position. Giulio's preparation went okay and Giulio then chose a slightly different path, which resulted in a cramped situation for his own pieces. His opponent turned the screw and found a very ingenious Bishop sacrifice which lead to a devastating attack, which meant more ways to keep Giulio's pieces bottled up, and even Houdini himself could not have escaped. Suddenly Giulio did what Houdini could not and got back to full equality – but sadly the efforts took its toll and the opponent found another way and bagged the win.
U10 Boys

Nischal battled for long time against a strong Indian player with the black pieces and emerged with a positive draw.
U10 Girls
Roxolana faced a higher-rated Spanish opponent and lost a close game with the black pieces. She is now on 2/2 and remains very positive moving into round 5. Keerthana played a very under-rated opponent from China and lost a complex game after a hard battle.
Kudos to all the players for trying hard – you are doing the right thing, so keep going!
---
Round 3 (continued)
The prayers of all the players were answered on day 4 – it was a beautiful day, with the sun shining till late afternoon, a welcome relief from the doom and gloom of the day before. I think the parents and organisers were both relieved as this round started. There were many questions in the air about the suspended round, and there was a meeting between the organisers and delegates to answer those questions. It was decided to cancel the free day and change the round timings to 16:00. Also there was a problem for accompanying people as the tent provided is cold in evening, so a warm building has been provided now.
Back to the white and black squares — round 3 commenced at the normal time on Tuesday. The early rest day on Monday certainly helped the England team, who scored a magnificent 11/14 points. Lots of good things happened across the team. Going into the second round, Julia Volovich, George Clarkson and Jacob Yoon were all jointly leading their respective sections.
Julia – Girls U12 – turned what looked like a quiet opening into a tactical battle. She won very impressively with pieces marauding over the board in an unconventional formation, which gradually overran her higher-rated opponent. A very strong effort for Julia, who has looked comfortable in all her games. Julia moves to 3/3 and will again be on the live boards today
George – U10 Open – was a little nervous before his match, but overcame his nerves to secure a nice position from the opening – his middlegame resulted in the most dynamic, chaotic opening in the tournament to date. After securing a won position, George's opponent (rated hundreds of point higher than him) found incredible resources to swing the game back, only for George to once again take control with a lovely Queen sacrifice and a won position, determined to give his father and coach a heart attack – he proceeded to hand over his winning position to his seeded opponent until once again, somehow, attaining a drawn position. His opponent declined George's draw offer, but this time George took complete control and brought home the full point, to leave his father and coach Charlie 'Sniper' Storey amazed at the rollercoaster that was witnessed on the live boards at Chess24.com. George is now on 100% despite being a massive underdog in the seedings – a truly remarkable start to this World tournament and more live board action tomorrow! Game of the Tournament so far!
Jacob was on top board in in the open U12 – a real achievement. He played a good game against a highly-rated Indian IM who has some notable victories to his name. The opening was broadly level, but his opponent developed a nagging edge which then became a decisive central advantage. Jacob can take a lot from the loss and looks well placed in round 4.
Girls U12
Anum Sheikh lost a tough, well-played game. Her opponent headed for an unfamiliar position with a new system which lead to a balanced situation where Anum had more experience in the middlegame. The pressure from the middlegame resulted in a complicated endgame, which her opponent played without error. Anum missed some better plans – I am sure she will learn from this game.
Niamh Bridgeman's preparation was sidestepped, but good understanding of the opening principles ensured her middlegame had excellent attacking chances, and she delivered a brutal attack to set her tournament on fire! A great win for Niamh
Abigail and Jessica were the last two to finish on the day – Abigail beat a talented WCM from America to progress to 2/3. Jessica bounced back well to win a long game against a player from Azerbaijan
Boys U12
Giulio Sahinoz' preparation was sidestepped by his opponent, but this meant his opponent was in slightly unfamiliar territory. Giulio used his positional skill in his middlegame to transform into a very good endgame, which he converted very well.
James Merriman played a nice combination to win and move on to 1.5/3
Adam Hussain played a strong game to overwhelm his opponent, and he also moves to 1.5/3
Girls U10
Roxolana beat the Austrian Girls Champion to move on to 2/3, bouncing back back well from tough round 2
Keerthana was narrowly beaten by a talented player from Bulgaria and remains well positioned on 1.5/3
Boys U10
Shreyas and Nishchal won their games relatively quickly against lower-rated opponents, and both move to a promising 2/3
Come on England team – 14/14 is the next target!
---
Round 3
Day three was all gloomy and rainy. A call at 14:00 hours told us the third round, on November 6, of the World Cadets Chess Championship has been suspended by Civil Protection due to the orange alert raised today in Santiago de Compostela. 86 federations, 827 players and more than 2000 accompanying people were probably surprised about it – the rain did not look so bad – but the weather man was worried about the strong winds. Word has it that some local schools were asked to send students back home as well.
The England delegation arranged some simuls with coaches later in the day. Adam Taylor and Peter Wells were seen struggling in some games, but overall the kids had some good chess lessons on the board. It is time to recharge our batteries, even though a little earlier than expected. There will always be time to recover this day by either a double-rounder or skipping the scheduled free day
We shall see …
---
Round 2
Day two was a much better day due to various reasons, and the sun shone on beautiful Santiago city after a long downpour that lasted the whole night. It appeared to lift the mood of one and all – even the modern buildings at venue seemed to come to life.
The participants, organisers, parents and other associated staff were seen to be lot calmer today, as the first day is always full of nerves for everyone.
There was a team meeting held to organise the stay at venue for parents and the transfers – I think we are now much clearer and settled on this.
The players in the hall also settled calmly at 16:30 local time. The parents were allowed in only on the 2nd day. All the sections are playing in a big hall. There is a gallery next to the main hall which can be accessed via some stairs, and the officials and delegates are allowed to look at the players from there. Outside the hall, there is always a crowd of parents, either watching through the glass walls or waiting and praying for their kids. At the gate we can see security allowing only players to go out when there is a parent or known person there to accompany them.
The players shook hands at official starting time, and after that it looked like just another chess tournament. However, the kids are playing at the highest level for their respective age groups. There are some big talents in the hall – the future of chess for I don't know how many generations. While I was looking at the players making their first moves, I wondered – could there be some future world champion sitting right in this hall? What do you think?
Our team scored 6.5/14 in a solid second round. There were some surprises while playing lower-rated players, and some players mentioned about opponents changing their openings to nullify the preparation. These are the things we have to deal at the highest level. We cannot take the ratings as the sole factor of strength of a player, and we have to be prepared for all major lines.
Summarising the performances by group —
U12 Girls – This group had slightly tougher day today after strong first round. The girls were seen fighting hard on the boards, it was a sight to be seen – hats off to all our players!
Julia played a very smooth game, taking some clear opportunities that her opponent gave her in the opening, and converting them into an excellent to move to 2/2.
Anum fought well to hold a draw with black against a well-prepared opponent, to remain unbeaten on 1.5/2. At the end the position looked in our favour, but after 4+ hours the players were so tired that they agreed a draw.
Jessica had worked out some excellent preparation with her coach, but made a minor misjudgement, which meant she fell into a difficult position and lost.
Abigail and Niamh both had long battles, both of which were narrowly lost after a great effort. These girls fought the longest and were the last ones to leave the battlefield.
U12 Open – Jacob confidently won his second round game against a lower-rated player, to move on 2/2.
James and Adam battled hard, and both were held to a draw in positions they could not lose but could not quite convert to a win. These boys are so talented, it is only a matter of time before they bring in their first points for the team. You can do it – go, boys!
Giulio lost a game against a higher-rated Chinese player in a tough challenge. There are 9 more rounds to go, so there is lot to fight for, Giulio.
U10 Girls – Keerthana won her game against a player from Kazakhstan to move on to an unbeaten 1.5/2.
After an excellent win on the first day, Roxolana was disappointed to lose a game in some tricky complications against an American player in round 2, but bounced back quickly after the game to baffle the coaches with some highly complicated maths problems!
U10 Open – As expected, Shreyas returned to form with a very quick win – normal service resumed!
George played confident game to beat a higher-rated opponent from France to move to 2/2.
Nishchal lost a tight battle to an under-rated Ukranian opponent. There was a surprise in opening here – d4 was played instead of e4!
The team has settled into a nice routine, and is looking forward to round 3. Feedback from the coaches is that the group is improving, which bodes well for the rest of the tournament. Don't stop reading – there are nine more rounds of exciting chess to come!
— John Merriman
---
Round 1
Most of the England delegation arrived in Santiago on Saturday evening, before the first round on Sunday afternoon. There were a few families who had arrived a couple of days earlier to get used to the weather and conditions. The head of delegation, Nas, successfully navigated the team through the normal teething issues around administration, and settled the group into the relaxed surroundings of the team hotel. One thing has to be said, the hotel is stunning and all rooms are actually two-storeyed apartments with a garage! I am missing my car 🙁
The playing hall is set in the Gaias City of Culture, which is a stunning piece of modern architecture with an art gallery, library and museum. The venue and hotel are both just outside the city.
This delegation is a nice mix of talented, young and experienced players, both girls and boys equal numbers. We are all looking forward to seeing them in action, and we are sure you are too.
There are three age groups in the tournament U8, U10 and U12 and the team has representatives in the U10/U12 Girls and Open sections. Before the first round the team had a motivational team presentation, which concluded with distributing the ECF and WCCC badges and goodies. The Organisers had some goody bags for parents and coaches as well. The Delegation travelled the ten minutes to the playing hall in the buses arranged by the organisers, and everything went smoothly. The players finally settled down on the board.
Parents were seen sitting outside in a tent, some late into the first day rainy evening. It is early days but the start looked good, the players could be seen working hard on the board. They will have to do it 11 times during this tournament, up to 4-5 hours if it comes to that. Chess really is hard work and mental torture at this level, but as long as our kids enjoy it there is a big learning to it.
For England, the first round brought 9.5/14 points. The highlight was the performances for the U12 Girls, where this group scored 4/5 points with Anum and Abigail both battling for 4+ hours, to win their games which lasted until 9 in the evening having started at 4.30. Sorry parents, you will have to do this time and again – at this level kids do play long games. Please get used to long waits outside. It needs to be said, that It was quite cold out there yesterday, hats off to parents for supporting their kids.
The one surprise was a loss by team talisman Shreyas Royal to a talented player from Kazakhstan who was significantly better than his rating suggested. No doubt Shreyas will bounce back soon.
There were some quick wins in U10 Boys section, Nishchal and George came out of the hall with broad smiles. It is great to see these kids play so well at this level.
There was a long game for Adam Hussain, who was battling it out with a 2000+ rated player, till late in the evening. Adam and Abbey were the last two kids to finish their games. Abbey had a nice win, however for Adam the result was not in our favour – but it is early days and there is a lot to happen in next 10 rounds which I am looking forward to seeing …
We had nice wins from Roxolana, Jess, Giulio, Julia and Jacob while Keerthana settled for peace with a draw. James was playing a 2200+ rated player and enjoyed a nice position for some time. I think at some point he overlooked a tactic. It was not a good scene to see this boy lose, but he is a talented kid. Another round James – you can do it.
Niamh in the U12 Girls was playing Board 6, against a 1800+ player. She had a good start and looked impressive, but somewhere in the opening she could have done better.
In general feedback from the coaches is that the team played well, with the majority of the games going as expected based on ratings. The Chess24 website broadcasts the top 20 games live in each section on 30 minute delay with the games starting at 4.30 local time 3.30pm UK time.
The team is looking forward to round 2 and hoping that the weather picks up after a day of almost continuous rain! Rain rain don't go to Spain!
— John Merriman
---
The World Cadet Chess Championship starts on 4th November and runs to 15th November. The event is an 11-round FIDE-rated event and is for boys and girls in the U8, U10 & U12 categories. The venue is Santiago de Compostela, Spain.
The England delegation is 14 players and 4 coaches. The team can be viewed here …
The event website is https://www.wccc2018.com. The pairing and results link for the event (tab up/down for your chosen age group) is https://www.wccc2018.com/pairings-results/. Latest news, photographs etc can be seen via the Twitter feed — @ECFJuniors2018. No Twitter account? You can follow the Twitter feed via this link —
https://mobile.twitter.com/ECFJuniors2018