Elite Junior Player Programme – end of year reports
Each player who accesses an Elite Junior Player Programme is required to submit a report the following August, detailing their progress towards their individual programme targets, and how the programme has helped them with this. As this is the first year, a format was not provided on this occasion – the style of report therefore varies. Some of these reports are abridged due to length.
---
Pavel Asinov – Programme not accessed
---
Brandon Clarke – Programme partially completed, but ended when he ceased to reside in the UK
No report received. Achieved his FM title.
---
William Claridge Hansen – Programme completed.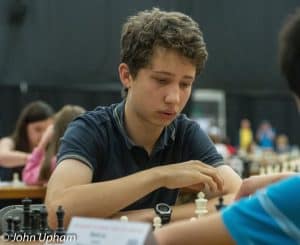 First of all, thank you very much for the grant. Unfortunately it turned out I could not play as much chess as I envisaged last year and this, as preparations for my A-level proved even more time-consuming than expected. I had also assumed that I would finish my exams by the end of May, and would then have some time to concentrate on chess, but my exams finished only at the end of June, so there wasn't as much time as I thought.
I only managed to play a few 4NCL games but the results weren't great because I was playing 'cold'.
As for the coaching, we have now enlisted the services of German GM Matthias Wahls. He is in the process of doing a thorough analysis of my style and will give me internet lessons. Ideally, he will continue coaching me over the course of the next year.
Recently, I played the King's Place Radidplay and the 14th 4NCL Congress in Reading in July, as preparation for the British Championship. After that, I will be playing in an IM norm tournament in Coulsdon later in August.
I am taking a gap year now and will concentrate much more on my chess. My intention is to play at least one tournament every month and try and achieve the IM title by the end of the year. The money I spent this year will provide me with a good platform to build upon towards this goal. I would like to apply for a further grant for this year.
— William Claridge-Hansen 31.07.2017
---
Ravi Haria – Programme completed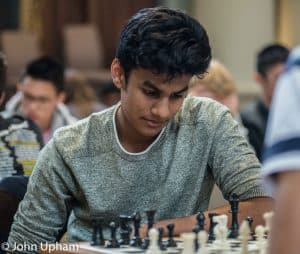 Achieved IM title (awaiting confirmation) and 1 GM Norm. Joint U21 Champion at the British Chess Championships Chess Championships.
Initial Targets – Achieve IM title; stabilise rating at 2400+
How the programme has helped me to develop my chess
The programme has firstly facilitated coaching from IM Gyula Meszaros, which has benefited me most in – greater opening preparation, ensuring I can play 1. E4 and 1. Nf3 with white to a strong level; consolidation of endgame theory and practical endings, working with material to a greater extent than seen in books such as Dvoretsky's Endgame Manual
The programme has also helped me achieve my targets by providing funding for numerous chess events
Summary of the highlights of my year
=2nd at Hastings; a GM norm in 4NCL (7.5/9 against an average rating of over 2400); achieving the IM title
Targets for the year ahead
Accomplish the GM title; increase rating to over 2500; achieve a very strong finish (top 3) at the European Youth and World Youth, and a strong finish at the World Junior U20
---
Andrew Horton – Programme completed
Achieved IM Norm and joint U21 Champion at the British Chess Championships Chess Championships.
At the start of the year (as of the FIDE ratings published on 1st August 2016) my rating was 2276. Rating which will be published on 1st August will be 2325.
Here is a summary of tournaments played throughout the year and results —
4NCL Congress in September – 3.5/5 and rating gain of 1 point (so breakeven)
Shropshire Congress in January – 4/5 2nd = with Keith Arkell, behind Alan Merry and rating gain of approximately 7 points
Budapest Spring Festival – 5.5/9 and rating gain of 24 points
4NCL Division 1, played throughout the year – rating gain 18 points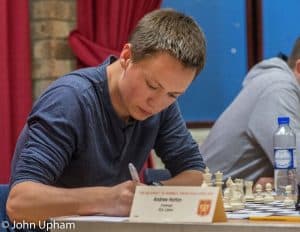 In terms of the programme, I feel that my chess has been a lot more consistent, which may be thanks to some of the coaching that I was able to receive which was funded by the programme. I picked up my best win to date in Budapest, and (refreshingly, as I hadn't actually put my results from the year all together until now), all of the tournaments I have played have given me a net positive rating gain.
In terms of aims, I only had one actual chance to score a norm, in Budapest, as I did not play enough 4NCL games (transport is difficult from Durham!). And though I achieved a rating performance of over 2400 in Budapest, I did not do well enough to get a norm. However, using the money from this year's programme, I hope to be able to get a norm from either the British Championships or this closed GM Norm tournament in Greece.
My rating is 15 points short of the goal for the year, but again, the British is still to come! And I will have gained 49 points since the start of the year when the ratings are published in July.
— Andrew Horton 20.7.17
---
Akshaya Kalaiyalahan – Programme partially completed
No report received – the programme award was used for coaching.
---
Ezra Kirk – Programme completed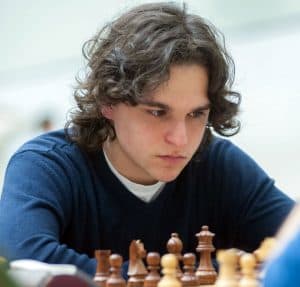 [picture by John Upham]
The programme award was used for coaching. 3rd IM Norm achieved. Rating close to 2400.
Objectives
Rating of 2400 – Current live rating about 2382. +60 over the last two tournaments, using exclusively openings learnt with GM Maze with the white pieces. Performance of 2450+ over last two tournaments
3rd IM norm achieved at the 2017 Teplice Open
Develop Chess Openings – Achieved with the white pieces. My knowledge of 1. e4 has hugely increased
At current form, 2400 is likely to be achieved this summer
These lessons were on openings for white, and the progress has been notable immediately. Another bursary, to create a stronger repertoire with the black pieces would almost certainly allow me to work towards GM norms.
— Ezra Kirk – 10/07/2017
---
Joseph McPhillips – Programme completed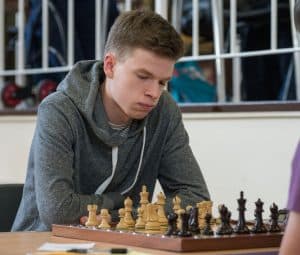 [picture by John Upham]
Achieved a rating of 2400 and 1st IM norm (Jessie Gilbert memorial). Winner (Strat) UK Chess Challenge in 2016.
My targets were that by the end of August 2017, I expect to have —
Achieved a rating of 2400 (currently 2360)
Achieved 1 x IM norm
Developed my chess to IM standard
Started working towards 2 x IM norm and Rating of 2450
This year I have made a steady improvement as a chess player, as my tournament record shows. The ECF award has helped greatly in this. I have been able to purchase the latest software and now have a fast enough computer to run it. The award has also helped out significantly with entry fees and miscellaneous items, such as ICC membership. In May I met one of my principal objectives, a FIDE rating of 2400. My grade had already been boosted significantly by a strong performance in last year's Xtracon Cup in Denmark, where I won the 2300-2400 grading prize. I was unable to compete in longer competitions over winter and spring due to exams and compressed terms at university but I have already played in one, and have two other planned tournaments over the summer break. Unfortunately I missed an IM norm by one point in Serbia earlier this month, despite strong results against six titled players. I maintained my 2400 rating nonetheless and I have the British Championships coming up and another norm opportunity in Greece in September. I have performed strongly in other tournaments too with five first place finishes over the year. My ECF grade will rise. I have also used my chess experience to coach juniors with Julian Clissold at Bolton Chess Club both last summer and this, and will be running sessions independently at Bathampton Primary School, Bath from the autumn term.
---
Alan Merry – Programme completed
Achieved a rating of 2400 and IM title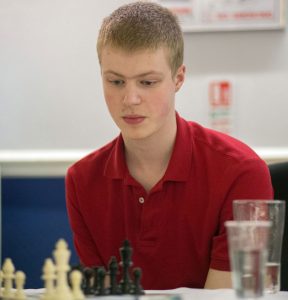 [picture by John Upham]
At the beginning of the programme I had already achieved the IM norms for my title, but had not yet achieved the 2400 FIDE rating, which was the final requirement for the title
Success came when I played in the Isle of Man Poker Stars tournament in October 2016. This was the first tournament to which I took the new laptop which I bought as part of the programme. This gave me a live rating of over 2400, so I had achieved the final requirement for the title
I then went on to lose some of the points I had gained so that my 1 November 2016 rating was under 2400. However, I managed to push my rating over 2400 by winning the Shropshire Open in January 2017 with 4.5 out of 5, and by having a good 4NCL weekend.
My performance in the Polar Capital tournament in Jersey in April 2017(winning first equal with Jack Rudd) followed by Southend also in April 2017 put my Fide rating over my target for the year – which was over 2420 as a peak rating
Meanwhile I had done many weekend tournaments around England and scored well, such as coming sole first at Great Yarmouth, and joint first at Sheffield. I had to overhaul my openings repertoire which I managed with the use of my new laptop – which is much more powerful than my previous one and has made a tremendous difference both to my preparation against opponents at events and my ability to analyse my games afterwards.
---
Brian Tarhon – Programme not accessed
No report.
---
Adam Taylor – Programme completed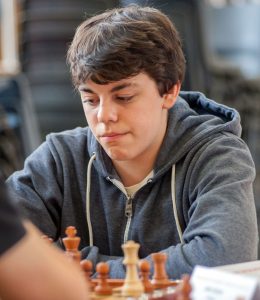 [picture by John Upham]
My targets were that by the end of August 2017, I expect to have —
Achieved at least one IM Norm
Started working towards the required IM Rating of 2400
Improved my chess in calculation and evaluation of positions in the late middle game area
In 2016, I was fortunate to have been granted £1000 from the ECF to help me on my path towards gaining my IM title. The money was used towards entry fees to top Open Chess events and one 'all-play-all'. This is my report on how I feel I benefited throughout the year from this award.
My first event was going to the Politiken Cup in Denmark with FM Ravi Haria. Overall I scored 6.5/10 at the event and was pleased with my TPR of 2377. Next came the XVIII Open Internacional d'Escacs de Sants in Barcelona. Overall I scored 5.5/9 but played to my grade.
Soon after, I flew to Bulgaria to play in the Sunny Beach tournament. I played in the Gatwick Open in October which was supposed to be an all-play-all however at the last minute this was changed to become an Open. Next came one of my favourite tournaments – the London Chess Classic. Whilst playing in the tournament I scored 4/7 (taking 2 byes)
Shortly after Christmas I attended the Hastings Chess congress, I scored 4.5/9 gaining 11 rating points. I also attended the Isle of Man Open where I scored 4/9. After saving up some money, I flew to Crete in May 2017 to play in my first 'All-Play-All' event. I played well here finishing an unbeaten 2nd in my section. Unfortunately I narrowly missed out on my IM norm
Finally, I again played in the Xtracon event held in Denmark. I won against IM Erik Zude from Germany rated 2421 and overall scored 6/10.
To summarise, this award has meant that I have been able to attend some very strong events (both alone and with my friends) meaning that I have been able to play against and learn from the best players in the World. It has enabled me to gain over-the-board experience and post-game analysis which you don't get from playing on-line. I continue to work hard on my game expand my repertoire all the time which I put into practise whenever I can. My intention remains to attend as many of the main chess events as I can (which all offer important IM norm opportunities).
Finally, I would like to thank the ECF and the Junior Director for allowing me to participate in an activity I enjoy and allowing me to work towards my goal of becoming an IM.
---
Matthew Wadsworth – Programme partially completed
Achieved IM Norm.

[picture by John Upham]
My targets were that by the end of August 2017, I expect to have —
Achieved a rating of 2350
Achieved at least one further IM norm
The past year I have been lucky enough to have received financial support from the ECF in the form of the Elite Junior Player Programme from September 2016 to August 2017. This year has, at least in terms of results, been rather up and down, but I definitely feel that I have significantly improved during the time period.
I had two goals at the beginning of the year-long programme – to gain at least one IM norm and reach an ELO of 2350. I achieved the first target at the Xtracon Open in Denmark in July 2017, scoring 7/10 against a 2288 average – comfortably my best tournament of the year. Throughout the tournament, my preparation seemed more focused and more useful while my clock management and endgames, which had been problems earlier in the year, gave me much fewer issues. I was especially proud of my consecutive wins in rounds 6 and 7 against an IM then a GM – both games that a year ago I would not have won. Xtracon brought me to a live rating of 2316, my highest in the entire period, but comfortably below the 2350 target I had set (admittedly with the 9 round Barcelona open still to play). This can probably be attributed to the difficulties of balancing chess with school as school becomes more serious (I was in my first year of A Levels during the programme).
My other tournaments during the time period were the e2e4 GM section in October (scoring 4.5/9 with a TPR of 2275), the Southend Open in April (5/7 with a TPR of 2289) and finally the 4NCL across the year (6.5/11 in division 1 and 2 with a TPR of 2310). While I had good individual results at each of these tournaments, my main problem was a lack of consistency, especially against lower rated players.
The tightening up of my opening repertoire is probably the key reason for my improvement for my improvement over the time period. The first reason for this opening improvement is that the bursary financed the purchase of a full subscription to Chesspublishing, a Megabase update from Chessbase and Moskalenko's The Even More Flexible French (an update on his original book on the French that I had been using for years. Chesspublishing gave me recent games across all openings, annotated by leading experts. I made heavy use of this in Denmark, and it took my preparation to a level it hadn't been at before.
Meanwhile, the Megabase update gave me access to all recent games which is necessary for preparation to be as useful as possible. Finally the book allowed me to add depth to my knowledge of the French in between tournaments. My repertoire is, with evidence, the area that I have strengthened the most as a result of the bursary.
The final thing that the bursary allowed me to do was to schedule a coaching session with GM Nick Pert in December 2016, the first official coaching session I have had in several years! It was very useful in improving my analytical skills – we spent a lot of the session analysing the games from the London Classic. If possible, I would have organised more sessions if not for school commitments making it very difficult. The balance between school and chess has undoubtedly been the most challenging aspect of the last year for me, and I suppose will only get harder in the future.
Overall, the Elite Player Programme was beneficial to my chess over the last year and I would definitely recommend. If I were to do the programme again, I would try to make fuller use of the funds available, principally by trying to organise more coaching sessions. Nevertheless, this year can be considered a success for me, and the programme helped make that possible.