Click this link – https://twitter.com/ECFESCC2013/media/grid – to enjoy a growing collection of images from the European Schools 2013
Meet the team here | Official website here | Twitter feed here |  The ESCC 2013 Twitter feed can also be followed on the left of this site!
– from Dave Covey
The tournament half-way point brought with it very tough competition, courtesy of the strong 11-point result from the previous evening and four all-England pairings in the U-11 Open section. The team fought off the fatigue from the first double-game day yesterday and put in another solid performance – 11 points, just shy of the day's goal set at the pre-game meeting but still a good achievement.
As has been the norm, the younger players finished before the older ones in most cases, with U9 winners included Jason Covey and Alexander Jamieson posting two of the earlier wins. Tim Lewis got the U-11s going with a win playing white against an opponent who opened up with the Sicilian, but ended with no answer to Tim's bishop sacrifice to promote a pawn.
Jon Finn and Thomas Finn also posted wins, Thomas taking advantage of his opponent's greediness in a bishop and knight end-game in which the Serbian U-15 grabbed a pawn, only to have Thomas effectively trap the opponent's bishop and promote a pawn unopposed as a result. Jon's game didn't get quite as far into the end-game – Jon went up the exchange and was near winning a knight on top of that when his opponent was pressured into a blundering his queen. Resignation followed and it was another win for the Red & White.
The McLaren brothers also earned hard-fought points – Charlie in an attacking game for both sides that lasted over 3 hours. Tom won what he described as a very tight game, and probably set the ESCC 2013 tournament record for longest move – apparently taking 30 minutes to identify the best option! Daniel Gallagher won (in under 2.5 hours, pleasing his extraordinarily patient parents very much) as white vs. a Scandinavian Defense, at one point trebling his rooks and queen on the c-file before his opponent realised further effort would have been in vain. Other points were earned by Gabriel Balouka-Myers and Amardip Ahluwalia, while Lawrence Lee and Mahima Raghavendra earned draws.
Tuesday's rounds looks to be challenging as well, but the team has some good momentum and is optimistic. They are getting the taste of some success – 12 players have scored 50% or more after round 5 – and all remain hungry for more. With two points up for grabs tomorrow, there is a lot to play for. Surely today's change in the weather (it rained buckets today!) to England-like conditions is a good sign. After all, who knows how to handle downpours and cool summer days better than the English?
Before signing off on this Day 4 of the ESCC, we'll leave you with one move from one of the all-England games which shows both the quality of the team's play and the camaraderie forming amongst the squad. The photo below is from the match between Amardip and Freddie today, in which Amardip found a clever move to force a win. Can you spot the move for black that led to the win?
Amardip was able to spot it. So he got the point, but Freddie got the good-sportsmanship award. Just as Amardip was about to show yours truly the move, Freddie comes in after their 2.5 hour game smiling in a friendly way, slaps Amardip on the back and says, "Amardip – I can't believe you found that move!" He wasn't happy about losing the game, but he was man enough to be happy for his teammate. Well done, Freddie. GO ENGLAND!!!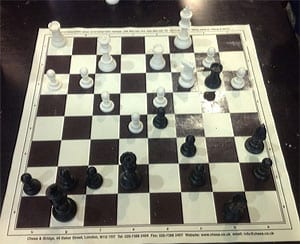 Answer: RxC3