– from Neil Jamieson
Weather conditions remain exceptionally hot for the time of year, not conducive for the best preparation. Fortunately the air conditioning is working in the Hotel Novi Sad, although it has put paid to Chris Howell's voice.
As to the chess, all players were in the hall in good time as it was zero tolerance day, ie failure to be at the board at 3pm would lead to an immediate loss. But for parents, waiting for hours rather than minutes for the players to emerge, a little alcohol might have helped to calm the nerves.
The team finished the day with 11 victories and 1 draw – click here to see the individual results. This is a really good performance given the calibre of the opposition. Well done to the girls, Laura and Mahima, who posted a perfect score.
Most tournament hours played: 7 hours, Daniel Gallagher. Keep it up Daniel!
Position of day is taken from one of the day's wins – Tom McLaren vs Nikola Bokan (Serbia)
Find the best move for white …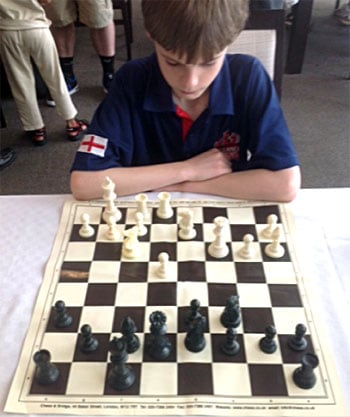 Answer – E5!
Meet the team here | Official website here | Twitter feed here
The ESCC 2013 Twitter feed can also be followed on the left of this site!