… from the 30th May to the 9th June in Mamaia, Romania
Day Nine
After nine days of competition, the final results are in. The top England players are —
U7 Patrick Damodaran with 5.5 points, 6th
U9 Harry Zheng with 6 points, 4th
U9 Sanjit Selva Kumar with 6 points, 8th
U11 Jack Esiri with 5 points, 25th
U13 Savin Dias with 5.5 points, 10th
U15 Gavith Dharmasena with 4 points, 15th
U9G Thisumi Jayawarna with 5 points, 9th
U11G Arora Tashika with 4.5 points, 10th
U13G Felicity Pettit with 4.5 points, 16th
Summary
Overall top England player was Harry Zheng, who just missed out on a trophy position – such a fine line between winning and losing. Sanjit Selva Kumar was tied with Harry on 6 points, and only finished lower than Harry because of tie-break.
Performance of the day goes to Jan Murawski, who played his best game for the final round. Having started badly in the opening with white against a Russian, with less than 2 minutes on his clock, he managed to recover in the middle game and get over the 40 move marker. Jan was the last out of the playing hall, emerging after 4.5 hours with the HOD and with a draw.
The players and the parents had a wonderful experience. Every day the players and parents were wearing smiles, and team spirit grew each day. They had a happy and wonderful time, and go home dreaming of what it might have been if they could have won an extra point or two.
Next year the World Schools and European Schools events are in Peru and Greece.
— Kim Shek, Head of Delegation
---
Day Eight
Coach Charlie Storey
The penultimate round of our European Schools Chess Championships in Romania – a bit nerve-wracking, standing in front of tomorrow's bunch of superstars and their super supportive parents. 'Searching for better moves than your first choice' was the topic and it sank in for most, as we proceeded to have a good points score from the England team. This was directly reflected in the kids working harder at the board and not settling for their first move as their best. My own mini-group of 4 managed a very good 2.5 out of 4 and were very unlucky not to get 3/4 as Ben Aubrey destroyed his opponent on the Live Boards, only to show how nice he is by giving his opponent a lucky opportunity to draw – pretty good, as Ben's opponent was rated over 200 points higher.
Kyle Pelling continued his excellent tournament with a smooth victory, combining his experience with practical wisdom and huge effort at the board, and constantly searching for better moves.
Daniel Shek played his best game today, smoothly controlling his opening advantage into a dominant Knight comparison situation and after a complex middlegame, found a way to engineer a winning Pawn ending!
Jan has been a pleasure to work with on this trip, with a wonderful coach/student relationship, and he has brought fun and joy to his Coach and the entire England camp. He has played some nice chess across the tournament. However, today was not his best game and he is looking to bounce back tomorrow with a win in the last and most important final game. Having a motivational speech from selected Coaches is enhancing team spirit and enabling a small improvement in ability.

Summary

Wow! What a brilliant day, with a score of 16.5. Everyone reached their personal target score. Team spirit is so high that they even want to stay longer and they're bearing well with the issues we been experiencing.
Thisumi Jayawarna broke the team record, playing the longest game (5 hours) and winning. Playing any longer would have meant a long walk back to the team hotel. She received a rousing cheer when she arrived back and celebrated with ice cream and pancakes, with her coach Meri Grigoryan. Everyone is on a high, and we will see what happens on the final day.
— Kim Shek, Head of Delegation

---
Day Seven
Summary
Tim Wall gave the team talk today, emphasising the team experience and how to handle pressure. The highlight of the day came from Felicity Pettit, who used her opening preparations to gain a huge advantage, although her opponent fought back and kept up the pressure through to the end game. She won the game, being cool, calm and collected. With today's score of 12.5, there are points to gain in the final two rounds.
— Kim Shek, Head of Delegation
---
Day Six
Coach Meri Grigoryan
Yesterday I was playing Jack Esiri. It was a tough game and he came out on top. Either way it was a win for England – Conall McBrinn
My second win of the tournament, and I played a gambit that my opponent didn't know about, then he blundered three pawns and I won the endgame. My mum at home is very proud – Ruben Evans
Summary
Meri made a motivational speech and gave some game play advice. Harry Zheng is well placed with a score of 5/6. 12.5 points for today and we're moving towards the business end of the tournament.
— Kim Shek, Head of Delegation
---
Day Five
Coach Neil McDonald
Tactics and strategy training and opening repair work are taking place in the morning to early afternoon. Then it's off to battle at the Exhibition Centre. They are learning not just from their personal coaching but also from watching other players having their post-mortems in the team room. A lot of ideas are in the air and being soaked up by eager young minds. It's not just about winning games but learning for the future.
Among my own group, today Jack Esiri sacrificed a pawn for a lead in development. This unnerved his opponent who quickly crumbled before Jack's attacking blows. A quick and convincing victory.
Although he lost today Adam Hussain is developing a dynamic style which is sure to be rewarded in the future. He followed a plan which had been used to inflict a celebrated defeat on Fischer, but unfortunately a loose pawn move in time pressure left his own king exposed.
Harry and Jerry Zheng both showed awesome persistence and technique to grind out wins in long endgames. It was all the more impressive as master players with years of experience find it hard to keep control in rook and pawn endgames. There is sometimes too much focus on opening theory and not enough on endgame theory when trying to get better at chess.
Summary
In the team meeting, the players were reminded that if they have an issue, no matter what it is, to request the England Head Of Delegation to solve the matter in the playing hall.
Game of the day goes to Tashika Arora, who played a solid opening, calculated a combination and waited patiently before execution. Timing was the key to winning this game.
A score of 15 for the day and more to play for tomorrow.
— Kim Shek, Head of Delegation
---
Day Four
A very frustrating day for the coaches, with the England team scoring 13. Two players who should have had a full point ended with only a half, and four others lost from winning positions. Now I know why chess coaches go grey at an early age. Highlight of the day again came from Kyle Pelling, drawing with an Ukrainian 400 above his grade.
Flagging energy levels are beginning to show due to the quality of the food on offer, and many parents are opting to eat out. Valuable lessons were learned today and we look forward to the next round.
— Kim Shek, Head of Delegation
---
Day Three
Coach Tim Wall
My team put in a very solid performance in Round 3, winning 2 and losing 2 games. Sanjit Kumar won very handsomely, checkmating his opponent in under 20 moves. Kanav Monga played well in his game. Both Sanjit and Kanav were very focused but once Sanjit got the advantage he prosecuted the attack effectively.
Toby Kan was somewhat unlucky that his attacking play did not quite pay off, even though he showed a lot of flair and determination in a gambit line trying to get at his opponent's king. He struggled hard but was unable to save the endgame.
Felicity Pettit came very close to winning against a strong Russian player, with her excellent opening and middlegame play clearly showing that she is making fantastic progress. Although she eventually went wrong in a tricky rook and pawn endgame, there were valuable lessons learned for future games.
Tim Wall said, "I am very pleased with the 100% commitment from the England players in my group. They are working extremely hard on their preparation before each game, and I am sure this will pay off – both later in this tournament and in the future."
Summary
The team score is 13 on day 3, and now everyone is off the mark. We have two players on 3/3, Harry and Patrick. The game of the day goes to Patrick, who made an early blunder, kept his composure, recovered his position and launch an unstoppable attack.
Kyle Pelling, playing an opponent 200 above his grade, was in control of his game. Playing slowly and searching for his best moves he ran into time trouble. Adam, giving a tip of the day, offered advice on what to do in time trouble. Kyle instigated his plan and won.
We have a fantastic England team in Romania and a great set of parents – Go Team England!
— Kim Shek, Head of Delegation
---
Day Two
Coach Adam Taylor — My team scored 4/4, making me a very happy coach (even if I am under the weather). Ethan played fantastically well today on the white side of the Italian – I could not fault his play at all! Gavith, after some great prep, went on to win with a crushing attack after his opponent took a poisoned pawn. Kian played with dynamic flair and bamboozled his Ukrainian opponent, and Ruwan remains on 100%, continuing to outclass the Romanian players!
Summary
A great day for the England team with a score of 20. The best effort in round 2 came from Toby Kan playing black with the modern Benoni. He frustrated his Romanian opponent for five hours, which made him blunder a pawn, and Toby won with a complicated end game. This is his second long game of the tournament.
Adam Taylor requested that the team get together each day in the team room, so that one of the ECF coaches can offer practical advice, suggestions or any other tips to help. We have Harry, Patrick, Tashika, Thisumi and Ruwan on 2/2. All the players are happy and looking forward to the next round.
— Kim Shek, Head of Delegation
---
Day One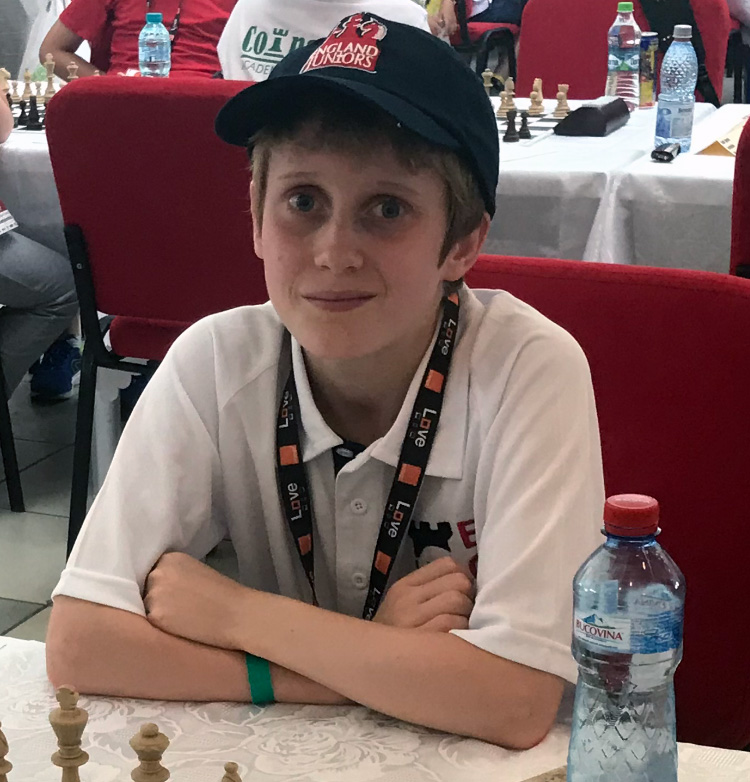 The England team settled in very quickly, with a set routine of training in the morning and then the game in the afternoon. The players and parents are happy. In the first round there were six live England games. They all rose to the occasion and played well, and the outstanding game of the day was Ben Aubury's. Ben (above) completely outplayed his opponent with the Catalan, with his pieces in such an attacking position that, when he launched an attack in the centre, his opponent couldn't defend against it. Charlie, his coach, helped with his preparation and it went completely to plan.
Well done to everyone today!
— Kim Shek, Head of Delegation
Meet the team here
Official website — https://ecumamaia2019.ro/ | Contacts — ecumamaia2019@yahoo.com