This years' tournament at Aldro School in Shackleford near Godalming proved to be an excellent three days of chess and other activities for the 120 players. Nineteen schools from all over the country took part with about 35 players boarding. One player, Alexander Ivanchenko from Loretto School, came all the way from Scotland.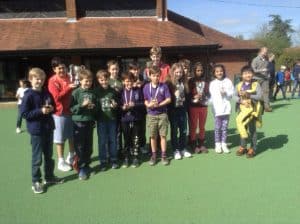 The tournament was divided into Championship and non Championship sections with players in the Championship from the age of 9 up to 13. The other players played in their own age group on the first day then in a group of mixed ages on day two and three. The idea is to have groups of players who are roughly of an equal standard.
All the accompanying staff joined in to help run the tournament and it was a great team effort with the organisation and supervision. Our Matron Tracey Thornton did a great job in the evenings and all the boarding staff were treated to a special meal on the last evening.
The children were well behaved and showed great ability and determination in their games. They also enjoyed the trip to Chessington World of Adventure and the five a side football competition won by Aldwickbury. We also had a table tennis competition one evening.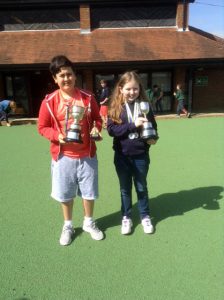 The winners of the age groups sections (4 rounds) on the first day are as follows —
U12 winner C. Currie-Aird (Aldro)
U11 winner P. Wilmot-Smith (Lockers Park)
U10 winners A. Leith (Lockers Park) and A. Chowdhury (Tormead)
U9 winner B. Taylor-Smith (Aldro)
U8 winner J. Zhao (Twickenham Prep)
Section winners (6 round Swiss tournaments) Day 2 and 3
A – L. Walker (St Faiths) 5/6
B – M. Camilleri (Twickenham) 5.5/6
C – T. Barnes (Aldro) 5.5/6
D – S. Di Castaglione (Windlesham) 6/6
Championship Section Day 1, 2 and 3 (7 rounds)
1st – IAPS National Champion Batuhan Kaya (St Andrews) 6/7
2nd= Henry Dorman (Hoe Bridge), Caspian Fowler (Millfield) and Ben Hammond (Twickenham Prep)
Girls Champion Felicity Pettit (Tormead) 5/7
National Team Champions
U13 Hodgson Cup winners – Twickenham Prep
Runners-up – Lockers Park; 3rd – Windlesham House
U11 David Bull Cup winners – Twickenham Prep
Runners-up – Aldro; 3rd= Windlesham House and Millfield School
Girls' Team Champions – Tormead
Congratulations to all the players who took part and made it such a memorable few days, and my thanks go to all the teachers and parents from the different schools for their help running the various aspects of the tournament. I would also like to thank Aldro School for providing an excellent venue and Mr Andrew Martin and Michael Bolan for running the Championship section. Mr Bolan has now attended every IAPS chess congress since it started 45 years ago, a fine achievement.
— DJ Archer (IAPS Chess Co-ordinator)