… at Imperial College London
– John Swain, Nottingham High School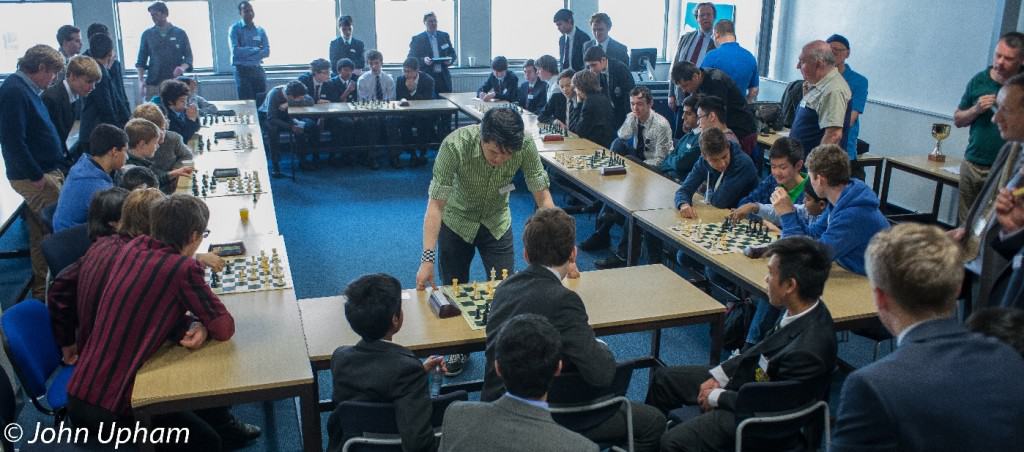 The day, Wednesday 23rd April, 2014, began at 11.00 a.m. in fine style with current British Champion GM David Howell taking on ten teams of four secondary school players, with all concerned having 30 minutes on the clock. Speed was of the essence – in two senses for David who demonstrated gazelle-like velocity from board to board. Players could consult, so few games were likely to be determined by blunders. David impressively defeated nine of the teams and credit must go to Eltham College who secured a draw and Wilson's for holding out until the end.
Tournament play began at 12.30 p.m. after an excellent buffet lunch provided by Imperial College. The format of the tournament has a lot to recommend it: ten minutes per player and two seconds increment per move, which guaranteed exciting and, in some cases, nail-biting finishes. The six round event was to be decided on game points too, which meant that every game counted.
The top seeds, Manchester GS (average grade 191) started a little slowly, only winning their first two matches 3-1, but soon moved into top gear, winning three encounters 4-0 and finished with a hugely impressive score of 21 points (out of a possible 24), winners with a round to spare. Congratulations especially to them, but also to Wilson's and Eltham, who finished on 15 points in Silver and Bronze positions respectively, separated on tie-break. All of the twelve teams clearly enjoyed themselves and the Swiss format resulted in each team winning at least one match, which always creates a feel-good factor.
Many thanks must go to Neill Cooper who created and organised the tournament; those who hosted the regional qualifying events from which the participating teams had emerged as winners; the sponsors Quintessa Ltd, Castles Chess Club and Imperial College; Prof Jonathan Mestel GM, three-times British Champion, who teaches maths at Imperial and who presented the prizes; Chris Howell as Arbiter; those who provided the equipment; not least, GM David Howell, whose clock simultaneous display started the event in such style.
Results
1st – Manchester Grammar School 21/24 || 2nd – Wilson's School 15 (on tiebreak) || 3rd – Eltham College 15
4th – Hampton School 14 || 5th – Nottingham High School 12.5 || 6th – RGS Newcastle 12
7th= Queen Elizabeth Boys School, Barnet 11.5 || 7th= Magdalen College School 11.5
9th – Queen Mary's GS, Walsall 10 || 10th – University College School, London 9 || 11th – Reserves 7
12th – Queen Elizabeth Hospital, Bristol 5.5
Entries are now being accepted for 2014/15 – please visit www.TeamChessChallenge.org.uk