Final report – from Tibo Rushbrooke
The competition is over and now the team is sitting on the bus back to São Paulo, reflecting on a memorable and successful trip. Let's start off by going through today's results.
Shreyas was the first to finish his match. With a victory in the final round, he moved to 8 points out of 11 and secured joint 4th in the Under 8 section. By contrast, Daniel was the last English player out again; he's become known as a long game specialist. After nearly 4 hours of concentration he eventually outmanoeuvred his opponent in an endgame and won his match, finishing on a respectable 5 points out of 11. We knew Sohum would have a tough game on 6 out of 10, and sure enough his opponent launched a deadly pawn storm against his king, and the attack proved too strong. Nevertheless Sohum finishes on 6 points, a very good score.
James faced a very strong player today, rated 400 points higher than him at 1959. He managed to box in black's king by controlling the dark squares around it, with a bishop on h6 and a pawn on f6, and used this to force a perpetual check with Rg4+, Kh8 and then Bg7+, Bh6+ etc. This was a very satisfying result against such a good opponent and James was happy with his final score of 6 out of 11.
Remy lost his game after his opponent found a neat trick, decoying Remy's king away from his rook, but Nilomi had a comfortable win. They finish on 6 out of 11 and 5.5 out of 11 respectively.
So at the end of the tournament every player finishes on a good score; every player has had some pleasing and enjoyable wins; and every player has had defeats which they can learn from. In case the reader is interested in seeing some full games by these promising juniors, instead of hazy descriptions by me, here are some links to games on chess-results.com. For each player I've selected one of the best and/or most interesting games they played.
Shreyas – http://chess-results.com/PartieSuche.aspx?lan=1&id=50023&tnr=295094&art=3
Sohum – http://chess-results.com/PartieSuche.aspx?lan=1&id=50023&tnr=295094&art=3
Remy – http://www.chess-results.com/PartieSuche.aspx?lan=1&id=50023&tnr=295100&art=3
Daniel – http://chess-results.com/PartieSuche.aspx?lan=1&id=50023&tnr=295094&art=3
James – http://www.chess-results.com/PartieSuche.aspx?lan=1&id=50023&tnr=295098&art=3
Nilomi – http://www.chess-results.com/PartieSuche.aspx?lan=1&id=50023&tnr=295101&art=3
Ciara Merriman (James's younger sister) delivered the most powerful line of the 10-day period. Just before one of James's matches, she said to his opponent, 'It doesn't matter if you win or lose, it's what you do with your dancing shoes' and proceeded to do a little dance in front of him. Needless to say he was flummoxed. Thank you to Ciara for being so supportive throughout- when she wasn't causing trouble in a barbaric manner.
Before I wrap these reports up, there are some very important people we need to thank. We'd like to say a big thank you to Grandmasters Neil McDonald and Jonathan Hawkins, for their patient coaching, thorough preparation and post-match analysis, and tireless work researching people's openings. The children are extremely grateful for all their help and support. We'd also like to thank John Merriman for doing such a great job as Head of Delegation. He organised everything very efficiently, was always checking that everyone was ok and did a brilliant job in his role. Finally, we would like to thank the ECF, whose hard work organising travel, accommodation and all the crucial details made this expedition possible. Moreover we'd like to thank them for their ongoing support towards junior chess, helping our juniors to develop.
---
Day 8 report – from Tibo Rushbrooke
On the second last day of the competition, we had a team meeting to congratulate the children on their performances so far and prepare for the last two rounds. Head of Delegation John Merriman gave an inspiring speech, in which he promised that the coaches would jump into the swimming pool naked if everyone won their last two matches (it wasn't clear whether Neil and Jonathan had agreed to this).
Sohum turned his game around to win today; once again he completely outplayed his opponent in the endgame. He was a pawn down at one stage, with weak doubled f-pawns, but he showed that attack is the best form of defence as he threatened his opponent's bishop. The bishop was forced to move out of the way, allowing Sohum to fork his opponent's rooks with his own bishop and secure a winning advantage.
Remy and Shreyas were the others who managed to win today. Remy reached an extremely convoluted position, with all the pawns on the board, and tactics all over the place. At one point he left his pawn loose on e5 with different tactical reasons why his opponent couldn't take it with either his knight, his bishop or his queen. After a long and complicated sequence based around trapping his opponent's knights, he emerged two pieces in front and rounded the match off with another nice tactic. Shreyas's game was more straightforward; he picked off his opponent's pawns and duly crushed him in the endgame.
James had an exciting match which ended as a draw. At one stage he was 2 pawns down, but with a lot of play; he was able to turn the position in his favour and get to a rook ending where both sides had connected passed pawns, and it was essentially a pawn race.
So Neil and Jonathan won't be jumping into the pool naked, (unless they really want to), as Daniel and Nilomi were defeated in close matches. Nonetheless our juniors are keen to give their all in this last round and end the tournament on a high note.
---
Day 7 report – from Tibo Rushbrooke
As we go deep into the competition, the English players show no sign of flagging. Today saw more enterprising chess and pleasing results.
Sohum was first out after a crushing victory. He snared his opponent's queen early on and now moves to 5 points out of 9. Shreyas continued his good run with another win in the Under 8s. He'll certainly have a difficult match next round as he now has 6 points out of 9.
In the Under 12 section, Remy had a long and tactical game. First he gave up a pawn for excellent piece activity; then he had a chance to win a piece for 2 pawns in an extremely complicated position; after a slight inaccuracy and an ingenious defence from his opponent, he ended up with two pieces for a rook and a pawn; then his opponent developed a menacing attack, which Remy blunted by sacking a bishop for 2 pawns. In the end Remy did well to hold the endgame an exchange for a pawn down, and the game ended in a draw.
In the Under 10s, James scored a convincing win after reaching a strong position from the opening, with very active pieces. He took advantage by giving his opponent a weak pawn on e6 and immediately attacking it with Bh3, threatening all kinds of forks against the king on g8 and rook on c8. He'd even calculated a sharp variation where he ambitiously opened lines with e4- he correctly judged it was completely winning for him- in case his opponent found the best defence. James never seems to run out of energy, and he's now on an excellent run of 3 wins in a row.
Overall it was another good day for the England group. The final two games of the competition are arguably the most important, and all the players are excited for the challenge ahead.
---
Day 6 report – from Tibo Rushbrooke
There's a lot to talk about in today's report, after two rounds of high quality chess. However, I'll start off with the biggest piece of news: everyone from England is on a score of at least 50%! That's quite an achievement 8 rounds into the competition.
Perhaps the standout performer today was James, who bounced back strongly once again, and won both of his games. In the morning his positional dominance led him to win one and then two of his opponent's pawns and cruise to victory. Excellent preparation with GM Neil McDonald helped him to achieve exactly the sort of position he wanted in his afternoon match, with much more active pieces. He sealed the victory with a crushing knight fork on e2, winning a rook and soon the match.
There was another excellent piece of preparation in the morning, as GM Johnathan Hawkins and Sohum prepared a subtle opening trap. It worked perfectly and Sohum showed great technique to finish the game off. Shreyas also enjoyed a return to form today with two wins, gaining some vital confidence.
In my last report I mentioned that Remy and Nilomi were both facing the second seeds in their respective events in the morning. Nilomi did extremely well in a tense and gruelling encounter lasting 4 hours; the position was always balanced, but complicated, and both players missed possible chances for a win under severe time pressure. A draw was a fair result in the end. Remy's encounter was more 'instructive'; although he made no obviously bad moves, his opponent launched a sudden and devastating kingside attack, which proved decisive. Nonetheless he was able to claim a win in the afternoon, after reaching a strong position which again had been prepared with Johnathan.
Last but by no means least, is Daniel. He played his longest ever match in the morning, lasting nearly 4 hours, an impressive feat of concentration for an 8 year old. It must have been tough to lose that match against a strong opponent, after having fought so hard for so long. But Daniel didn't let it get to him; he came back stronger in his afternoon match and won a nice game. Well done to him for great concentration and resilience.
So to recap on my original point, all the players are on a score of half points or more. Shreyas is on 5 points out of 8, Remy and Nilomi have 4.5 and the rest of the team have a very healthy 4 points out of 8. It's an exciting position to be in with 3 rounds to go.
Finally, these 2-round days are more tiring for the players, but also for the coaches. In view of the extremely helpful preparation I mentioned earlier, I'd like to thank Grandmasters Neil and Johnathan for their hard work today, having to deal with twice as many games and rising to the challenge magnificently.
---
Day 5 report – from Tibo Rushbrooke
The English players, and various supporting persons, enjoyed a rest day yesterday. Some of the team opted to take a sightseeing tour, and visited the waterfall and the statue of Christ the Redeemer, high on a hill overlooking Poços de Caldas. Others opted for a quieter day and spent the time milling by the hotel swimming pool. But today it was back down to business for everyone.
It was a difficult day for the team, but we saw some good results nevertheless. Nilomi continued her impressive run in the U12 girls, with a draw against a player rated 1845- the 9th seed in the tournament. On 4 out of 6, she has a big match tomorrow, up against the 2nd seed! Remy had a victory today and moves to 3.5 points out of 6. As it happens, he also faces the number 2 seed in his section tomorrow- so tough matches for both of our Under 12 competitors.
The pick of today's matches was produced by Daniel. Coach Neil prepared him in the King's Indian by showing him a game by Mikhail Tal, and he was clearly inspired by it. We all agreed he was playing like Tal as, with the black pieces, he made the aggressive pawn break f5 and seized control of the centre. He also used a manoeuvre which may spark a revolution in King's Indian strategy. He put his bishop on b7 and although Neil was disapproving at first, claiming it was the wrong square for the bishop in this opening, he soon used this bishop to win white's d5 pawn and penetrate decisively on the a8-h1 diagonal. He drove white's king out of safety and soon mated along the second rank.
The other results didn't go England's way, but they all had close games and it was a timely reminder that there are no easy games in this very high-level competition. Tomorrow is a big day with 2 rounds, so look out for the next report! By the way, all the results and quite a few of the games can be found on the Chess Results website. Here is a link to the Under 8 section — http://chess-results.com/tnr295094.aspx?lan=1&art=25&fedb=ENG&turdet=YES&flag=30&wi=984 — (from here it's easy to navigate to the other sections)
Day 4 Report – from Tibo Rushbrooke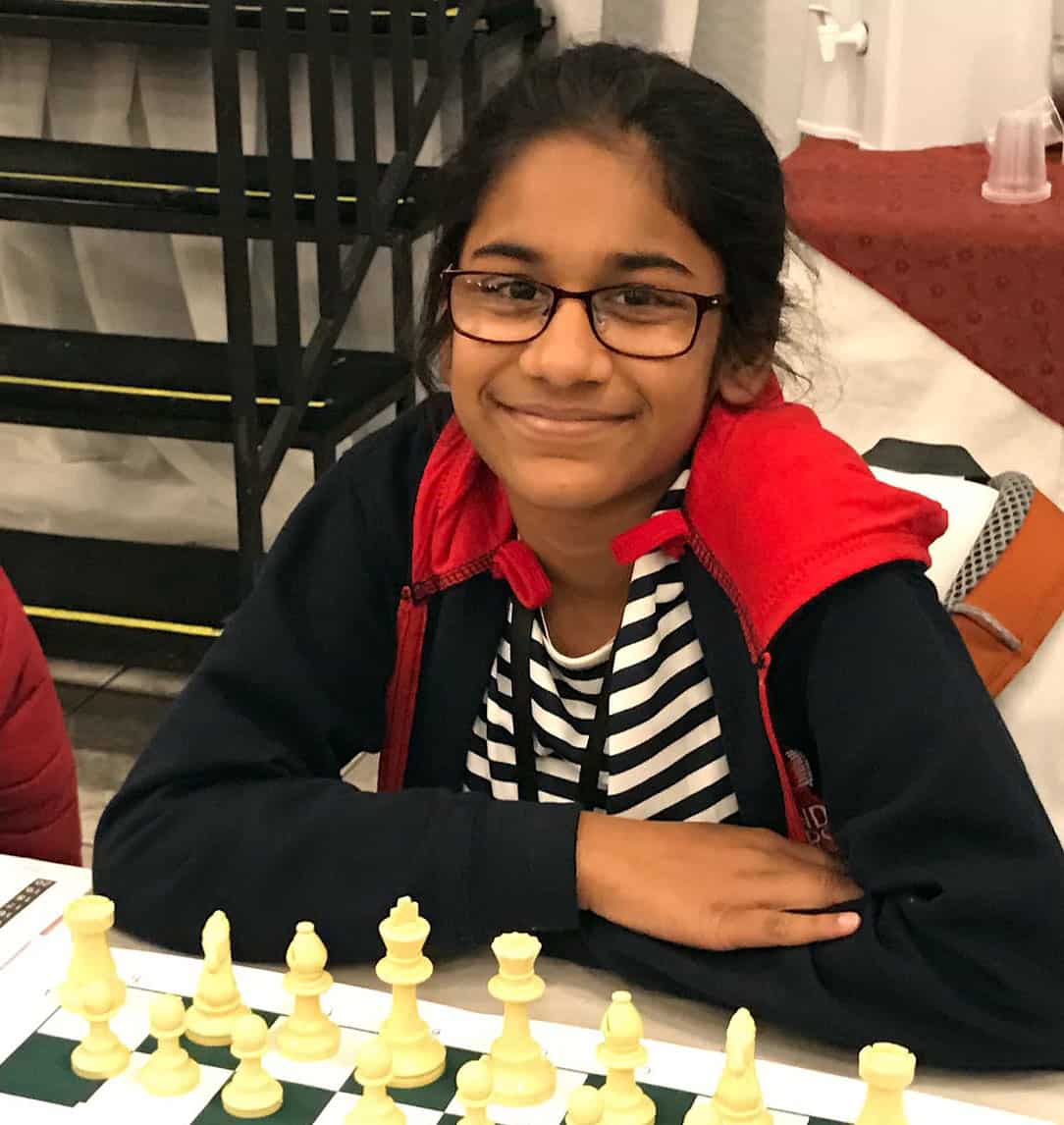 The games were hard fought today, with every one lasting at least two and a half hours. Though nerve-wracking for the parents, it was a testament to how much effort the players put in. The rest day tomorrow will be an excellent chance for everyone to refresh their minds and recharge.
James was up against the 5th seed in the Under 10 competition, rated 1934 (nearly 400 points above him), and gave the stronger player a good game. He found an inventive tactic, giving up two rooks for a queen in order to play f4, uncovering an attack on the rook on e1 and also threatening f5 with pressure on the kingside. Unfortunately, black had too much counter play and James lost in the end.
Sohum faced a much higher-rated player once again and repeated his achievement from yesterday, drawing the match with accurate and impressive chess. The other Under 8s were defeated, but in long and close matches.
The most outrageous move of the day was played by Remy, on his way to a convincing win against a lower rated player. He had the black pieces and when his opponent played Bb5, instead of allowing his c6 knight to be chopped off and his pawns to be doubled, he put his knight back on b8! Even more startlingly, an analysis engine thought it was the best move!
Nilomi won once again after an extraordinary opening (d4 d6 c4 e5 d5 f5) which produced an extremely messy position. Black was left with doubled f-pawns and a big hole on e6, which Nilomi exploited ruthlessly. She now moves to the excellent score of 3.5 points out of 5- well done!
---
Day 3 Report – from Tibo Rushbrooke
Round 4 of the World Cadets Chess Challenge saw more good results for the English team. It's been very pleasing to see players bounce back from tough results. James, after losing his first two rounds, has come back strongly to win two on the bounce, and likewise Daniel recovered well from defeat yesterday to comfortably win his match today. Both are now on 2 points out of 4.
Special credit today goes to Sohum, who was up against an opponent rated 400 FIDE points higher than him, and with the black pieces. He equalised the position with the bold Ne4, uncovering an attack on white's g5 bishop and freeing up his game. The game ended in a draw and he even had chances for a win against white's isolated d-pawn. Nilomi also managed a draw as black against an opponent with a rating similar to hers. Both now move to 2.5 points out of 4, a very impressive score.
We knew Shreyas would have a tough game on 3 out of 3, and sure enough his opponent played incredibly accurately and won the game. Shreyas knew he'd tried his best, he was grinning cheerily as usual in the evening and I'm sure he'll win plenty more games in the tournament. Remy also suffered a tough defeat in the Under 12s. He made a mistake in an opening line he wasn't expecting, and was ruthlessly punished by his opponent. Disappointing- but a lesson learnt.
So far the players have all played solidly, avoiding reckless moves, and it's helped them achieve excellent results. But stay tuned – I have a feeling we might see some spectacular sacrifices in the later rounds.
---
Day 2 Report – from Tibo Rushbrooke
It's been a long and draining day for the England juniors in Brazil, but ultimately a satisfying one. They all had to play two games today, at 10am and 5pm, so some rest is now in order. The big news is that EVERYONE has now secured at least one win. Well done to all.
Remy had an entertaining win in the Under 12 event this morning. Allowing several of his pawns to drop, he calmly swamped his opponent's king with his minor pieces, and suddenly he was winning convincingly. Nilomi faced another Stonewall Dutch in the evening. With good positional play she steadily increased her advantage until winning first a pawn, and then, with a resounding knight fork on d6, the exchange. The chess was of a similarly high standard from the rest of the team.
In the Under 8s, Daniel has 1 point out of 3 and Sohum 2 points, so both can look forward to difficult games tomorrow. James is on 1 point in the Under 10s, and Remy has half points in the Under 12s, with 1.5 out of 3. Nilomi has 2 out of 3 in the Under 12 girls.
Finally, Shreyas is absolutely flying in the Under 8s with 3 points out of 3. He's one of only 8 players left on full points in the event, crushing all who stand in his path. Great stuff.
Good results so far but a long way to go. It's a marathon, not a sprint, and we're looking forward to the rest of the competition.
---
Day 1 Report – from Tibo Rushbrooke

Spirits are high in the England camp after a very strong start to the World Cadets Chess Championships, taking place this year in Poços de Caldas, Brazil. The English juniors managed 4 wins, 1 draw and 1 loss, and they all played excellent chess in the face of strong opposition.
As number 3 seed in the Under 8 tournament, Shreyas Royal was on a live board, and so we were able to watch as he met his opponent's intricate bishop manoeuvre with a neat pawn fork, winning a piece. From then on it was plain sailing for a player of Shreyas's calibre. Sohum Lohia (U8) played an excellent endgame to win his match, and Daniel Shek (also U8) defended resolutely before counterattacking and winning his match as well.
In the Under 12 Girls tournament, Nilomi Desai claimed a first-round victory. She imaginatively traded a good knight for a bad bishop, and immediately followed up by trapping her opponent's other bishop in a forcing variation- putting tactical considerations before strategic ones.
In the Under 10 event, James Merriman was taken by surprise by a tricky opening line. He defended well and battled hard, but eventually his opponent won the game. Remy Rushbrooke drew his match in the Under 12 section, unable to eke out a win from an equal queen endgame.
Well done to the players, who all performed very well, and thanks to the parents and coaches, Neil McDonald and Johnathan Hawkins, for their support. With 10 rounds still to come, let's hope the team can keep up the good work.