World Schools Individual Chess Championships
Iasi, Romania from 21st – 30th April 2017
Organizer – Iasi County Chess Association [regs] Website [pending] – www.wscc2017.ro
Leif Hafstad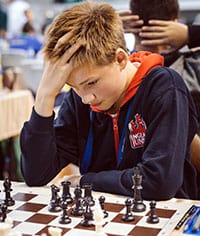 I started to play chess competitively in 2013. Besides chess, I love going out to the forest to play Airsoft with my friends. I am very much looking forward to playing chess at World Schools Chess Championships in Romania. I'd like to thank Dave Regis and the Exeter Junior Chess Club, and Mr. Cross who provided my first chess lessons and introduced me to tournaments.
Aditya Munshi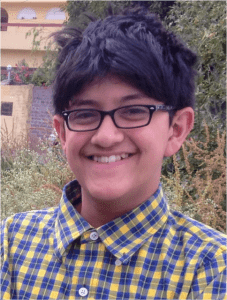 Adi has been representing his country for several years now and hopes to do his best. He has played in World and European championships previously and is the current British Under 12 champion.
Nadia Jaufarally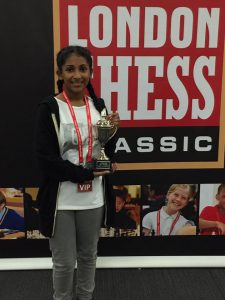 The crowning moment for Nadia's 3-year spell in chess so far came in 2016 when, after representing England at the Glorney, she won Best Girl at the Gibraltar Junior Chess festival, and was crowned England Under 12 Girl Champion. She currently attends the St Albans Girls School and would like to thank her school Headteacher, Mrs Margaret Chapman, for her support and relaxation over school homework during preparation for the tournament. She would also like to thank her family, especially her chess-mad dad, for their continuing support and inspiration. Finally, she would like to thank her coach, Ms Susan Polgar, for her inspiring chess videos.
Giulio Sahinoz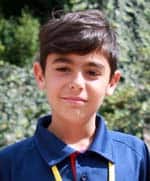 My name is Giulio, I am 11 and I attend year 6 at Walden School in Saffron Walden. I currently play for Linton Chess club in the second and third division teams, in the 4NCL juniors for Midlands Monatch and in the 4NCL for Poisoned Pawns 2. Apart from studying chess, I love building with lego and playing basketball. I would like to thank Paul Kemp, Tomer Eden and Gyula Meszaros for their precious teaching and inspirational approach. I am very much looking forward to playing in this tournament!
Joshua John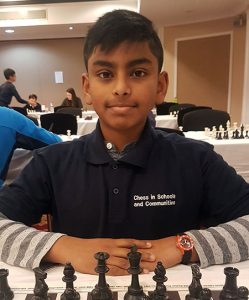 Joshua is a passionate chess player who started playing chess at the age of 7. Currently, he is in Year 5 at Hartley Primary School, and has won many trophies in the borough school tournaments for his school since year 2.He was first introduced to chess at the Hartley Centre. His achievements have been to represent Newham in J4NCL and London League as well as winning the Essex Under 9 title and the LJCC Under 10 second place in 2016. He has won the titles of Supremo and Ultimo at the Delancey Mega-final and Giga-finals for last 2 years.
Outside chess, Josh is a voracious reader and loves writing poems and stories. He would like to thank each of the Newham coaches – Alan Bight, Richard Harding, Jerzy Dybowski, John Illingworth and Malcolm Pein, and most importantly, his family for encouraging him in his chess career. He is very excited to be a part of England Junior team.
Roshan Gurjar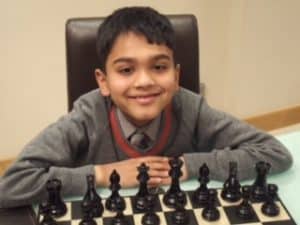 Roshan attends Westminster Under School. He would like to thank his school for supporting and encouraging him. Roshan plays for his school team and county, and has represented both in national chess events. When not playing chess, Roshan is an accomplished musician and spends his time playing his favourite instruments, the piano and the cello. He is also a keen fencer, and fences for his school's elite squad.
Zoha Ashraf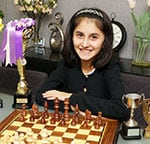 Zoha was born and lives in Swindon, a vibrant town in the beautiful English county of Wiltshire. Zoha attends Brook Field Primary School which she absolutely adores – let's say most days of the year. Zoha became interested in chess at the age of 6, inspired by her elder brother who has now taken an early retirement from chess (at the age of 11). During her early chess days, Zoha was helped greatly by Wiltshire Junior Chess members Tim Headlong and Keith Williams. Presently, Zoha is being coached by Paul Girdlestone, who Zoha also adores – again, most days of the year. Zoha's major chess achievements include: English Youth Champion (U7 Girls 2015), British Champion (U8 Girls 2016), U7/U8 Suprema and playing in the Terafinal Challengers. Zoha's aim is to keep on playing and enjoying her chess (and unlike her brother not to take an early retirement)


Coach – Dagne Ciuksyte


Coach – Neil McDonald