WSCC Round 9
The final round resulted in a score of 4/7 for Team England. Roshan outplayed his opponent resulting in a win. Aditya clinched fifth place in the U13 open through employing the same sharp opening system as in the previous round. His opponent came armed with an improvement, but Aditya navigated his way through the complications and took all the material on offer. He crowned his counterattack with a queen sacrifice. Leif's opponent livened up a quiet position by castling queenside. It soon became apparent that the England player's pawn storm was much the faster. Leif played some powerful attacking moves and quickly broke through to win a piece. Giulio launched an early attack which involved some heavy sacrifices. Later analysis showed that his opponent could have emerged with the better chances, but he was intimidated by Giulio's forceful play into agreeing to a repetition of moves and a draw.
Final scores for our team were as follows: Aditya Munshi (U13 open) 6/9, Roshan Gurjar (U9 open) 5/9, Guilio Sahinoz (U11 open) 5/9, Nadia Jaufarally (U13 girls) 4.5/9, Joshua John (U11 open) 4.5/9, Leif Hafstad (U15 open) 3.5/9 and Zoha Ashraf (U9 girls) 3.5/9. Well done to the whole team for their scores especially when considering that they were playing the toughest juniors from all across the globe.
The day was rounded off with the closing ceremony where we all flew the English flag when Aditya claimed his prize. The coaches Dagne and Neil formally presented all the children with their certificates from the event followed by a "midnight analysis" session of Aditya and Leif's games by the entire team and coaches. Thanks on behalf of all the parents to our fantastic coaches and also to our Head of Delegation Christelle Hafstad and the staff at ECF who supported the team so well both before and during the event.
---
WSCC Round 8

Round 8 resulted in 3 wins (Aditya, Nadia and Joshua) and a draw from Guilio. Aditya played uncompromising chess looking for a win with the black pieces. This culminated in a positional exchange sacrifice. His opponent wilted under the pressure and returned the material to enter a bad endgame, after which Aditya's technique was remorseless.
Surprised in the opening, Giulio had to survive against a horde of white pawns advancing in the centre after his opponent's sacrifice of a piece. He defended well (having to sacrifice a pawn to add to his defence) and after a long struggle the game was agreed a draw when the last of the pawns dropped off the board.
The other games were all hard fought lasting at least 3 hours. The day finished off with a pizza party in our England Team room with gifts of thanks for our fantastic coaches Neil and Dagne and our great Head of Delegation Christelle – who kept everything running smoothly every day!
---
WSCC Round 7
Round 7 saw a score of 4/7, with the first win coming from Roshan, followed closely by Guilio and Zoha. Roshan launched a great attack on the queenside with his entire army and Zoha's opponent played an unusual opening, which didn't put her off, resulting in another win for England. Giulio played with flair and imagination to crush his opponent with Black – it was already resignable for White by move 20. Aditya made a determined effort to grind down his opponent in one of the longest games of the round. He made a lot of progress but he didn't quite have enough to press home the advantage. Joshua also drew and played a good game. The other games were hard fought lasting a number of hours.
---
WSCC Round 6
After a sleepless night for our players (due to the hotel hosting a party resulting in music all night long), they all had to find the energy to pull themselves through the day. The yoga session took place outside on the patio to provide a fresher atmosphere and to give the children the energy that they required to get them through the next game. Giulio exerted positional pressure from the outset but his opponent's dogged defence prevented him from gaining the full point. Aditya quickly took over the initiative as Black and made all the running, but again it was a case of scoring 'three quarters' of a point and having to settle for a draw. Meanwhile, after being thrown off balance in the beginning of the game, Leif in his usual style battled back with force to reach a drawn position. All the other games were hard fought.
---
WSCC Round 5
Round 5 today was tough – the tournament is very high level with the world's top competitors from 48 countries participating. Today saw some difficult games for our England cohort and we returned to our camp with 3 out of 7 – wins from Nadia and Roshan and draws for Leif and Zoha. Well done to the whole team for their efforts today!
---
WSCC Round 4
The England Team had a challenging day ahead today due to how well they had performed in the previous rounds. Despite that, no one left the Palace of Culture disappointed. All the games were hard-fought resulting in wins for both Roshan and Nadia and draws for Guilio, Joshua and Aditya. Roshan caused considerable pressure on the e-file and well outplayed his opponent in the end game, and Nadia was very active in her game resulting in a win for her. Joshua was taken a little by surprise in the opening but despite this he managed to secure a good draw. Aditya drew after a long game. Giulio was surprised on move two but kept his equilibrium (no doubt due to the pre-game team Yoga session) and manoeuvred well to gain a small but long lasting advantage. However it didn't prove enough to win and he too had to settle for a draw. Go Team England!
---
WSCC Round 3
After a manic turnaround time between round 2 and 3, England had a strong performance. In this round, Leif played a great game against a FIDE Master opponent and after a 5 hour game he managed to secure a draw! Aditya also drew in round 3. After a fantastic draw against a tough opponent yesterday for Joshua, he managed to secure a great win in this round with Guilio playing a precise endgame to clinch the win in this round. Results from this round were 3 wins, 2 draws and 2 losses.
WSCC Round 2
Today was by far the most challenging day for all of the competitors with 2 rounds in 1 day to make up for the delayed start. Despite this, Round 2 was a huge success for the England team. 5 wins from Aditya, Zoha, Roshan, Nadia and Leif and a draw from Guilio – all against tough opposition.
---
WSCC 2017 – Round 1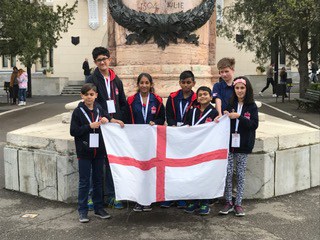 A meditation session took place in the team room prior to setting off for Round 1. The England team were buzzing with a combination of excitement and nerves. Upon arrival at the impressive Palace of Culture, the team separated to find their places in their respective sections whilst parents congregated downstairs in anticipation. All of the players played slowly, thinking through their moves carefully – none of the players finished before 2 hours had elapsed. The England team left the Palace of Culture today with 1 win and 3 draws. Our first win for England was from Aditya Munshi. Well done to the Team for Round 1!
Results are here
---
WSCC 2017 – officially open!
Today the England Junior Team, fully attired in their England kit, attended the official Opening Ceremony. The event was opened by officials from both the World Chess Federation and FIDE, the Mayor of Iasi, the Minister of Education in Romania and the President of the Romanian Chess Federation. Attended by hundreds of players from all around the world, the ceremony welcomed each country in turn with their national flag. After the anthems from Romania and the World Chess Federation, Romania boasted a dance spectacular in the style of a chess board and the 32 dancers representing each individual piece on the board – the battles and dances that were shown were truly amazing! In the afternoon, the technical meeting kicked off with the fine tuning details for Round 1 tomorrow!
---
The England Junior Team has arrived in Iasi!
Despite a 4 hour delay and snow storms in Iasi, the England team touched down. The coaches Dagne Ciuksyte and Neil McDonald got straight to work (in Bella Italia at Luton Airport) and made good use of the time delay! The children were in the best of spirits and made friends straight away. Upon arrival at Iasi airport, the team were greeted by airport passport control who knew that they were the England Team and were transported by the Tournament Organisers to their team headquarters for the next 10 days. The Head of Delegation Christelle Hafstad undertook the formal presentation ceremony rewarding the children with their England t-shirts, hoodies and, most importantly, the England team badge. Best of luck to the England Team members – Leif Hafstad, Aditya Munshi, Nadia Jaufarally, Giulio Sahinoz, Joshua John, Roshan Gurjar and Zoha Ashraf. Go England!