Junior Team Chess Challenge Finals
Hertford College, Oxford, on Wednesday 19th April 2017
The Final of the second Junior Team Chess Challenge for teams of four players, at least one of whom must be drawn from Years 7 or 8, was held in the splendid surroundings of Hertford College, Oxford. The event was organised by Phill Beckett, the Deputy National Secondary Schools Co-ordinator. The thirteen participating schools (seven state and six independent) had earned their place in the Final by qualifying from one of ten regional events held between October and February.
On arrival, the teams were challenged to solve some chess problems as a warm-up exercise. With teams arriving at slightly different times, this neatly occupied the players (and accompanying teachers and parents!). The leading results, marked by Nigel Dennis, were: 1st= Heathside Preparatory School and King's College Junior School Wimbledon; 3rd= Chepstow School, Magdalen College School Oxford, St Paul's School and The Judd School.
The second activity proved to be a real treat. Professor Peter Millican of Hertford College gave a thought-provoking illustrated talk on "Chess, Computers and Artificial Intelligence" in Hertford College Chapel. Peter is an expert on Philosophy and Computer Science and has been frequently in the media (e.g. helping to expose JK Rowling's secret identity as crime writer Robert Galbraith). He is also a former British Correspondence Chess Champion and a Correspondence Chess Grandmaster, who achieved a rating over 2600 in the 1990s. Before that, he was a specialist in swashbuckling, tactical chess, becoming such an expert on openings like the Double Muzio Gambit (in which White sacrifices two pieces in the first eight moves) that Kingpin described him as having "Bxf7+ tattooed on his knuckles"! Peter gave some sage advice about how to improve as a chess player but his talk also ranged from artificial intelligence (with the practical example of programming noughts and crosses) to more philosophical points drawn from Charles Darwin and Alan Turing.
After enjoying an excellent packed lunch provided by Hertford College, the four-round Team Chess Challenge began. Each player had just ten minutes on the clock, plus five seconds increment per move. A key aspect of the scoring system was that the result was to be determined by game points, so every game counted!
Round 1
Horris Hill 2 – 2 Judd
Magdalen CS 2 – 2 Archer Academy
Sutton GS 1 – 3 St Paul's
Chepstow 3.5 – 0.5 Mill Hill
Heathside 3 – 1 Skinners'
King's CJS 3.5 – 0.5 Highgate
St. Edward's 3.5 – 0.5 Reserves
Round 3
King's CJS 2.5 – 1.5 Heathside
St Paul's 2.5 – 1.5 Skinners'
Chepstow 3.5 – 0.5 Judd
St Edward's 1 – 3 Archer Academy
Magdalen CS 2 – 2 Highgate
Sutton GS 3 – 1 Horris Hill
Mill Hill 2 – 2 Reserves
Round 2
King's CJS 4 – 0 St. Edward's
Chepstow 1 – 3 Heathside
Horris Hill 1 – 3 St. Paul's
Archer Academy 1.5 – 2.5 Judd
Sutton GS 2 – 2 Magdalen CS
Mill Hill 0 – 4 Skinners'
Highgate 3 – 1 Reserves
Round 4
Chepstow 0.5 – 3.5 Kings CJS
Heathside 0 – 4 St. Paul's
Highgate 2 – 2 Sutton GS
Judd 2.5 – 1.5 Magdalen CS
Archer Academy 0 – 4 Skinners'
Mill Hill 3 – 1 St. Edward's
Horris Hill 4 – 0 Reserves
The final results were as follows —
1st King's College Junior School, Wimbledon 13.5
2nd St. Paul's School 12.5
3rd The Skinners' School 10.5
4th Chepstow School 8.5
5th = Horris Hill; Sutton Grammar School 8
7th = Heathside Preparatory School; Highgate School; Magdalen College School, Oxford; The Judd School 7.5
11th Archer Academy 6.5
12th = Mill Hill County High School; St Edward's Church Of England Academy 5.5
14th Reserves 3.5
Many congratulations to King's College Junior School Wimbledon which retained their title and shield won last year and collected gold medals. In second place, just a point behind and winning silver medals were St Paul's, with The Skinners' School as bronze medallists. Peter Millican kindly presented the prizes.
Many thanks are due to all the staff at Hertford College, including the catering staff and porters, and especially Home Bursar Dr Andrew Beaumont and Peter Millican for their unfailing courtesy and helpfulness, and for their generosity in providing the venue and refreshments. Many thanks too are due to Chief Arbiter David Welch who brought the equipment from Liverpool and who controlled the event, to Jonathan Beckett for organising many of the practical arrangements on the day, to Nigel Dennis for adjudicating the Problem Solving, and of course to Phill Beckett for being the mastermind of the whole event.
— John Swain
---
Regional Finals 2017
Schools should contact the organisers directly to get firm details of the events (more will be added in due course) —
Kings School Grantham, Brook Street, Grantham NG31 6RP
Entries co-ordinated by Phill Beckett Email: dep.manager.secondary@englishchess.org.uk
Wednesday 5th October – 4.00pm until 6.00pm
— Qualifier – King's School Grantham – 4 schools
King's College School, Wimbledon SW19 4TT Contact: Matthew Hortin Email: mjh@kcs.org.uk
Saturday 8th October – welcome 10:15am, finish approx. 4:00pm
— 1st King's College Junior School; 2nd St Paul's Junior School (both teams qualify) – 14 schools
Hymers College, Hymers Ave, Hull HU3 1LW Contact Andrew Holman Email: anholman@hymers.org
Tuesday 11th October 4:30 to 6:30pm
— Yarm School – 4 schools
The Grange, Hadnock Road, Monmouth NP25 3NG Contact: Richard Stevenson Email: richardstevenson@zoho.com
Saturday 15th October – 11:00am start
— Qualifiers – Chepstow and Monmouth – 8 schools
Magdalen College School, Contact: John Place Email: jplace@mcsoxford.org
Friday 4th November 5.00 – 7.30pm (provisional)
— Qualifiers – Magdalen College School and Horris Hill. The teams were tied but Magdalen College School were awarded first place as they beat Horris Hill in their individual match
Wilson's School, Wallington, Surrey Contact: Neill Cooper Email: nsc@wilsonsschool.sutton.sch.uk
Tuesday 22nd November 4.30 to 6.30pm
— Qualifier – Sutton GS – 6 schools
Heathside Prep School, 16 New End, London NW3 1JA Contact: Lateefah Messam-Sparks Email: lmessamsparks@yahoo.com
Wednesday 23rd November 4.00pm to 6.00pm
— Qualifier – Heathside
The Skinners' School, St John's Road, Royal Tunbridge Wells, Kent, TN4 9PG
Contacts: Krishna Shiatis kshiatis@hotmail.com or Jacqui Charvat jacqui.charvat@skinners-school.org.uk
Friday 2nd December 3.00 – 6.00pm
— Qualifiers – Judd School and Skinners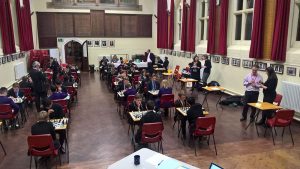 Please note – this is a last chance saloon!
Mill Hill County High School, Worcester Crescent, Mill Hill, London NW7 4LL
Contact: Sarah Hilton Dennis Email:HiltonDenniss@mhchs.org.uk
Tuesday 24th January 2017 4.00 – 7.00pm
— Qualifiers – Mill Hill County, Archers, Highgate
Please note – this is a last chance saloon!
Loughborough Grammar School, Burton Walks, Loughborough, Leicestershire LE11 2DU
Contact: Duncan Happer Email: d.happer@lesgrammar.org
Saturday 4th February 2017 9.30 – 12.00pm
— Qualifier – St Edward's Academy
---
The Junior Team challenge is aimed at Year 7 and Year 8. Teams will consist of four players (reserves are allowed) at least one member of each team must be year 7 or 8.
There will be a series of regional finals, with the winner and possibly the runner-up (if there is a large qualifying event) qualifying for the final, to be held at Hertford College, Oxford
The typical schedule is a team event using a Swiss system (unless there are a low number of entrants, in which case teams may play an all-play-all competition). Each team plays four rounds Every point scored will count towards the team total i.e. a team winning 3-1 would score three points, and the losing team would score one point. All schools can enter two teams, with the host team having the option of a third team in order to have an even number of teams.
The regional events are designed so that they can be completed in an afternoon, although a regional event could be held as a one-day event according, to the wishes of the host school.
National Finals 2017 at Hertford College, Oxford on Wednesday 19th April 2017 — this will be an all-day event
Hertford College is in the centre of Oxford, opposite the Bodleian Library, and the most famous feature is the 'Bridge of Sighs'. The college frontage is often on the TV in Morse and Lewis – http://www.hertford.ox.ac.uk/
For a virtual tour of the dining hall where the National Finals will take place, click here