ECF National Schools Girls' Finals 2020 – CANCELLED
I regret to tell you that we will have to cancel the finals for this year. St Catherine's has made the very sensible decision not to host any major events during the Autumn Term. Only those from the immediate community of the school will be in attendance. We would love to welcome you, but we can't compromise on safety.
The status of the 2021 tournament will be under constant review. I expect to go ahead, but can't guarantee anything. I'll keep in touch as time passes. It's an unfortunate situation. Thanks for all your support and understanding.
— Andrew Martin
The National Schools Girls' Under 11 Chess Championships 2019/20 sponsored by St Catherine's Bramley
Now in its sixth year, the ECF National Girls' Chess Championships goes from strength to strength, involving young female chess players from primary and secondary age groups. Last year's Semi-Final set yet another record for attendance with over eighty teams taking part. Can we better that yet again in 2020? – Alice Phillips
Southern Semi-Final – St Catherine's School Bramley – Sunday 12th January 2020 Web: www.stcatherines.info
Controller: IM Andrew Martin
Results – 7 teams qualify for the final
1st NLC A – 14/15
2nd Amherst School – 12
3rd NLC D – 11.5
4th= NLC B; NLC C – 11
6th NLC E; Putney A (both qualify on tie break); Bromley High – 10.5
9th Guildford High School A – 10; 10th Copthorne Prep A – 9.5; 11th= Wimbledon High A; Abbey A; St Joseph's A; Upton St Leonard's – 9; 15th= Sutton High U11; St Catherine's B; Sutton U10 Megas; Copthorne B; Abbey B – 8.5; 20th= GHS B; NLC F; Lydiard Millicent – 8; 23rd= St Cats A; Wimbledon B; Wimbledon U9; NLC G – 7.5; 27th= NLC I; GHS C; Putney U10; Putney B; Tormead A; Putney U9 – 7; 33rd NLC K – 6.5; 34th= St Joseph's B; NLC J; GHS D; Sutton U8; St Cats D; Sutton U9; Sutton U10; Queens – 6; 42nd= Edgeborough A; Yateley Manor; St Cats C – 5.5; 45th= St Cats E; NLC H; Tormead B – 4.5; 48th= Edgeborough B; St Cats G – 4; 50th St Cats F – 3.5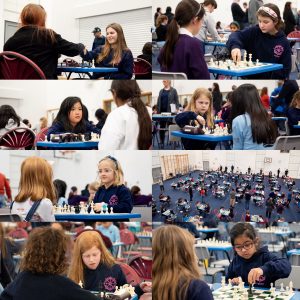 Northern Semi-Final – Bridgewater Independent School – Saturday 11th January 2020 Web: www.bridgewater-school.co.uk
Controller: Julian Clissold
Three round all-play-all – winners qualify
1st Nottingham High School for Girls – 8
2nd RGS Newcastle – 6.5
3rd Forest School, Timperley – 2
4th Ladybarn School, Cheadle – 1.5
Both events will start at 10am and finish at approximately 5pm. Teams comprise three players each, and all teams will play five rounds against other competing teams. The Swiss pairing system will be used. Players will have 30 minutes each on the chess clock.
The finals will be held over the weekend of 4th/5th April 2020 at St Catherine's School. Overnight accommodation can be booked. The number of points scored will decide qualification and not individual match results.