The Hall School are ECF U11 Champions 2016!
Congratulations to the children of The Hall School, London, who had a convincing victory in the ECF Under 11 Finals. King's College School came second and St Paul's School were third. Ten schools came from all over the country to take part in the final. All the finalists had won regional events, over the last twelve months.
Thanks go to all the schools that participated; to their staff and to their chess teachers. Thanks also go to Uppingham School for hosting the event and to Winchester School for their continuing sponsorship.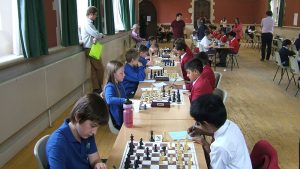 Full results —
1st The Hall School, London – 25
2nd King's College School, London – 18
3rd St Paul's School, London 17
4th Heathside School, London – 16.5; 5th The Dell School, Chepstow – 16; 6th RGS Newcastle – 14.5; 7th Twickenham Prep School, London – 13; 8th Sacred Heart School, Liverpool – 11.5; 9th The Grange School, Monmouth – 10.5; 10th St Edward's Academy, Leek – 8