When I sent in my original reports, I did not realise that Keith Arkell had won 5th prize in the 50+ Championship, and Tony Stebbings had won 6th prize in the 65+ Championship. This is because neither prize was announced at the prizegiving – they announced only the gold, silver and bronze medals. In addition, I decided to award a couple of prizes for the Best Improvement in Rating among our 13 players – both were in the 50+
Roy Hughes gained 39.80 points and selected an unusual chess handkerchief; Terry Chapman gained 37.00 points and received a copy of my book 'Poker 24/7; 35 years as a Poker Pro'
Overall rating results for our 13 players in the ESCC – 50+
Keith Arkell 6 (-6.30 points); Andrew Lewis 5.5 (-23.80); Terry Chapman 5.5 (37.00); Roy Hughes 4.5 (39.80); Peter Gemmell 4.5 (-99.60); Peter Cusick 4 (5.00); Peter Gayson 4 (-9.60); Kevin Winter 3.5 (-2.00)
65+
Tony Stebbings 6 (17.60); Oliver Jackson 5 (19.60); Julian Farrand 4.5 (16.00); Brian Hewson 4.5 (12.20); David Morris 4.5
David did not have a FIDE rating at the time of this event, nor had he previously played with an increment. Apparently though he had beaten me a couple of times in the past. Since he received a win bye in Round 1, this means his actual score was 3.5/8, a highly acceptable result with no previous international experience.
— Stewart Reuben
---
The first-named won the tiebreak where scores are equal for the gold, silver, bronze medals. The English players on the same score are listed in alphabetical order …
50+ Round 9
Zurab Sturua GEO, Milos Pavlovic SRB 7.5; Sergei Terenkiev LAT 6.5; Henrik Danielsen ISR, Keith Arkell 4th equal with 6; Terry Chapman, Andrew Lewis 5.5; Roy Hughes, Peter Gemmell 4.5; Peter Cusick, Peter Gayson 4; Kevin Winter 3.5
65+ Round 9
Jans Kristensen DEN 8; Yuri Balashov RUS 7; Nathan Birnboim ISR (Bronze), Dr Evgeni Cherdevitch (GER) 6.5; Tony Stebbings 6; Oliver Jackson 5; Julian Farrand, Brian Hewson, Davi Morris 4.5
— Stewart Reuben
---
50+ Round 8
Pavlovic, Sturua 6.5; Danielsen 6; Bruno, Tarontiov, Welling 5.5; Keith Arkell, Terry Chapman, Andrew Lewis 5; Peter Gayson, Peter Gemmell 4.5; Roy Hughes 4; Peter Cusick 3.5; Kevin Winter 2.5
I was travelling most of Saturday and thus did not get to see the games. When I asked Keith for a comment, he said approximately, 'Look and decide for yourself.'
65+ Round 8
Balashov, Kristensen 7, Gruzman 6; Oliver Jackson, Tony Stebbings 5; Julian Farrand, Brian Hewson, David Morison 3.5
— Stewart Reuben
---
50+ Round 7
Bruno, Pavlovic, Sturua 5.5/7; Keith Arkell, Danielsen, van den Bersselaar 5 – so Keith is back in the hunt – Terry Chapman 4.5; Peter Gayson, Andrew Lewis 4; Peter Gemmell, Roy Hughes 3.5; Peter Cusick 3; Kevin Winter 2.5
Terry's game with Fabio Bruno was fascinating – but then he shed a whole stable of pawns. Sandor Biro against Keith Arkell – White could have got his pawns back on move 20, then Keith gave up his queen for rook, knight and pawn – it was all too much for me.
65+ Round 7
Balashov, Kristiansen 6/7; Tony Stebbings, Gruzman, Kalegin,Vepkhvili 5; Oliver Jackson 4.5; Julian Farrand, Brian Hewson, David Morris 3.5 – I understood Philip Guilian against Tony Stebbings – the Scot seemed to have no sense of danger from the marauding black h pawn, so Tony is third equal currently.
— Stewart Reuben
---
50+ Round 6
Not England's finest five hours. GM Milos Pavlovic beat Terry Chapman. Keith Arkell drew.
Milos Pavlovic 5/6; Terry Chapman, Sturua, Bruno, Danielsen, Terentiev 4.5; Keith Arkell 4 – there are six on that score – Peter Gayson 3.5; Peter Gemmell, Andrew Lewis 3; Peter Cusick, Roy Hughes 2.5; Kevin Winter 2
65+ Round 6
Balashov, Kalegin, Kristiansen 5/6; Oliver Jackson, Tony Stebbings 4/6; Brian Hewson 3.5; Julian Farrand 3; David Morris 2.5.
— Stewart Reuben
---
50+ Round 5
Terry Chapman drew with black against Zurab Sturua, a previous World 50+ Champion. The game ended quite early in a draw by repetition. That brought the Englishman to 4.5/5. On board 2 it was Bruno v Pavlovic, the only two who could catch Terry. Milos was a pawn up and perhaps could have tried for more with 42….Rb1. But Bruno managed a draw, so Terry is still out in front, sole leader and having gained 43.2 rating points so far.
Scores: Terry Chapman 4.5/5; Bruno, Danielsen, Pavlovic, Sturua 4; Arkell 3.5 – having lost in Round 4, Keith Arkell made a fine recovery in Round 5 – Lewis 3; Cusick, Gayson, Gemmell, Hughes 2.5; Winter 1.5
65+ Round 5
Tony Stebbings had a rather dry draw with Kolbeck, so with 3.5/5, he's just a half point behind the leaders. The problem is that there are 6 of them! Oliver Jackson has 3, Farrand, Hewson and Morris all have 2.5 – so we have nobody less than 50%.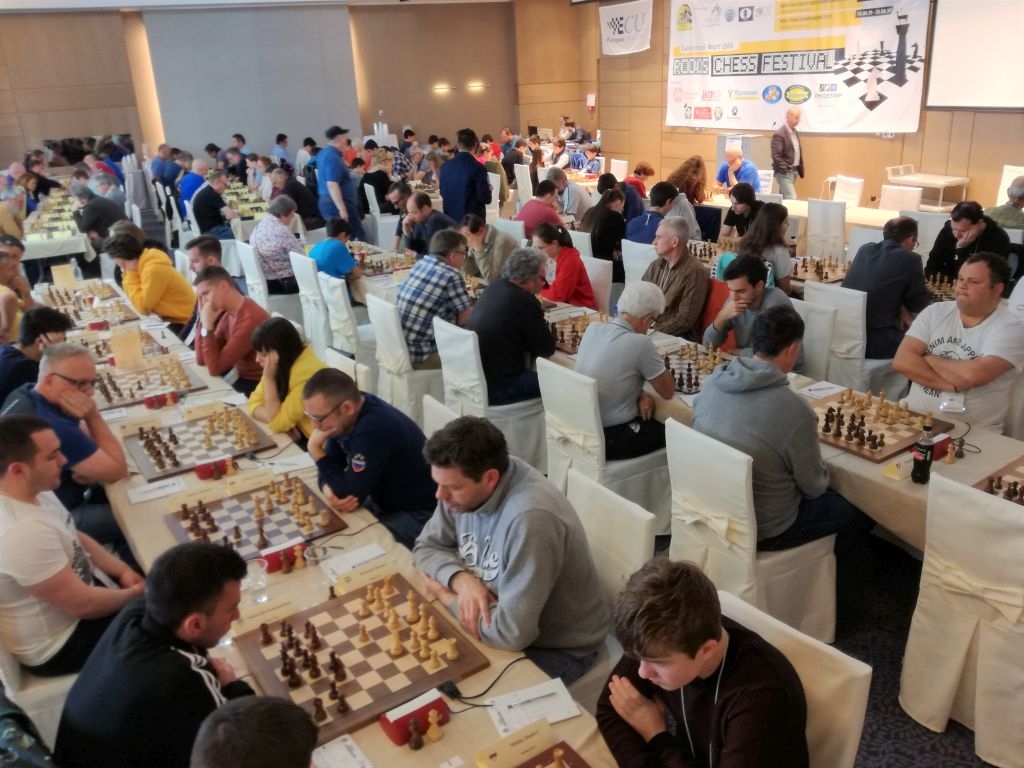 — Stewart Reuben
---
50+ Round 4
Terry Chapman with 3/3 won with Black against the second highest rated player in the tournament and has taken the sole lead. It took him 54 moves, but it can hardly be said to be a slow grind. In several cases, the moves were beyond my pay grade. Keith Arkell on 2.5/3 had a complex game with Fabio Brunetti. 16…dxc4 may look like it wins a pawn, but it is more likely it would be death in slow motion. Keith allowed his opponent's king and opposite coloured bishop to become too dominant. Together with an outside passed pawn it was all too much. Andrew Lewis stood a bit better, but it was drawn at the end.
Terry Chapman 4/4; Bruno, Pavlovic, Sturua 3.5; Arkell, Gayson, Hughes, Lewis 2.5; Cusick, Gemmel 2; Winter 1
65+ Round 4
Tony Stebbings 2281 had a fair draw with Kalagin 2424.
Balashov, Birnboim, Chevelevitch, Kristiansen 3.5/4; Stebbings 3; Morris 2.5; Farrand, Hewson, O Jackson 2
— Stewart Reuben
---
50+ Round 3
Of course the game of the day for the ECF was Terry Chapman against Andrew Lewis, both on 2/2. That there will be some such encounters is inevitable. We, together with Germany, have the greatest number of participants in the 50+ section – 8. Their game was strategically complex, but 31…f4 looks suspect. So Terry won.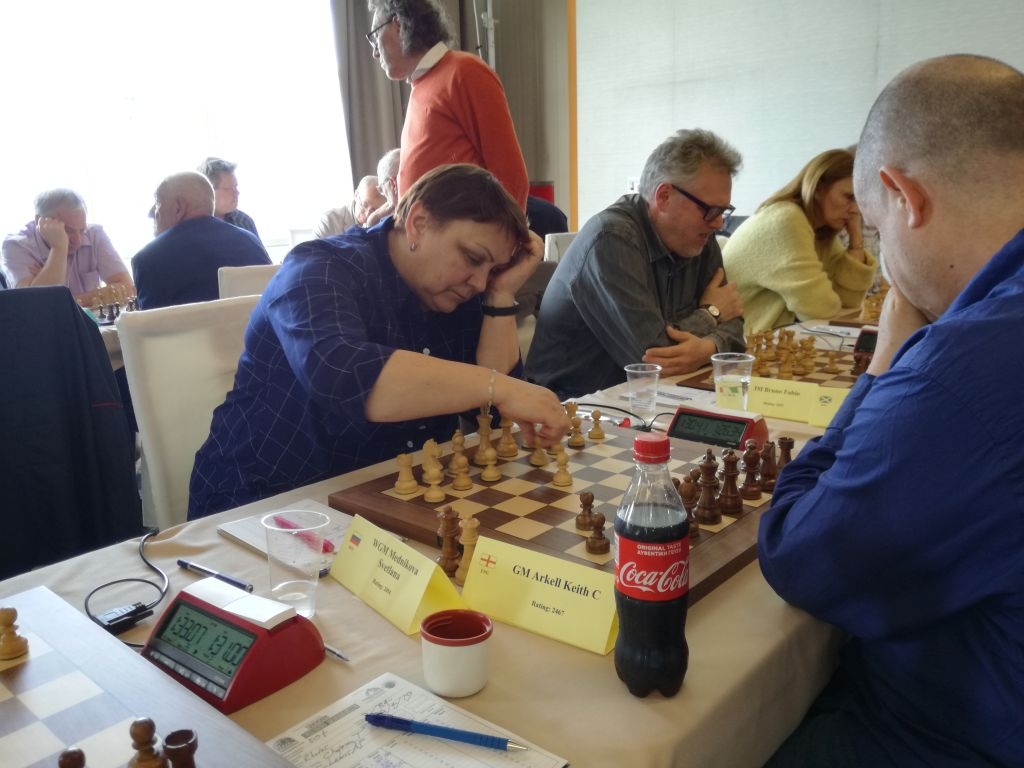 Keith Arkell played his second WGM in a row. Another complex game strategically. She blundered, again on move 31 in a way that I would probably have seen. Of those on 1 point, Peter Gayson 1 and Peter Gemmel and Roy Hughes drew. Of our two players on 0.5/2, Peter cusick drew and Kevin Winter lost.
CHAPMAN 3/3; Arkell 2.5; Gayson, Lewis 2; Gemmell, Hughes 1.5; Cusick 1; Winters 0.5
65+ Round 3
Gruzman (2) 0.5 Anthony Stebbings (2) Something went wrong with the live board for this game and it became nonsense. Of our players on 1/2, David Morris won, Oliver Jackson drew, while Julian Farrand and Brian Hewson lost.
Stebbings 2.5/3; Morris 2; O Jackson 1.5; Farrand, Hewson 1
— Stewart Reuben
---
There are 50 players in the 50+ of whom 8 are English. There are 64 in the 65+ of whom 5 are English. You can find more information on http://rodoschess2019.com/2019/02/10/open-50-alphabetical-list/ including live games.
50+ Round 1
Of course, the seedings mean there are a large number of mismatches at first. Even so, we have got off to a very good start with no losses. Keith Arkell, Andrew Lewis, Terry Chapman and Peter Gayson all won. Roy Hughes probably pulled off the upset of the round, drawing with black against Nikolas Gertnyk 2334. Peter Cusick and Kevin Winter also drew against higher rated opponents. Peter Gemmell took a half point bye.
65+ Round 1
Tony Stebbings, Oliver Jackson and Julian Farrand all won. Julian had an exceptional result, winning with black against Gerhard Kiefer FM 2279. David Morris had a win bye. Only Brian Hewson lost, but that was against GM Jens Kristiansen 2376. Kevin Winter had an exciting flight. His comment, 'I started out helping a young lady in distress with travel stress. Calmed her down … glass of Guinness for me to chill. Phew!'
50+ Round 2
Keith Arkell had an interesting game against WGM Marina Makropoulu 2160. Could she really have worked out the complications following Nxc7? Surely Keith must have stood better before that. Both Andrew Lewis and Terry Chapman won to reach 2/2. Gayson lost to the well-known IM Gerard Welling. Roy Hughes and Peter Gemmel shared the point. Both Cusick and Winter lost.
65+ Round 2
Tony Stebbings moved to 2/2, Oliver Jackson, Farrand and Morris lost, but Hewson won. All 4 have 1/2.
— Stewart Reuben