The England 2 team at Crete had a 'mixed bag' in the final four rounds of the event by winning two matches and losing two. We beat Germany Women and Scotland, but lost to St Petersburg and Israel.
The latter two teams were very strong and had GMs on each board; and indeed St Petersburg won the tourney. England 2 played 4 out of the top 5 ranked teams during the championships and I think it is fair to say that, had we been given a kinder last round, we probably have ended up in the final 5 positions and won a prize.
Overall the team played very well and were on the top boards for almost the whole event …
— Chris Fegan
---
The England 2 team had a disappointing day in round 5, losing to Crete/Athens by the margin of 2.5-1.5. The Greek team played exceptionally well, especially on the top two boards, and at a level way above their published rating, and a draw and win against Jim Plaskett and Andrew Lewis, who have both been in very good form here in Crete, underlined this. The bottom board honours were shared with a win for Andrew Dunn but a loss for Jim Burnett. England 2 play the Germany Women in the next round
— Chris Fegan
---
England 2 versus England 1 ended in a resounding victory for Engand 1 by 3.5-0.5 but I think the result does not do justice to the effort of the England 2 players, and at one point in the proceedings the match looked much more close; however the experience of the England 1 GMs eventually came through, and this was especially true on Boards 3 and 4, where Jim Burnett in particular can count himself a little unfortunate to lose. My own game probably flattered to deceive.
The team's draw was gained by Andrew Lewis with the White pieces against Dr John Nunn [below], and this continues Andrew's excellent run of form in Crete; he now has 2.5 out of the last 3 games in Crete and 1.5/2 against Grandmasters. The remaining game ended with a win by Nigel Short against Jim Plaskett
Overall, the final team result was as one would expect; however, we felt that we might have gained an extra half-point, and a 3-1 victory for England 1 would have reflected our efforts more.
England 2 play Crete/Athens in the next round and we hope to bounce back to keep us near to the top of the leader board
— Chris Fegan
---
The England 2 team were facing strong opponents in Round 3, having been drawn against Ashdod Chess Club, who were fielding GMs on the top two boards, with an IM on Board 3 – but this was no surprise as we had made a solid start and indeed the draw could have been worse for us. The result was exceptional with the team running out winners after the most amazing of matches.
The first game to finish was my own, and a rather feeble effort on my part which resulted in a loss, and I will quickly move on to Andrew Dunn on Board 3, who had the better of a rook and pawn ending against an IM with an extra pawn, but which was unfortunately not enough for the full point.
The match was, at this point, looking very difficult for us and stayed that way for well over 3 hours. The two remaining games were almost the last to finish in the hall.
I find it hard to describe the amazing game on Board 2 between Andrew Lewis and GM Yehuda Gruenfeld, and I will not even try, but below are Andrew's own annotations to his fantastic win.
Jim Plaskett then won his own rook and pawn ending to win the match, which put us up to third on the Leader Board, and we are now paired with England 1 in the next round!
— Chris Fegan
---
The England 2 team were boosted ahead of Round 2 by the arrival of Jim Plaskett early on the morning of the match. The match result was a very pleasing 3-1 victory and we moved to 3 points from a possible 4 match points
On Board 1, Jim Plaskett showed no ill effects of his travel earlier in the day by winning very quickly with the White pieces and forcing a very early resignation, as his opponent was facing a loss of his queen, and thus Jim continued his excellent form in this event from the last two years where he has played Board 1 for England 2, and is averaging over 2500.
On Board 2, Andrew Lewis had a good position on the Black side of a Kings Indian Fianchetto variation and won his opponents queenside rooks pawn and went on to convert to the full point very nicely in a well played and controlled manner.
Andrew Dunn on Board 3 unfortunately lost in a knight and pawn ending, having probably over-pressed looking for the win, and on Board 4 Jim Burnett once again played his favourite French Defence for the second successive game, and he created strong, strong pressure on his opponent's weak king side pawns and won very well indeed. It is now 2/2 for Jim with Black – very impressive!
I took the opportunity of non-playing Captain for the day to enjoy life reading a novel in the warm sunshine on my room veranda and attach a view from the room, overlooking one of the many swimming pools at the Creta Maris Hotel venue.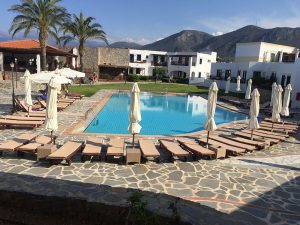 The team will face Ahsdod Chess Club from Israel in Round 3, who beat Scotland in Round 2 and who have 4/4 going into today.
— Chris Fegan
---
The England 2 team started their World Senior Over 50 campaign as No 7 seeds and the first match was against Oslo.
The match result was a 2-2 draw which, although a little disappointing as we out-graded the Oslo players on every board, was by no means a major setback and I think it is fair to say that our opponents played above their rating on each board.
On Board 1, Andrew Lewis sacrificed an exchange for the White Knight on c3 in a "normal" Sicilian exchange sac, but ran short of time and eventually lost on time in a difficult position.
On Board 2, Andrew Dunn had a level position and pressed for more on behalf of the team to try and secure the full point, but unfortunately in doing so ran very short of time and made a mistake on move 39 just before the time control.
Jim Burnett won a pawn early on in his game on Board 3 from the black side of a French Exchange, and stayed in control throughout and duly converted for the full point; on Board 4 Chris Fegan had solid king side pressure from the White side of a Sicilian, and eventually made progress with a "typical f4 break", then stormed the defences of the Black king, which led to mate.
— Chris Fegan