You can find results and pairings on http://chess-results.com/tnr491114.aspx?lan=1&art=20&fed=SVK&fedb=ENG&turdet=YES&flag=30. Games in PGN format and more photographs can be found here – http://www.wstcc2020.net
We were badly damaged by fears about the Coronavirus. This caused John Nunn, Nigel Povah, Ian Snape and Geoff James to withdraw from the 65+ 1st team. I consulted a private doctor and withdrew from the 65+ 2nd team on his advice. Jon Speelman withdrew from the 50+ 1st team. This is no reflection on the six withdrawals. Jon was replaced, at very, very short notice by James Plaskett, who gallantly stepped into the breach. Brian Ewart withdrew Wednesday, but changed his mind and travelled Thursday! All five women stood firm.

ROUND 1
50+ – 55 teams
Our first team got off to a flying start, beating the German Women 4-0. This was doubly good. There aren't many women's teams in the competition, so it also helped our women's team.
James Plaskett arrived too late for round 1.
Glenn Flear's notes — My opponent sacrificed unsoundly and found herself a piece down for nothing very quickly.
Keith, true to himself, won a rook endgame with smooth technique. Both Mark and Neil lost control at one point, but ultimately got the better of their respective complications.
England Women 0.5-3.5 Lasker (Germany)
Ingrid Lauterbach's was the sole draw. Of course she is German, but lived in England for some time, joined us and has never wavered. Our opponents are the number 2 seeds in the entire competition.
England 2 lost 4-0 against the strong first Czech team. The captain, Jeremy Fraser-Mitchell, who is also General Team Manager in my absence, felt our players put up sterling resistance.
65+ – 51 teams
Naturally they were harder hit. Initially more teams of the older players had been entered. With so many Czech players taking part, surely they could have avoided a bye in both sections. Also Malaysia and Ireland have only three members of their team. People do not want to win games by defaults, except possibly professionals.

England 1 vs Polobiny Pardubice, a Czech side, and England 2 against Scotland all went the same way. All games were drawn in both matches. England 1 were seeded 4th in round 1, but this has been corrected to 14 for round 2.
---
ROUND 2 – 50+
England 1 3-1 V TV Magdeburg (GER)
Keith and Mark both drew, while Glenn and Neil won. James did not play after his arduous journey to Prague. The system is such that the match result counts first. The actual score only comes in for tie breaks.
Glenn Flear reports — In round 2, I managed to win quickly. My opponent lost time and space and then tried to break out whilst lagging in development. Not surprisingly the tactics worked for me, the better mobilized player.
In the middlegame, Neil found a combination to win a pawn, but with 'rook and opposite bishops' (which can be drawish at times if the defender can set up a fortress) he had to grind away to earn the full point.
Both Mark and Keith sought to turn equal endgames in their favour, but their respective opponents held well. Keith's game was particularly tricky with 'queen and opposite bishops' leading to some complex problems to solve.
England Women 2-2 Bursa (CZE)
Helen Frostick hadn't played in the first round and was the sole winner in round 2.
England 2 1.5-2.5 Helma 365 (CZE)
The event is dominated numerically by Czech and German teams.
Jeremy Fraser Mitchell reports — In R2 England 2 played Helma365, one of the many Czech teams in the event. Their seeding was lower than it should have been thanks to them having an unrated player – who I played against with Black. He was very unambitious and offered a draw after 11 moves. I accepted since I didn't trust myself not to mess it up, being very tired due to a heavy cold. I did check the other games, Tim's position was already looking good and we had two whites on the other boards. Unfortunately my confidence was misplaced, Tim could not win despite persevering for many hours; Nigel lost and Clive drew
ROUND 2 – 65+
Switzerland 2.5-1.5 England 1
We were floated up to our old rivals, they having won their first match. 3 draws means none of our players have won a game yet – but it is early days.
England 2 1.5-2.5 Noresunby (DEN)
Our oldest player, Julian Farrand, lost on board 1 and the other games were drawn. Again no win yet. It is a tough competition.
— Stewart Reuben
---
ROUND 3
A good day for England in the 50+. All three of our teams won. 65+ England 1 also won, but sadly England 2 lost. As is normal for a Swiss, the leading teams are closing in on each other.
50+
USA Too vs England 1
Sokolin 1-0 Arkell
Doigster 0-1 Flear
Kogonov draw McDonald
Leverett 0-1 Plaskett
Report by Glenn Flear — Keith lost a complicated struggle where his opponent sacrificed the exchange to leave Keith's queen in dire straits. Jim found a combination to win two minor pieces for a rook, and despite the tricky nature of the struggle he kept control well to convert his advantage. Neil was unable to create enough problems to make the rating difference felt and had to settle for a draw despite trying his hardest even into the King and pawn endgame. I managed to win a 2Bs v B + N endgame but my opponent probably had more than one way to draw near the end.
Work out which team we play against in round 4! Our women won 3-1 against Scotland 2. Our second team won 4-0 against a lower ranked German team.
Jeremy Fraser-Mitchell reports — Our opponents could not be accused of lack of effort, three of the games ending in checkmate. To celebrate our 4-0 win the team enjoyed a meal in a restaurant in the centre of Prague. I think Clive Frostick and Nigel White were glad to have a change from the full-board buffet in their hotel.
I am pleased to see Jeremy concentrating on the most important matters – SR
65+
England 1 beat Wales Deheubarth 3-1 without loss.
England 2 lost 0.5-3.5 against Tonvald, a CZE team.
— Stewart Reuben
---
ROUND 4 – 50+
England 1 v USA as predicted last night. Four of the five US GMs are ex-Soviet Union. Joel Benjamin is US born. All 5 of England 1 are English, but three of the England Women were non-English. Many years ago, David Anderton and I discussed the matter of encouraging strong foreigners to join us. David said something like, 'I didn't spend all those years encouraging English chess, only for our leading players to be supplanted.' I agreed. When they have arrived, we have always made them welcome, but never sought to poach players. However, Glenn lives in France and James in Spain.
England 1
Keith Arkell 2447 0-1 Alexandor Shabalov 2546
Mark Hebden 2444 draw Joel Benjamin 2508
Glenn Flear 2420 draw Igor Novikov 2551
James Plaskett 2401 0-1 Alex Yermolinsky 2487
Neil McDonald, the other member of our team, is 2420.
Glenn's report — In round 4, England 1 had the toughest test of all versus the top seed and lost 3-1. Keith found himself defending with B + N against his opponent's powerful bishop pair for much of the game before ultimately going down in a N v B endgame.
In both Flear v Novikov and Benjamin v Hebden White's opening initiative was gradually nullified leading to dry equality. Jim obtained tricky complications which tested his opponent. Yermolinsky however found a precise way to engineer a favourable exchange for two pawns endgame. Jim had drawing chances, but in practise it proved too difficult to hold.
USA and SZE have both won all their matches have 8/8 and meet in Round 5. Lasker Schachstiftung drew with Slovakia. They each have 7/8 and we meet the Slovaks in round 5. In all 12 teams have 6, including SCO 1 and RUS Women.
England Women won 4-0 against Sazarov (CZE). I really should have led the whole article with that. They have 5/8. 4-0 is quite rare in these team tournaments. Once a team is 2-0 up, they often cement the match win with a draw. England 2 have 4/8.
65+
CZE 3-1 England 1
Frosbauer Wedermark (GER) 1-3 England 2 – Julian Farrand and Thomas Goldrick both won.
— Stewart Reuben
---
ROUND 5
John Nunn points out that as from 6:00pm Tuesday all events with more than 100 participants were banned in the Czech Republic. The chess got round the problem by breaking up each group into a smaller number of 'sub-events' in different rooms. I suppose that might be possible, since it doesn't really matter whether the games take place in the same physical place. Also all spectators are banned.
50+
Slovakia 2-2 England 1
Ljubomir Ftacnik GM draw Hebden
Igor Stohl GM draw Flear
Karol Motoz FM 1-0 McDonald
Peter Petran FM 0-1 Plaskett
Glenn Flear reports — Mark again had to defend long and hard to secure the half point against a highly experienced strong GM opponent. Glenn obtained some pressure, but winning a useless extra pawn led to no advantage as Black was able to fully coordinate and put up a blockade.
Neil's double-edged opening seemed easier to play for his opponent who had a powerful bishop pair, and Neil came under pressure in the middlegame and never really recovered.
Jim played a patient positional queenless middlegame where he had more space and pressed his opponent hard, but it was only well into the endgame when he made the difference felt.
England Women 1-3 SK Slavoj Litomeric CZE
Tu Magdeburg GER 1.5-2.5 England 2
Tim Thurstan won, the others drew. Jeremy Fraser-Mitchell comments — We were playing Magdeburg who outrated us by over 100 points per board. Paul had a comfortable draw, Clive had to work a bit harder but seemed to be OK throughout. Tim and I worked on the principle of getting lost positions to confuse the opposition. It worked! Tim was -5 at one stage but his opponent allowed a snap mate. I had a similar evaluation but only got a draw when he let my queen in with a series of checks.
65+
England 1 3.5-0.5 Wallachic Seniors CZE
England 2 1-3 Team Arbogo SWE
Now we are more than halfway through, it is time to look at the overall individual scores. The +- on rating is predicated on a k factor of 10. Actual changes for lower rated players will be higher.
England 1 50+
Arkell 1.5/4 -9.5; Hebden 2.5/4 -0.8; Flear 4/5 +7.9; McDonald 2.5/4 -7.1; Plaskett 2/3 +2.6
The ratings of this team are very close, so the gain/loss gives a good idea of relative performance. Glenn is unbeaten and has 4/5, yet his rating gain is not that high.
England Women
Jackson 2.5/5 +14.4; Bellin 1/4 -7.6; Lauterbach 3/4 +9.4; Nunn 2/4 -5.4; H Frostick 2/3 -3.2
England 2 50+
C Frostick 2/4 +14.6; Fraser-Mitchell 2.5/4 +2.0; White 1.5/4 -9,6; Thurstan 2.5/4 +12.6; Lawrence 2/4 +20.8
England 1 65+
Stebbings 2/4 -16.4; Page 2.5/4 -0.8; Bowmer 2.5/4 -8.8; Mick Stokes 1.5/4 -23.0; Habershon -6.2
England 2 65+
Farrand 1.5/4 -3.6; Valentine 1.5/4 -5.0; Ingham 1.5/4 +9.4; Ewart 1/4 -12.4; Goldrick 2.5/4 + 32.4
— Stewart Reuben
---
ROUND 6
50+
England 1 2-2 Canada
Arkell draw David Cummings – David emigrated from England to Canada
Flear draw Victor Plotkin
McDonald 1-0 Ian Findlay
Plaskett 0-1 Michael Barron
Glenn Flear has 4.5/6 and the best score of the board 3s – so far. His take on the round 6 match — Neil won a fine game, first he attacked his opponent's Sicilian Dragon. Although his opponent was able to defend against the first wave, Neil retained the more mobile and active pieces even after simplification. Some elegant positional themes were then used to finish off his work.
Glenn and Keith drew, but in different manners. Glenn chose to play solidly and his opponent traded off virtually all the pieces leading to sterile equality and a quick draw. Keith's game had his trademark on it, a long struggle which didn't seem very promising for him, but where he got close to winning deep into the endgame. Jim had a bad day at the office; his provocative opening was well met by his opponent who retained control of the centre. Later, just when Jim's wriggling seemed to be getting him back into the struggle, he blundered, handing the full point to his lower-rated opponent.
Oslo Schakselskop NOR 3 -1 England Women
Jeremy Fraser-Mitchell writes — The Czech government restrictions had an impact on the sightseeing this morning. It was raining all day, so visiting a museum or two was in order … only they were closed due to the virus. However the Bethlehem Chapel was still open, so we were inspired by the story of Jan Hus (of Hussite fame).
England 2 – Tim Thurstan was first to finish, with a draw in a fairly blocked position. Paul Lawrence was next to finish. Now we all know about the tactical draw offer. Paul applied this no less than three times during the game (time trouble the excuse again), each time (moves 20, 23 & 29) his position getting stronger – and improving further as his opponent declined. 1-0 to us. Clive Frostick's game was fairly level throughout, and Nigel White won a pawn and was pressing hard, but in the end took a draw to give us the match.
Now we are due to play Scotland 1 – can we maintain our winning streak?
Other news – Mick Stokes had a crazy game for England 65+ 1 where he had two rooks against two queens. As the saying goes, the draw was never in doubt. In fact he was one tempo away from winning. Unfortunately Mark Page had a horrible game so the 65+ first team lost 1.5-2.5. England 2 65+ drew 2-2 with Caissa Roztoky CZE. Our top two boards lost and bottom two won.
— Stewart Reuben
---
ROUND 7
Rounds 8 and 9 have been cancelled by the Czech Government. The results up to and including round 7 will count for prizes.
50+
SCO 1 – England 1
Douglas Bryson IM 0-1 Keith Arkell
Neil Farrell 0-1 Mark Hebden
Jonathan Grant 0-1 Glenn Flear
Andrew Burnett FM draw Neil McDonald
Glenn's report — In the seventh round England beat Scotland handsomely, but it could have been different. Keith was worse but gradually turned it round aided by a nice combination. Mark was always in control and had the better minor piece which enabled him to open up the game with a powerful and indeed decisive initiative.
I was fortunate as I came under attack after grabbing a hot pawn, but somehow the position held together and I was later able to simplify into a winning endgame. Neil won two pieces for a rook but his opponent's gritty defensive play denied him the full point.
England were seventh on tie-break, a fair result overall, but we are disappointed not to have the extra couple of rounds. I have won the board prize (Board 3)!
[Glenn had been leading for some rounds. But it came as a completely surprise to him! Part of the swag was very valuable hand sterilizer – SR]
Surprisingly England 2 played one board higher than England 1 for this round only. That was because they played Canada, who England 1 had already met. I suspect England 1 were hard hit by the cancellation, because they had played a number of strong opponents. Thus an easier ride in the last two rounds was likely.
Canada 3-1 England 2
Only Clive Frostick and Tim Thurstan drew.
England Women 1-3 SK Joly CZE
Sheila Jackson and Jana Bellin drew.
Overall 50+ Team Results after Round 7
Rank Won Drew Lost Points/14
USA 1 5 2 0 12
Lasker 2 4 3 0 11
CZE1 3 5 1 1 11
ISL 4 5 1 1 11
CZE3 5 5 0 2 10
RUS 1 6 4 2 1 10
ENG 7 4 2 1 10
CAN 8 4 2 1 10
SVK 9 4 2 1 10
ENG 2 21 4 0 3 8
ENG W 40 2 1 4 5
The ranking after points is complex. They could use game points. I suspect that is just too simple.
Women's Teams
RUS 1 4 1 2 9
CZE 2 3 2 2 8
LAT 3 3 0 4 6
ENG 4 2 1 4 5
GER 2 5 2 1 4 5
GER 1 5 2 1 4 5
Results of England 50+ players
England 1 Score Rp Rating gain +- K factor
Arkell 3/6 2339 -7.4 10
Hebden 3.5/5 2429 +1.0 10
Flear 5.5/7 2509 +5.7 10
McDonald 4/6 2268 -8.5 10
Plaskett 2/4 2274 -6.1 10
England 2
C. Frostick 3/6 2262 25.6 20
Fraser-Mitchell 2/5 2047 -1.2 20
White 2/5 2003 -4.0 40
Thurstan 3.5/6 2118 20.0 20
Lawrence 3/6 2035 +38.0 40
England Women
Jackson 3/7 2166 +10.8 20
J Bellin 2/6 1970 -10.2 20
Lauterbach 3/6 1939 -19.0 20
P Nunn 2/5 1843 -16.8 20
H Frostick 2.5/4 1762 -3.2 20
Comments
It is noticeably tougher on board 1 than board 2, especially lower down. Thus Clive Frostick only scored 3/6, but had an admirable rating result. Similarly, Sheila Jackson only scored 3/7, but had the best rating result in her team.
Glenn Flear, with 5.5/7 had the best rating gain of anybody on board 3.
Paul Lawrence gaines 38 rating points with 3/6. But note, since his k factor is 40, due to lack of experience; for comparison purposes, it counts as +19 by comparison with Clive.
65+
England 1 2-2 SWE 2
Tony Stebbings won, Mark Page lost, the others drew.
Wallechia Seniors CZE 2.5 – 1.5 England 2
Brian Ewart lost, the others drew.
Results of England 65+ players
England 1 Score Rp Rating gain +- K factor
Stebbings 3.5/6 2204 -16 20 for all 10 players
Page 2.5/6 1978 -26
Bowmer 3.5/6 1937 -16.4
Stokes 2/5 1883 -29.3
Habershon 3/5 1897 -10.8
England 2
Farrand 2/6 1951 +1
Valentine 1.5/5 1826 -15.6
Ingham 3/6 1971 +13.2
Ewart 1/5 1677 -23.4
Goldrick 4/6 1939 +29.2
Comments
Sadly none of the England 1 65+ team gained rating points; but three of the second team did. Julian Farrand only gained one rating point, but it becomes more and more difficult as one gets older – and Julian is the oldest of our 25 players.
The 5 match captains did a fine job: Glenn Flear England 1; Petra Nunn England Women; Jeremy Fraser-Mitchell England 2 in the 50+; and Mick Stokes England 1; Brian Valentine England 2 65+. Since there were 5 players in each team, there had to b be one rested each round. Apart from the 50+ 1st team, they all come to play. Jeremy not only took on that job, but also took my place as overall group leader. Both Glenn and Jeremy wrote blogs for this report.
The premature end to the event was very sad. Now people will be scrabbling to get home – bon voyage!
… but advance information. The European Senior Team Chess Championships take place Friday 26 June to Sunday 5 July in Poland. Of course, we don't know what problems there may be with the coronavirus hanging over us.
Mick Stokes' game
It is unlikely Mick's game from round 6 will ever be entirely available. The organisers have only posted up to round 5 for the 65+ on their website. Mick has not been able to reproduce the game and his opponent had to borrow Mick's scoresheet in order to bring his own up to date. The game was not on an electronic board. Where are the arbiters when you need them? However, even this fragment is worth seeing. 2 queens against 2 rooks, without an immediate win, is a great rarity.
Mick Stokes v Klaus Nickl of Steiermark, Austria Round 6 reached this position after Mick had played 41 Rf4-h4 …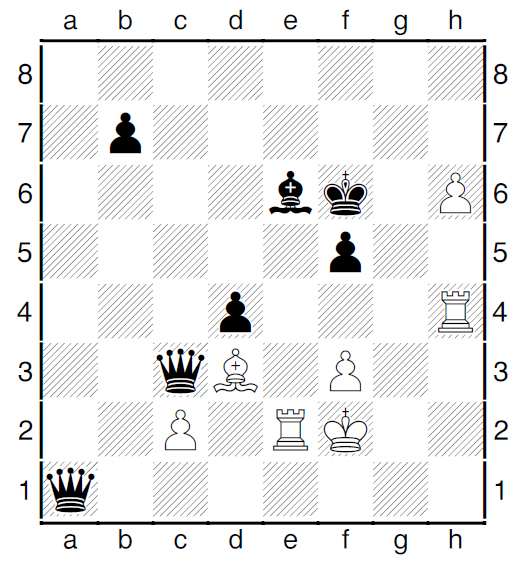 41…Qa8 (Qc7 was an easy win. 2 h7 Qg7 wins and otherwise Black blocks the pawn with Qh7). 42 h7 Qh8 43 Rh6+ Kg7 44 R6xe6 Kxh7 45 f4 Qf8 46 R6e5 Qcc8 47 Re1 Qf6 48 Rh1+ Kg6 49 Rg1+ Kf7 and he offered draw here. Mick refused as it would mean we lost the match. 50 Rg5 Qxg5 51 fxg5 Kg6 52 Bxf5+ Qxf5+ 53 Rxf5 Kxf5 54 Kf3 Kxg5 55 Ke4 Kf6 56 Kxd4 Ke6 and it was agreed drawn 6 moves later.
The win for him was to play 41 Qc7 then if 42h7 he plays Qg7 threatening mate by the other Q on g1 and if I avoid this by not playing 42h7 he stops my h pawn from promoting – Mick Stokes
The games from Round 6 and 7 in the 65+ competition are now on-site, so we can at last show that elusive game. Rather oddly, some of the moves made sense.
(5426) Stokes,Michael (2100) – Nickl,Klaus (1946) [A00]
FIDE World Senior Team Championship 2020, Olympik Hotel, Sokolovska 138 (6.12), 11.03.2020

— Stewart Reuben