— from Mark Jordan Email: manager.publicity@englishchess.org.uk
Whilst Carlsen and Karjakin continue to battle it out in New York, the 26th World Seniors Championship has reached round 3 in the town of Marianske Lazne in the Czech Republic. With 470 entrants across all sections, the event is being held in 4 venues to fit everyone in.
GM Sturua 2556 is the favourite in the +50 Open event but has already conceded a draw. English GM, Keith Arkell [above], was 7 in the starting line-up, has made it through the shallow waters of the first 3 rounds with 3/3, will have very realistic expectations of a medal, and is certainly among the contenders for the title. He faces his first real test in round 4, playing black against GM Tunik 2404. Meanwhile, fellow English competitor, Peter Gayson 2127, who started the tournament 66 in the pecking order, is so far getting results far above expectations and stands at 2.5/3, having drawn with a GM and beaten an IM along the way. He plays White against Slovakian IM Petran 2302 in round 4.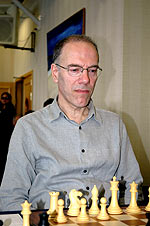 In the +65 Open, GMs Vaisser 2505 and Sveshnikov 2489, 1st and 2nd favourites respectively, have both conceded draws against much lower rated opposition. In fact, none of the top 6 have managed to make it through the first 3 rounds with 100% making the tournament is excitingly wide open! One of those on 3/3 is English FM, Tony Stebbings 2293 [left], who plays White against IM Harandi in round 4.
Keith Arkell played an excellent game in round 3 which involved a knight sacrifice — http://www.viewchess.com/cbreader/2016/11/21/Game1022679390.html