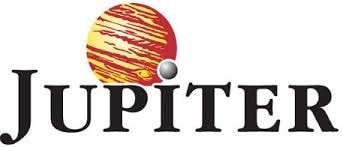 Jupiter Asset Management is the sponsor of the England Open Team for the Baku Olympiad
— from Mark Jordan Email: manager.publicity@engishchess.org.uk
Pictures by Maria Emelianova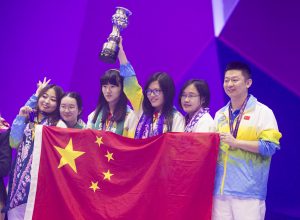 So the Baku Chess Olympiad 2016 has concluded with the United States taking the Open title and China taking the Women's [left]. Despite being consistently seeded 1st in the Olympiad Open, Russia has not been able to capture the glories of the past and underperformed again, although they did win a Bronze as some recompense. They were just out of the medals in the Women's but, given that they were 3rd seeds, this was not outside expectations. China, with a gradually increasing number of well-trained and talented players joining the 2700+ elite, were expected to do well here but ended far out of a medal position in the Open and will be very disappointed. It had seemed likely that they would take over as the most powerful chess nation in the world, having risen through the ranks from almost nowhere in a mere couple of decades. Perhaps their performance here brings those expectations into question. Given China's high ambition, Gold in the Women's event is probably not sufficient compensation but it is certainly a great achievement for a Chinese Women's team that won through in a very competitive situation against some very determined and dangerous rivals.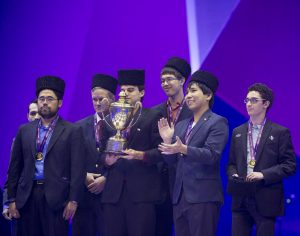 For the United States [left], winning Gold in the Open is a huge achievement and one they have not experienced for 40 years. They have been criticised in some quarters for relying on imported talent but this seems unfair. Both Caruana and Nakamura have honed their skills in the USA and, whilst the former has transferred over from the Italian Chess Federation, he has spent much of his life in the USA and transferring between federations has been a feature of chess, and most other sports, for decades. Both Sam Shankland and Ray Robson are born and bred Americans which only leaves Wesley So who is certainly a gain for the USA and a loss to the Philippines. With growing sponsorship, a higher public profile and strong developments in junior chess and training for potential internationals, it is hoped that this win of the Olympiad will help to foster yet more growth and create an environment in which more talented players can realistically choose playing chess as a means of making a living.
The England Team in the Open did not win a medal but, with 9th on tie-break, achieved their best result in many years which has to be at least partly due to the fact that they had been able to get sponsorship which enabled better preparation and support and the fielding of our strongest available team. The highlight was, of course, the 3-1 drubbing of the fancied Chinese team and we can expect, with more consistency across all boards, the performance here to serve as a platform for future successes. Michael Adams achieved a +3 result with no losses on board 1 against consistently strong opposition and his tournament rating performance of 2794 has increased his rating in the live rankings by 7.2 points to 2745.2 which positions him back in the world top 20. Gawain Jones achieved excellent results on board 4, winning some crucial games, only losing once, and scoring a tournament rating of 2738 which yields a rating improvement of 11.8, pushing him back towards the 2650 mark. Nigel Short also performed very creditably, playing in 9 of the rounds despite being on the reserve board. David Howell and Luke McShane were not so successful on boards 2 and 3 and both lost quite a few rating points. They are both immensely talented players, however, and will no doubt use this experience to root out any short-comings in their manner of play and renew their efforts to firmly establish themselves in the top 100.
The women's team were seeded 32 and were not therefore contenders for the team medals. They would have hoped to have at least justified their seeding and, preferably, achieved a higher than expected placing, but it was not to be. They ended 50 in the rankings with a 50% match point score and had a difficult time, particularly on board 4. One heartening performance was that of Akshaya Kalaiyalahan who scored 7.5/10 on board 3 with only one loss and regained some of the rating points she lost in her disappointing result at the British. She can be expected to push her rating back up towards the 2300 mark, as it was a couple of months back, and be challenging for 2nd board at the Olympiad the next time around.
Jupiter Asset Management is the sponsor of the England Open Team for the Baku Olympiad
Jupiter is an established fund management group that seeks to add value for their clients through the delivery of outperformance over the medium to long term. Their origins go back to 1985 as a specialist investment boutique founded in London. Since then they have expanded beyond the UK as retail and institutional investors have been attracted to their active approach to asset management.
Although they are now too large to be considered a boutique – they manage £36.2 billion (US $51.6 billion) in total – they work hard on retaining the boutique culture. They believe this is why some of the finest fund managers in the industry choose to pursue their careers with them.