— by Mark Jordan, Manager of Publicity Email: manager.publicity@englishchess.org.uk
This year's British Championship, taking place in a very suitable venue, the Pavilion in Bournemouth, is the strongest for some years and, with a very interesting mixture of competitors, promised to be an enthralling contest. It has lived up to those expectations so far.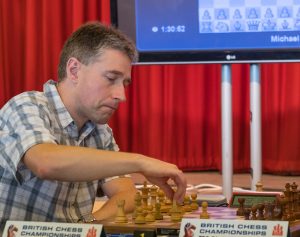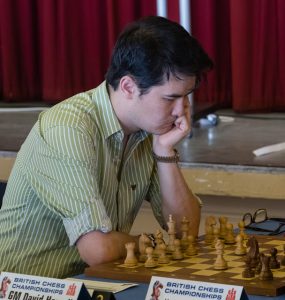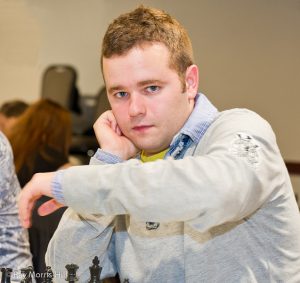 [l-r] Michael Adams, David Howell (by Brendan O'Gorman) and David Eggleston (by Ray Morris-Hill)

The big news before the event started was, of course, the inclusion of England's long-time number 1, Michael Adams, in the starting line-up. Adams has won the British 5 times already but, like a number of our leading players, has not been able of not chosen to compete in recent years and his appearance this time is very welcome indeed. Whilst he is certainly favourite to win the event he has some stiff competition from the very strong and ambitious GMs, David Howell and Gawain Jones, and a number of highly experienced and formidable GMs, no doubt wishing to upset the expectations set by the Elo rating list, and all of whom present a danger to the unwary "super" GM in an individual game if not always perhaps as realistic rivals for the title itself. It is unfortunate that the reigning British Champion, Jonathan Hawkins, felt unable to defend his title this year and it is hoped he will return in 2017. In the previous report the events of the early rounds were briefly summarised and round 4 was covered in more detail and, therefore, this report will concentrate on rounds 5 and 6.
Round 5 started with 6 players in equal 1st on 3.5/4 yielding the following pairings on the top boards: 1) GM N Pert – GM Adams, 2) GM Howell- GM Arkell, 3) IM Justin Tan – GM G Jones. Completing the line-up in front of the display boards was 4) GM Fodor – IM Palliser. On board 1 Pert played a Giuoco Piano against Adams which led swiftly to an endgame in which Adams had a superior pawn structure, due to Pert's isolated d-pawn, plus a bishop against a knight but, in compensation, White retained a small initiative. This is the kind of position where Adams often excels, grinding down his opponents with superior endgame technique but, in this case, he offered a draw on move 21 which Pert accepted. This might seem a somewhat surprising decision by Adams who, being the top rated player by some margin might not be expected to agree to a draw so easily against a much lower-ranked opponent. However, whilst an easily conceded draw in a 5 or 6 round Swiss system event is to be avoided by a player who hopes to win the event, the British is a Swiss over 11 rounds and lasts 2 weeks meaning it is sensible to conserve energy where possible and it is very practicable to make up for a little lost ground later. Also Nick Pert, whilst being substantially out-graded by Adams, is a dangerous opponent not to be taken lightly and was still in his preparation at the time the draw was offered, a fact that Adams no doubt suspected. A sensible decision by Adams then but a little disappointing for an audience no doubt hoping for a live demonstration of Adams' legendary endgame technique.
The Tan-Jones game on Board 3 was an even quicker draw with the point split on move 15 after a c3 Sicilian had resulted in what was a dead equal and decidedly boring endgame position. Tan is rapidly improving IM, certainly a realistic candidate for the GM title, and needs to be treated with caution and due respect. Bearing this in mind, a draw with Black against him at this stage of the tournament was a perfectly acceptable outcome even for such a strong GM as Jones.
Having seen two of the contests on the top boards end quickly and peaceably, the round 5 audience might have felt short changed but, fortunately, the Howell-Arkell and Fodor-Palliser games offered more than enough compensation!
David Howell and Keith Arkell are friends and team-mates which does not mean they will not go for each other's jugulars over-the-board when circumstances permit and demand, and this was certainly the case here! Since the players had already seen short draws on Boards 1 and 3, a winner here would take sole lead of the Championship so both players certainly wanted to win. Arkell answered Howell's e4 with a Scandinavian Defence which led to a highly unbalanced position with White gaining space, throwing his g-pawn up the board and clearly going all out for that win. Arkell, however was un-phased by this aggression and had confidence in his position to survive the onslaught and give himself a few chances. Calling Howell's bluff, he all but forced him to sacrifice the exchange on move 15 if Howell wanted to continue the attack and, in the meantime, had developed some threats of his own on the Queens-side. The game became a slugfest with both Kings exposed and as time became short both players missed shots and Arkell certainly had winning chances. However, Howell's luck held and he was eventually able to pin down Arkell's King with the help of his own embattled monarch and thus claimed top spot in the table. The game was edge-of-the-seat fighting stuff and a credit to both players.
The Fodor-Palliser game on Board 4 was of a different nature and a very instructive encounter which Andrew Martin chose as his game of the day – https://www.youtube.com/watch?v=VbQZ3eVjqxM
Fodor played in somewhat lack-lustre style with White, hoping to outplay his lower-ranked opponent in the middle-game, but found him very well prepared and both creatively and technically astute. Perhaps this was a case of a GM underestimating an IM which is unwise when facing a player like Palliser who can be an extremely dangerous opponent on his day as he proved here.
So at the end of Round 5 Howell had taken sole lead with a six-way tie for second. The round 6 top pairings were 1) Jones-Howell 2) Adams-Tan 3) Palliser-N Pert 4) Emms -Eggleston.
Jones-Howell saw a sharp contest between the two GMs with an unbalanced opening position leading to a complex middle-game and then a technically challenging endgame. Since Howell wanted to hang on to his lead and Jones was obviously intent on supplanting him the game was an exciting high-class battle which eventually led to a drawn position where Jones was unable to find a way to get his extra pawn passed Howell's bishop and he ended matters with a perpetual check.
On Board 2 Adams faced Tan who, having secured wins in the first 3 rounds and then draws against Howell and Jones, had earned himself a contest against the top seed. Could he build on his impressive performance so far with a draw against the long-time elite player or even win? With the Black pieces this was possibly asking too much and so it proved. Playing against Adams' Ruy Lopez Tan held his own out of the opening but his opponent gradually built up the pressure and a flurry of tactics, unwisely provoked by the young Australian IM, led to an attack for which he had no answer. Tan, however, is still very well placed in the tournament, has played the top 3 seeds, and is on course for a GM norm and a high tournament placing.
Palliser-Pert saw Pert counter White's Queens Gambit with a Slav. Palliser maintained a space advantage and early pressure but Pert defended stubbornly and White could never quite find a way through. The game eventually petered out into a series of exchanges leading to a dead drawn position.
On Board 4 GM John Emms faced IM David Eggleston, David, who is a regular player in the British, has had a very good run so far this year and came to this game having drawn with GM Jones and GM Gormally and then defeating, in Round 5, GM Hebden, winner of the Tradewise Grand Prix but whose play seems a little erratic here. He defeated Emms too to give him 3/4 against GM opposition in 4 games which has to be his best statistic in the British so far. Despite a relatively lowly Elo, currently well below 2400, he is certainly not a player to be underestimated! His result against Emms places him on equal 1st going in to round 7 together with Michael Adams and David Howell on 5/6. Among those on 4.5/6 is the favourite to win the British Women's title, Jovanka Houska, who is currently well ahead of any potential rival.
As we go to press the 7th Round has already started with the top pairings being Howell-Adams, Eggleston-Arkell, Wells-Jones and N Pert-Houska. With things so close at the top we can look forward to a very exciting second week!