— from Mark Jordan Email: manager.publicity@englishchess.org.uk
The latest Chess Master @ The Local event took place on Saturday 24 September from 12-5pm at the Curio Lounge in Stroud, Gloucestershire featuring a simultaneous display by Chris Beaumont. Chris achieved the title of International Master in 1996 and is a highly respected chess coach, training English junior squads for a number of important international events. There was also the opportunity for participants and members of the public to play off-hand 5-minute and longer games and a giant chess set strategically placed outside the venue caught the attention of a number of passers-by who were also enjoying watching Morris Dancing, an important part of a local folk festival which was, by chance, also taking place in the town at the time.
This free event, sponsored by the English Chess Federation and organised in cooperation with Stroud Chess Club, is the fourth in a series of such events which are taking place throughout the country and are intended to bring chess to the public in an informal atmosphere, offer a higher local profile to local chess clubs and simply provide an enjoyable event for local chess enthusiasts. The Stroud event certainly achieved all these aims with aplomb.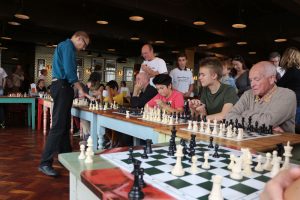 The event was opened by a short speech from the ECF Publicity Manager, Mark Jordan, to explain the rules of the simul and to introduce IM Chris Beaumont who stepped forward, ready for action, to a round of applause. The initial jitters of the organisers and the master himself that there might not be enough interest to generate opponents for all the boards were quickly dispelled when all 10 boards were filled from the start and it soon became necessary to increase board numbers to 13 to try to keep down the queue of participants patiently waiting to get a shot at the master! As each game finished the board was vacated for a new opponent each of whom could choose which colour they wanted to play and, by the end of the event, it is estimated that more than 30 people took part with plenty of on-lookers and others playing on additional chess sets nearby. Participants were a mix of junior and senior players of all strengths and Stroud CC certainly ensured Chris would face a few stiff games with the inclusion, among others, of Mike Ashworth, the under-18 British Chess Champion and a former Bulgarian Junior Champion, Dimitar Dyulgerov.
Chris very much entered in to the informal spirit of the event, chatting and joking with opponents as he did his circuit and offering analysis, comments and advice to his opponents once their game had finished. So popular was the event, with participants travelling in from Bristol, Gloucester and further afield, that the intended finish time of 5pm was extended closer to 6 to allow everyone who wanted to play to get a chance. By the end the somewhat rueful chess master admitted he had perhaps underestimated some of his opposition as he conceded 6 games and drew 2 but, it has to be said that with at least 3 participants approaching master strength themselves and with some very strong club players in the mix, he was certainly up against it!
The winners were Mike Ashworth, Dimitar Dyulgerov, Alex Kearns, Ian Blencowe, Oliver Stubbs and John Jenkins. Duncan Dicks and Chris Haynes achieved draws.
The Curio Lounge, which opened a couple of years back in the re-furbished premises of an old snooker hall in the centre of town, made an excellent venue for this sort of event. One of a chain of eighty-four Lounges scattered around the country, it provides a spacious but homely hybrid of pub, restaurant and coffee bar and came across as a very welcoming space for customers of all ages. Disabled facilities were also above par for this kind of premises with a gentle ramp leading through the front door, and easily accessible and adequately equipped disabled toilet facility -which also doubled as a baby-changing room – and enough space between tables to manoeuvre a wheelchair with no problems. Service was efficient and friendly, the food was tasty, the coffee good and the beer very palatable.
Chris Beaumont was interviewed on BBC Gloucestershire on the Tuesday before the event, mentioning both the English Chess Federation and the Curio Lounge, and the event received coverage in the local papers.
Thanks are due to the members of Stroud Chess Club who, resplendent in their new chess club tee-shirts, ensured that all ran smoothly and, in particular, to Adrian Walker who liaised with ECF and was the main-mover in making it happen. The staff of the Curio Lounge were also enthusiastic and supportive and it would be nice to have the opportunity at some point to organise a similar event here again or in another Curio Lounge premises.