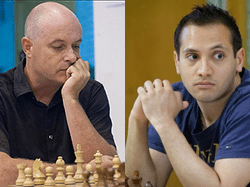 The ECF is scheduling a one-day Endgame Challenge Rerun on Saturday 29th January with IM Lorin D'Costa (above right) and GM Keith Arkell (above left). This will be an abridged version of the Christmas challenge for those who were unable to make the event in December.
The Endgame Challenge Rerun will cover fundamental endgames you really must know with theoretical positions and practical examples including —
Pawn endings – the square, the opposition, shouldering, pawns on both sides, passed pawns, breakthrough, fortresses,
Minor piece endings – bishop and knight endings with pawns – same coloured bishops, opposite coloured bishops, good knight v bad bishop and vice versa
Rook and pawn endings – Lucena, Philidor, side defence, Vancura, and others
Major piece and pawn endings – principles and examples
The challenge will be in two parts —
10.00am to 12.00 noon
Zoom lecture on pawn endings including thematic tournaments and analysis of games with IM Lorin D'Costa and GM Keith Arkell
2.00 pm to 6.00 pm
Afternoon endgame simul and more thematic tournaments with GM Keith Arkell and Challenge team
Thematic tournament positions will be based on practical examples from top level play.
All attendees will receive a pack by email with a summary of the material covered following on from the challenge.
Tickets are £10.00