The winning book this year combines three subjects (autobiography, lessons and best games) into one volume which together tell the story of the early years of the strongest woman player in chess history.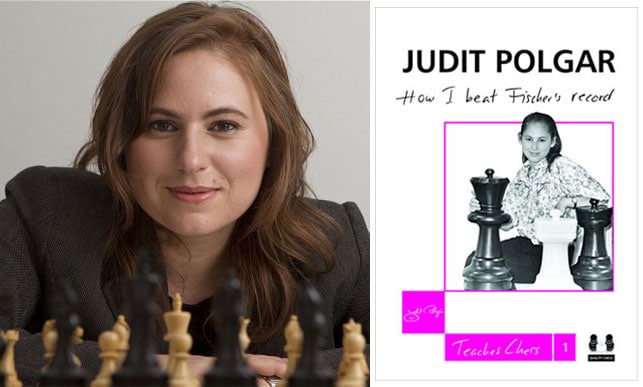 Judit Polgar 'How I beat Fischer's record' is the main title, but the cover also features 'Judit Polgar Teaches Chess 1' and this reflects how the book is constructed. The period covered is from Judit's first chess lessons to the age of 15 years,4 months and 28 days when she broke Fischer's record of the youngest ever grandmaster. Using her training notes from the early days to the grandmaster, the first 12 chapters cover her learning curve (chapter 1, Tricks; chapter 12, Attacking without Queens). She then moves onto Decisive Games; Memorable Games; and finally Amsterdam 1989 OHRA Tournament Diary, where she more than holds her own in a strong grandmaster tournament.
The examples are well chosen and written from Polgar's experiences over the board. Her tactical and attacking abilities were apparent at an early age as well as her confidence and determination. But what stands out is the enthusiasm, enjoyment and youthful exuberance of the young teenage girl, which makes the book a joy to read.
Polgar's upbringing was of course unusual with exceptional focus on chess with 2 elder sisters who both became grandmasters. The amount of chess work that she and her sisters went through at an early age was immense; but it seems to have been a happy childhood, with none of the difficulties one often sees with prodigies.
Lastly, a tribute should be paid to the publishers, Quality Chess. The hardback book is well laid out and beautifully produced. Numerous photographs of the Polgar family, places visited, chess players and people met on the way flesh out the story. At £19.95 for 383 pages the book is also good value.
All in all, this is an exceptional insight into the early years of one of the most remarkable personalities in the chess world today. The next two volumes of the trilogy are eagerly awaited.
– Ray Edwards | Julian Farrand | David Friedgood | 4th October 2013