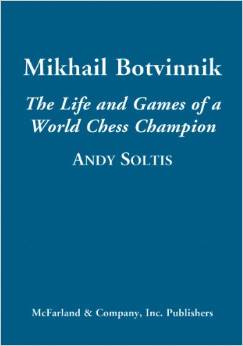 There are many chess biographies which concentrate on the games and chess personality of a player, but very few which focus on the player's life and the historical circumstances in which he or she played.  This year's winner is a notable addition to this rare genre and features one of the most influential players of all time.
Andrew Soltis in his preface states his ambition in his book Mikhail Botvinnik The Life and Games of a World Chess Champion  McFarland £29.99 –
"Botvinnik was a mystery to many of his contemporaries.  This book is an attempt to explain him in the context of today".
Botvinnik's achievements are too well known to be recounted here, perhaps best summed up by his later informal title of "The Patriach"(of Russian chess).
As Soltis points out Botvinnik lived and prospered in the most difficult circumstances imaginable. He survived the Russian civil war, collectivization and famine, the Terror and second world war (in which many of his friends and contacts were executed or killed), Stalin and the cold war, the malaise of the 1960s and 1970s and the collapse of communism and the Soviet Union.  How did he achieve so much?
Soltis provides several reasons. First Botvinnik was an excellent politician (not a common characteristic amongst chess players). Soltis provides much detail on the intrigues which he survived and sometimes started. Botvinnik created much resentment and jealousy from some of his colleagues but he always won through in the end. Secondly Botvinnik's huge public reputation arising from his victories in the late 1930s and 1940s culminating in winning the World Championship in 1948 always counted in his favour.
Self confident, tough, suspicious, uncompromising, dogmatic and not least incredibly hard working, Botvinnik often came over as a ruthless, self-obsessed loner.  But Botvinnik had major interests outside chess, notably in the field of electrical engineering which he pursued with the same degree of determination as in chess to the extent of abandoning the game for several years.  He was very happily married to Gayane Davidovna, a Kirov ballerina; he enjoyed the theatre and the arts – and football. Loyal to his friends, he was ready to use his influence to help colleagues in need.
Soltis rightly gives less attention to the games as they have been extensively analysed elsewhere not least by Botvinnik himself, which enables him to explore the many aspects – environment, opponents, contributions to chess theory – of his enigmatic subject.
Soltis has written a  fascinating and readable biography of a very great chess player who was also a complex man of many contradictions.
– Ray Edwards   Julian Farrand   1 September 2014