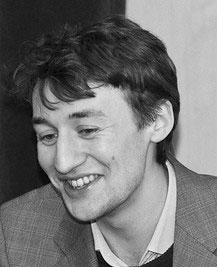 Luke McShane was the very worthy winner of the poll for this prestigious title. All the scores are given below. 94 people voted, all either members of the ECF or journalists. They could vote for a number of people, ranking their favourites in order. There were some idiosyncratic choices. Throughout the history of the competition, people have preferred to vote for exceptional performances. The title was introduced in 1984 and this is the fourth time he has won.
Luke was born in 1984. He is a grandmaster rated 2667 and ranked third in England. His two greatest results in the period were finishing with 4.5/7 in the London Chess Classic, tieing for first with World Champion Viswanathan Anand and Magnus Carlssen. Later, he won the prestigious B Group at Wijk an Zee.
Yang-Fan Zhou, born 1994, gained all his international master results in this period, but what made him an extremely worthy runner-up – with a rating of just 2423 – was that he scored an extraordinary 9/9 in the Brighton E2E4 masters in February. This was a 3038 performance. In comparison, Garry Kasparov has never had a published rating higher than 2850. Currently, Yang-Fan is studying for the International Baccalaureate.
Michael Adams, celebrating his 40th birthday this year, has been our highest rated player for many years; currently he is 2726. It was probably his 9/11 first place in the 2010 British Championship which secured him so many votes.
Jonathan Hawkins only quite recently gained the IM title. He was born in 1983 and has been a relatively slow starter. He is rated 2429 and gained his first grandmaster norm in the recently completed 4NCL
– Stewart Reuben (picture of Luke by Ray Morris-Hill)

| | |
| --- | --- |
| Luke McShane | 284 |
| Yang-Fan Zhou | 136 |
| Mickey Adams | 91 |
| Jonathan Hawkins | 91 |
| Gawain Jones | 67 |
| Nigel Short | 67 |
| Simon Williams | 34 |
| David Howell | 27 |
| Jovanka Houska | 22 |
| Mark Hebden | 20 |
| Sarah Hegarty | 18 |
| Adam Hunt | 17 |
| Richard Hall | 15 |
| Nick Pert | 11 |
| Dean Hartley | 10 |
| Marcus Harvey | 10 |
| Amy Hoare | 9 |
| Brendan O'Gorman | 7 |
| David Haydon | 7 |
| Jack Rudd | 7 |
| Sam Williams | 7 |
| Stuart Conquest | 6 |
| Anna York-Andersen | 5 |
| Beatrice Steel | 5 |
| John Nunn | 5 |
| Mark Josse | 5 |
| Nevil Chan | 5 |
| Paul Byway | 5 |
| Steven Jones | 5 |
| Sydney Cassidy | 5 |
| Vic Morris | 5 |
| Aidan McGiff | 4 |
| Alex Combie | 4 |
| Ananth Vigikuma | 4 |
| Andrew Millar | 4 |
| Ben Purton | 4 |
| Daniel Jackson | 4 |
| Michael Sallon | 4 |
| Richard Desmedt | 4 |
| Richard Palliser | 4 |
| Arthur Sparkes | 3 |
| Bruce Jenks | 3 |
| Graham Buckley | 3 |
| Howard Williams | 3 |
| Isaac Sanders | 3 |
| Keith Trower | 3 |
| Matthew Sadler | 3 |
| Max Elliot | 3 |
| Mike Surtees | 3 |
| Ravi Haria | 3 |
| Stephen Cairns | 3 |
| Neil MacDonald | 3 |
| Allan Pleasants | 2 |
| Ben Edgell | 2 |
| Gavin Wall | 2 |
| Graham Lilley | 2 |
| John Wickham | 2 |
| Paul Townsend | 2 |
| Peter Sowray | 2 |
| Peter Wells | 2 |
| Radha Jain | 2 |
| Rudy van Kemenade | 2 |
| Sainbayar Tserendorj | 2 |
| David Edward Fault | 1 |
| David le Moir | 1 |
| Don Mason | 1 |
| Elizabeth Ivanov | 1 |
| Gary Lane | 1 |
| Gavin Lock | 1 |
| Gavin Poludniowski | 1 |
| James Foster | 1 |
| John Upham | 1 |
| John Wharam | 1 |
| Keith Arkell | 1 |
| Richard Britton | 1 |
| Stewart Haslinger | 1 |