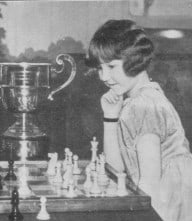 Elaine Zelia Pritchard (nee Saunders) was born 7 January 1926 and died on her 86th birthday 7 January 2012. Her death marks the passing of an era.
She was a child prodigy (unusual for the era), learning the moves from her father at five, beating 'good' players at an early age and playing blindfold chess. She won the World Girls at 10 in 1936 and again in 1937. She told me she could remember sitting on Vera Menchik's knee as a child. You can find enchanting photos of her on http://www.chesshistory.com/winter/extra/prodigies.html under her maiden name. She won the British Ladies Championship in 1939 (that was probably her most impressive result of the time), 1946 and, under her married name, in 1956 and 1965.
She married David Brine Pritchard in 1952. He died in 2005. He was a somewhat stronger player.
She was a Woman International Master and her last FIDE Rating was 2150, although she wasn't active this century. She played Board 3 for the English Women's Team that won the silver medals at the 1976 Chess Olympiads in Haifa.
She was author of two chess books: 'Chess for Pleasure', 'The Young Chess Player', and an Honorary Life Member of the English Chess Federation.
Elaine was an amateur chessplayer in the best sense of that word. Both she and David were delightful people. They contributed greatly to the chess scene of the day. Their daughter Wanda also became quite a strong player. We celebrate a life well led in chess.
Our condolences to Wanda and other members of the family. The funeral will take place on 27 January at 11am at Gloucester Crematorium.
– Stewart Reuben