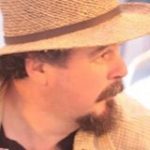 This newsletter has been produced in the sad realisation that we have lost, within a matter of weeks, two valued colleagues and friends, Richard Haddrell and John Philpott. Whilst Richard had been seriously ill for some time he continued to work for the benefit of English chess until the end and was even planning to attend a meeting shortly before he died and, whilst it was acknowledged that he would eventually succumb to his illness, his dedication to the end added to an element of shock in terms of its timing.
It is very poignant that Richard's death was communicated on the ECForum by John Philpott who, having announced his wish to step down from his roles as ECF Company Secretary and Finance Controller in order to enjoy a well-deserved retirement was to die suddenly, only a matter of weeks later. A short obituary for Richard can be found here and arrangements for his funeral here. A short article by John Philpott's sons has already appeared on the website and can be found at https://www.englishchess.org.uk/rip-john-philpott/#more-38215
If you have any chess news you think we should know about or if you have any comments you would like to make on this newsletter, do contact us at manager.publicity@englishchess.org.uk – the deadline for the newsletter will normally be on the 18th of each month so don't send us the info too late!
— Mark Jordan, Publicity Manager
---
Obituary: Richard Haddrell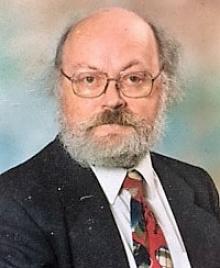 Richard Haddrell [left, image courtesy of KJCA] died on 30 September after a long illness during which he had nonetheless continued to serve English chess and had only recently stepped down as the English Chess Federation's Grading Administrator. He received the President's Award for Services to Chess in 1994 and his appointment as an Honorary Life Vice President was on the agenda for the recent AGM. A minute of silence was observed in his honour at the beginning of the meeting.
Whilst only of middling strength as a club and county player, Richard was a key figure in the organisation and administration of chess, first within Kent and the Southern Counties Chess Union, and then at a national level. He was a long-serving Club Secretary for Tunbridge Wells Chess Club, set up a school's league around Tunbridge Wells and, together with Trevor Jones, started the Kent Junior Chess Championships. However, he will probably be most familiar to chess players for his work on chess gradings, starting in the pen-and-paper age and being a key figure when the system was computerised. He had a very keen eye for detail which he very effectively demonstrated in grading issues and also in the interpretation and drafting of the rules and regulations essential to the smooth and fair administration of the competitive chess world.
As an officer of the English Chess Federation, Richard was controller of the National Schools Championships, a member of the Governance Committee and Grading Administrator and continued to make a valuable contribution at a local and national level until very shortly before his death.
Outside of his chess activities Richard taught languages, mainly French with a little Spanish, ending his career at Tunbridge Wells Grammar School.
He will be sorely missed and chess in England will be changed by his passing.
---
BOOK REVIEWS by IM Gary Lane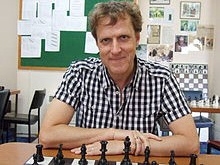 Reaching the Top?! A Practical Guide to playing Master-level Chess by Peter Kurzdorfer
Published by Russell Enterprises Inc, 304 pages, £16.99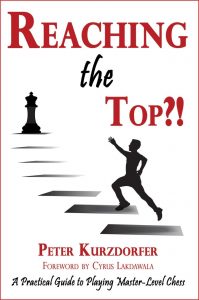 There are certain books written by parents or players that are deemed to be significant with the benefit of hindsight. Searching for Bobby Fischer highlighting Josh Waitzken springs to mind as one can then follow his progress to International Master level. Our home-grown talent has also been highlighted with Survival Guide for Chess Parents being much more interesting once you realise the author's son is Gawain Jones, who goes on to become a top grandmaster. In this offering by American Peter Kurzdorfer, there will be no fairy tale ending because his best chess was played in the 1980s. The aim is to demonstrate life as a national US master which is someone who has obtained a US rating of 2200 or higher. However his personal definition is "…a national master is an enthusiastic amateur who has reached a certain level of playing strength" and his tips for the top are geared for that level. The approach reminds me of Jonathan Hawkins's Amateur to IM, especially as the cover also has a person walking his way to the top, but the difference is that Hawkins has gone on to become British Champion so one can't help but think his approach should be followed. Kurzdorfer's recipe for success is to adopt a best games policy by revealing a lot of his interesting encounters. Although, there are plenty of mistakes on show he does point out that amateurs are always making errors, so people should be able to relate to his ups and downs. There is a certain charm in following his progress at local chess clubs and reading his background stories. However, I would have liked more examples from other games on how to improve.
A revealing look at the amateur chess scene in the USA.
Timman's Titans: My World Chess Champions by Jan Timman
Published by New In Chess, 334 pages £22.95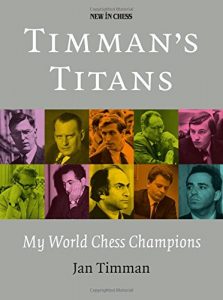 The Dutchman, Jan Timman, has been one of the top players in the world for decades and uses this experience to comment on the World Champions he has known. He might not have met Alekhine but the blurb helpfully points out that he once bought a chess set that belonged to him. This should be filled with amusing anecdotes and insight to the lifestyle of elite tournaments, but it is a bit hit and miss. I think, for example, a friendly editor should have pointed out that while recalling a trip to Lisbon there is no need to write "I booked a flight with Air Portugal."
The theme is to discuss a World Champion, add a personal story or two then finish off by annotating several games. This format works well and Timman is at his best when commenting on the actual chess. In Fischer's case he sensibly chooses examples not mentioned in My 60 Memorable Games and his perceptive remarks are illuminating. The story of meeting Fischer in Belgium during 1990 is given in detail and it becomes clear that Spassky is a great diplomat when excusing the American's extreme views on some topics. This, curiously, is followed by Timman spending half a page recounting a dream concerning the American, complete with quotes, and even Englishman, John Nunn, gets a mention!
The list of champions stops at Kasparov because the author feels it is easier to make comments on players "…whose careers had been concluded". This means that ten champions are giving a chapter each together with a large photo of the player on the introductory page.
I think his comments and views on Karpov are particularly revealing and being a rival in so many tournaments, he is well placed to give his personal views.
An interesting memento on the World Champions.
---
CLUB FOCUS: HAMMERSMITH
It was with great interest I read about Stroud Chess Club's renaissance in the last ECF newsletter. Their story immediately struck a chord, as I'm sure it did with club members up and down the country, and it made me reflect on the journey my club – Hammersmith, in West London – has taken over the previous three years since I joined.
It seems that many clubs in the UK face a common crisis at present – ever-dwindling memberships, inability to attract new players, stagnant committees and ill-equipped officers, lack of diversity, club structures unable to halt the decline, and perilous financial situations.
Hammersmith was no different when I joined in 2013. We had several structural problems which were evident as soon as you scratched the surface, all a result of well-meaning but poorly-informed management and decision making. Allied with a culture of deference and not-rocking-the-boat (in other words: resistant to change), the Club was ill-equipped to discuss – let alone confront – the many elephants in the room.
Membership was in terminal decline as people moved away, passed away, or joined other clubs. Whilst we picked up the occasional new joiner along the way, it always felt more like a stay of execution. The inevitable slow death of the club postponed for another season or two, rather than an opportunity to renew. There was no recruitment strategy to speak of.
We had a website with the look and feel of the early 90's – rarely updated, bereft of content and certainly not a "window to the world" or a suitable promotion tool. No way to communicate news or updates properly to our Members beyond plain old email (for those who actually use email!), and the words "social media" had never graced the Club. It was painfully obvious that things were not fit for purpose, but there seemed a lack of interest, skill or desire for change from the Club.
Scrutiny of the financials was even more shocking. With a declining membership providing a steadily reducing income, and expenditure (primarily on weekly rent for our home venue) stubbornly high, the club had become totally reliant on the generosity of a handful of long-time members to the tune of several hundred pounds per year! Whilst this was clearly generous and well-intentioned, it had the unfortunate side effect of masking the true, parlous state of our cash flow and left us precariously balanced between appearing to break-even, and bankruptcy.
The club's Annual General Meetings were less a forum for scrutiny and democratic voting from the Membership, more a minor irritant to be breezed through before we got to our annual blitz tournament. A series of pronouncements would be presented as a fait accompli with an expectation of little or no dissent followed by unanimous agreement.
Taken together, an unhealthy combination of problems. None of them insurmountable, but the Club was poorly structured, and run in a manner in which they could not be properly grappled.
Unfortunately, the agent of change for Hammersmith was the sad passing of our former Chairman. After an interim period we settled on a new Chair and began the process of restructuring the club with a focus on pragmatic, sensible management, and the socialising of the Club's challenges with the aim of utilising the talents of as many members as possible.
Of paramount concern was the financial situation. Having been neatly glossed over for many years, for the first time an accurate account was taken and a forward-looking projection produced. This brought home the reality of change required – on current cash flow the Club would be bankrupt within three years.
Two main areas would be tackled to deal with this – the first, to contain and reduce costs where possible. The second – to recruit more members.
Our major outgoing was the rent for our home venue – a necessity for a central London Club in order to host "home" matches. The reality of our situation prompted a pro-active response and we approached our landlord to discuss reducing or at the very least fixing our current level of rent.
Historically the Club was a slave to destiny on this issue, with the usual annual rent increase hanging over our neck like a sword of Damocles. Having a true grasp of our financials allowed the Club to argue its case in a pragmatic way and whilst we weren't able to secure a reduction, we did at least agree to a fixed amount for the next two years and a reduction in opening hours during the traditionally quieter Summer months.
All told, we saved several hundred pounds in one fell swoop and gained surety of costs for the next 24 months, allowing us some crucial breathing space to tackle the other challenges.
Other incidental costs were looked at – the annual Club Trophies would be re-used rather than purchased anew each year. New equipment would have to wait, and greater scrutiny would be applied to any future outgoings with the managing Committee able to veto.
Recruitment was (and still is!) a trickier beast to slay. Serendipity helped in this regard when a creative and pro-active salesman joined the Club shortly after our changes began. New initiatives began and for the first time a recruitment target and strategy was drawn up, focused on getting the word out and drumming up interest. The Club would begin running free chess sessions in local libraries, with us dutifully noting the contact details of all members of the public who showed up for a game.
A concerted effort was made to run more events at the Club to encourage our existing members to become more engaged, and as a tool to promote the Club and recruit new members. Simultaneous games against GM/WIM's were hosted, one-off games against other London clubs, an informal link-up and regular games against our local Junior Club, and the return of a properly organised set of internal Club tournaments. We also launched a series of training evenings, dusting off the practice board and allowing our stronger players to teach theory and strategy to the rest.
This was all aided by the overhaul of our website and the instigation of a social media presence. Using the skills of existing members, an up-to-date, dynamic website was created (see for yourselves: www.hammerchess.co.uk), allowing articles to be easily posted to report on the goings-on at the Club. An email tool was introduced, allowing Club-branded emails to be automatically sent to members whenever a new article was added to the website.
We also launched Facebook and Twitter (@hammer_chess) accounts – now with over 2,000 friends & followers combined, both used to document and publicise events and activities at the club, and being carefully linked to our website. We made pro-active efforts to engage online with other London Clubs, encouraging sharing information on events throughout the London chess community. The net effect saw visitor numbers to our website soar, with the happy knock-on effect that our website became more highly-rated on search engines, and thus easier to find. A virtuous cyberspace circle!
Taken together, we have seen a marked improvement in recruitment. 2015 saw a record 9 new members walk through our door – no small number in a club with a membership of just 30. The flow of new interest is now regular – if not spectacular – and the Club can look forward to balancing the books (without a single member donation) for the first time in many years. We have a membership target of 40 and a set of proven initiatives to reach it.
None of this has been easy and we continue to rely on the time, support and generosity of our members who are willing to volunteer their services for no other reason than an altruistic desire to help the club prosper. Our experience has shown that this really is the key – it takes time, energy and some clever thinking. Some of the initiatives won't be successful, some will take their time to come to fruition. But with a core of 5-6 members willing to turn things around we have shown that the future can be bright for UK chess clubs.
---
CHESS AND MARRIAGE by David Mabbs
My marriage began badly.
The newspaper report was headlined "Chess Star Weds". There was a fulsome tribute to me, and then a final line "The bride likes swimming and tennis". Jenny, my wife, knew that this was all written by me!
I would soon demonstrate my total lack of common sense, zero practical ability, and minimal social skills. Jenny attributed all of this to the malign influence of chess. Her views were reinforced by encounters with other chess players. One came to our house, insisted on opening all our windows, switching on all the lights and then – when we were invaded by midges – squashing them on Jenny's newly-decorated wall. Another begged a lift from Leicester to London, then turned up wearing a blanket from under which he pulled a series of carrots which he scraped with his fingers and ate, leaving the debris on the carpet.
One of my annoying habits was total concentration to the exclusion of everything else. Jenny exploited this mercilessly on one occasion. While I was playing a friendly game she asked me if I would do a thirty-mile sponsored walk "for the school". Evidently I agreed, and although she knew that this was not informed consent, Jenny signed me up and, as one of only two participants, I had to go through with it. She was triumphant when I finally limped home in pain. I had to fly to Sweden that evening, wearing slippers (which is all that I could get on my feet), and Jenny was even more gleeful when she found that the aircraft had parked in deep snow 100 metres from the terminal. Served me right, she said.
In self-defence, I developed a theory that there's a degree of correlation between being good at chess, and being weird. Chances are, that players who seem normal are perhaps less strong. This was no doubt rubbish, but it gave me a certain comfort at the time. And I would claim that, after spending some forty years away from chess, I've returned at least a bit more human and certainly a whole lot weaker.
Wearing my "now I'm more sociable" hat yesterday, I was chatting to a team colleague as we set up for a league match. He said that he felt out of sorts in reaction to a flu' jab so I mentioned, cheerfully, that my doctor had just changed my medication, and one of the side-effects could be a heart attack – please keep an eye on me. He then recalled a league match he'd played in many years ago. His club was doing very well, until – to the huge annoyance of several of his team – the opposing match captain collapsed and died. The whole match had to be replayed at a later date.
When I told this story to Jenny, she expressed astonishment. I foolishly concluded that Jenny's disdain for chess players had softened, in that she now felt surprised that some chess players could possibly feel annoyance rather than sympathy. But, "oh no", she said, "that doesn't surprise me at all". What surprised her enormously was that the other chess players had noticed that someone had died!
I'll be taking Jenny to the club's Christmas dinner, but I'm not confident that it's going to change her attitude …