September 2017 saw Liverpool Chess Club hosting the first English Rapidplay Championship in the fabulous Liverpool Cunard Building, with over 260 participants challenging for the various titles available and a share of the £10,000 prize fund, donated to the tournament by main sponsors Signature Living. The glamorous Three Graces of Liverpool waterfront proved to be a fantastic location for a major chess event, which not only provided a wonderful venue but a city for all the weekend's participants to explore, with something for everybody to enjoy – the historic Albert Dock, museums, galleries, bars and restaurants, and of course, the home of Beatlemania – Matthew Street – just around the corner. The event was opened by the Lord Mayor Liverpool, Malcolm Kennedy, and attracted visitors from all over the world, including many Grandmasters and International Masters, making it a tensely fought competition.
English Rapidplay Championship Open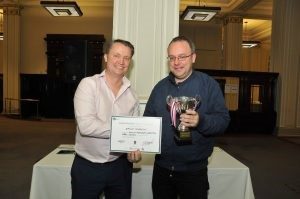 GM Danny Gormally took the top prize, being crowned the English Rapidplay Champion in the Open section. Danny can be seen above being presented with his award by the Liverpool Chess Club President, Jim Gallagher. Danny had many strong competitors for the title.
2nd Ameet Ghasi; 3rd Lorin D'Costa; 4th Nigel Davies; 5th Mark Hebden; Best Junior Dominic Klinger
Winners of the English Rapidplay in four sections
Major Tournament
English Champion Jonathan Pein; 2nd Tony Wells; 3rd Piotr Lipka; 4th Barry Hymer; 5th Noel McLaughlin; Best Junior Kevin Ye
Intermediate Tournament
English Champion Peter Garrett; 2nd Steve Lloyd; 3rd Kenny Quinn; 4th Geoffrey Burn; 5th Alan Ruffle; Best Junior Sam Davies
Standard Tournament
English Champion Oliver Stubbs; 2nd Sanjoy Banerjee; 3rd Denis Dupuis; 4th Ian Mackay; 5th Viktor Nagy; Best Junior Kyle Pelling
Sunday One-Day Tournament
English Champion Gerald Cohen; 2nd Mark Taylor; 3rd Joe Ormrod; 4th Chris Doran; Best Junior Nikolas Korsinskij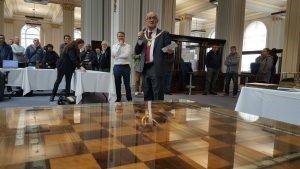 The centrepiece of the event was the recently restored Liverpool Chess Club table (pictured above) which bears the names of all the winners of the clubs internal tournament dating back to James Cairns in 1892 and Amos Burn in 1896 right through to last year's winner James Friar, who took part in the Congress this weekend. The Lord Mayor of Liverpool, Malcolm Kennedy, once played chess in the Merseyside League for Aigburth Chess Club.
Juniors Section
Under 12s
Marek Korsinskij of Liverpool was crowned 2017 English Rapidplay Champion for the Under 12 section with Weston Levi of London in 2nd place and Samir Khan of Bath in joint 3rd place with Tarini Jayawarna of Tameside and Liverpools Nickolas Korsinskij, Joshua Roque, Bashar Rovezi and Luke Maher all close behind the leaders.
Under 10s
Tengwen Zhao from Sale was declared 2017 English Rapidplay Champion for the Under 10 section with Rebecca Correa of 3Cs in 2nd place and Shivam Argrawal of Kings College in 3rd place.
Under 8s
Thisumi Jayawarna of Tameside triumphed as 2017 English Rapidplay Champion for the Under 8 section, with David Richards of Northampton in 2nd place and Edward Correa of 3Cs in 3rd Place, with Liverpool's Sashar Korsinskij in 6th place
Friday Night Simultaneous event
To kick the congress off in style, on the Friday before the Congress GM Daniel Gormally took on fifteen chess players and was victorious in every game – this was obviously an excellent warm up for the main event for him!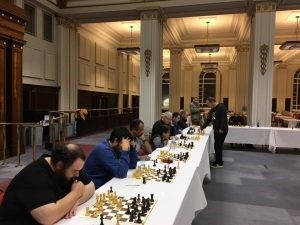 The event was a major success and hopefully we will all be back again next year for an even bigger tournament …