In this time of COVID-19 …
If you find an event that appears to be taking place in person rather than online – PLEASE CHECK WITH THE ORGANISERS! It may be that they have simply neglected to let us know that their event is cancelled, or it may be taking place under strict pandemic rules and conditions which you'll need to know about before attending to play, but they may have not told us! Please check first.

The calendar is now sortable by category and by tag, both at the top of the calendar. You can use the button at the foot of the calendar to add this calendar to your own (Google, Apple, Timely etc). The print button at the top will print the page you're on. Clicking on the main calendar bar (top left) allows you to choose a date to jump to. PLEASE NOTE – where an event is marked as 'ALL DAY' it may be best to check with the organisers in case they have not submitted a start and/or end time to us. To submit your event to the ECF calendar – https://britchess.wufoo.com/forms/submit-your-event-ecf-fide/
To submit your online event for online rating click here – https://britchess.wufoo.com/forms/register-your-event-for-ecf-online-rating/
This will be picked up and added to the ECF calendar as well if you tick the relevant box.

For a PDF of the ECF Event Calendar (updated every 4-6 weeks) – click here (PDF updated December 2021)
Official FIDE events … http://www.fide.com/calendar … and worldwide chess events from the FIDE website – http://www.fide.com/calendar/tournaments.html
To submit your FIDE-rated event to the FIDE Events Calendar, click this link – https://www.fide.com/calendar/tournaments.html?view=calendar&task=uregister
An amber wheelchair (below) means that the venue has at least some disability-friendly aspects, whereas a green wheelchair (also below) means it's particularly so. In all cases, but especially where no badge is evident, PLEASE contact the organisers for more details …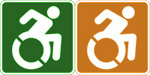 The links to external websites within the calendar are being provided as a convenience and for informational purposes only; they do not constitute an endorsement or an approval by the ECF of any of the products and services available or opinions expressed on or accuracy of these other websites …
Dec
11
Sat
2021
Training Event with IM Andrew Ledger

@ Southern Light Community Church, Tannery Street, Woodhouse, Sheffield
Dec 11 @ 11:00 am – 4:30 pm
Contact: Jonathan Arnott Email: jwauk02@aol.com Web: https://form.jotform.com/212835885000352 [MAP] Primarily for players of ECF 1600+ rating strength; that said, it's up to you. If you don't have a rating, or think you're playing better/worse than your rating you're welcome to attend. For adults and juniors. Cost: £25 (we hope to reduce to £20 depending on number of players). Numbers: strictly limited to a maximum of 16.


Dec
18
Sat
2021
14th Northwick Park Five Round Congress

@ University of Westminster, Harrow Campus, Northwick Park, Harrow HA1 3TP
Dec 18 @ 9:00 am – 8:00 pm
Contact: Arnold Lutton Email: jalutton@aol.com Web: http://www.ljcc.co.uk/ [MAP] This popular five round event consists of three sections, Open, Major and Minor. The Open and Major are both FIDE rated. The Minor is ECF rated only and entry to it is open to those under 1500 ECF and to ungraded players who do not have a FIDE rating above 1500. The Major is restricted to under 1860 FIDE. The Open starts at 9 am on Saturday and 9.30 on Sunday. Major and Minor start at 9.45 both days


Dec
28
Tue
2021
London Junior Chess Championships

@ University of Westminster, Harrow Campus, Northwick Park, Harrow HA1 3TP
Dec 28 @ 9:45 am – Dec 30 @ 8:45 pm
Contact: Arnold Lutton Email: entry@ljcc.co.uk Web: http://www.ljcc.co.uk/ [MAP] This prestigious event has sections for Under 8, Under 12, Under 16 and Under 18/21. The Under 18/21 is combined with the LJCC Christmas Open.
The Under 8 is held over two days, 29th and 30th December. The other sections play on all three days. The Under 18/21 and Under 16 are both FIDE rated. The Under 12 attracts a very large entry and is run as Major and Minor sections. Competitors must gain qualification to play in the Under 8 and Under 12 as detailed at www.ljcc.co.uk
There are also sections for Under 10 and Under 14 on 12th and 13th December at the same venue.