The calendar is now sortable by category and by tag, both at the top of the calendar. You can use the button at the foot of the calendar to add this calendar to your own (Google, Apple, Timely etc). The print button at the top will print the page you're on. Clicking on the main calendar bar (top left) allows you to choose a date to jump to. PLEASE NOTE – where an event is marked as 'ALL DAY' it may be best to check with the organisers in case they have not submitted a start and/or end time to us …
To submit your event to the ECF calendar – click here. This will also enable you to submit your event to the International Rating Office for registration with FIDE if it is FIDE-rated or has a FIDE-rated section(s)* | For a PDF of the ECF Event Calendar (updated every 4-6 weeks) – click here (PDF updated March 22nd 2020)
* English events or events covered by the ECF only, obviously …
Official FIDE events … http://www.fide.com/calendar … and the rest – worldwide chess events from the FIDE website – http://www.fide.com/calendar/tournaments.html
To submit your FIDE-rated event to the FIDE Events Calendar, click this link – https://www.fide.com/calendar/tournaments.html?view=calendar&task=uregister
A new badge system has been introduced whenever possible from 26/3/18 onwards. An amber wheelchair (below) means that the venue has at least some disability-friendly aspects, whereas a green wheelchair (also below) means it's particularly so. In all cases, but especially where no badge is evident, PLEASE contact the organisers for more details …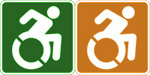 The links to external websites within the calendar are being provided as a convenience and for informational purposes only; they do not constitute an endorsement or an approval by the ECF of any of the products and services available or opinions expressed on or accuracy of these other websites …
Mar
4
Sun
2018
Rothay Manor Chess Holiday Tournament

@ Rothay Manor Hotel Rothay Bridge Ambleside LA22 0EH
Contact: Winston Williams Email: icfwp@yahoo.co.uk Previous event – here [MAP]
The 5-night holiday runs from Sunday afternoon through to Friday morning and the main aim is for guests to enjoy themselves whilst increasing their knowledge of chess and gaining confidence in using various tactics.
The holiday includes — a seven-round Swiss competition; a look at some games from the past; tutorial sessions covering opening principles, middle game, endgame techniques; chess tactics (pin, skewer, fork and discovered check); analysis of games played at the hotel.
Time will be available during the holiday so you have the opportunity to take in some of the breathtaking scenery of the Lake District. The holiday is suitable for anyone from the inexperienced (ungraded) player to local club players, though not for anyone above 150 grading.
Aug
12
Sun
2018
Chess in Itter Park

@ Itter Park, Fulbridge Road, Walton, Peterborough, Cambridgeshire
Aug 12 @ 12:00 pm – 4:00 pm
Oct
27
Sat
2018
Play Chess with UK Grandmaster Keith Arkell
Oct 27 @ 6:00 pm – 8:00 pm
Dates included – 27/10/18; 3/11/18; 10/11/18; 17/11/18; 24/11/18; 24/11/18; 1/12/18; 8/12/18; 15/12/18; 22/12/18
Contact: Robert Wolf Email: robert.volcansek@mk-trgovina.si
Play on your mobile phone or tablets in new Chess Raiders app. Follow the link to get the app in Google Play or via the app store – http://chessraiders.app.link/NNeYYYLprF – or search for »Chess Raiders« in the app store on your phone. Download the flyer here
All English chess players are invited to play with the UK Grandmaster Keith Arkell! You will be able to play with him right from your phone in new Chess Raiders app. Did you know that in his career he beat legends like Bent Larsen, Alexander Khalifman and Michael Adams? Can you avoid their fate?
He will be joined by Slovenian wGM Jana Krivec, 7-times Slovenian champion and a member of the Slovenian Olympic team. Together they will try to hold off your attacks in what will surely be an exciting battle.
You are invited to download the free Chess Raiders app where you will be able to challenge them in a simultaneous exhibition at blitz games. They will play with 4-8 players at the same time in 7 min per game. The event will last 2 hours.