In this time of COVID-19 …
If you find an event that appears to be taking place in person rather than online – PLEASE CHECK WITH THE ORGANISERS! It may be that they have simply neglected to let us know that their event is cancelled, or it may be taking place under strict pandemic rules and conditions which you'll need to know about before attending to play, but they may have not told us! Please check first.

The calendar is now sortable by category and by tag, both at the top of the calendar. You can use the button at the foot of the calendar to add this calendar to your own (Google, Apple, Timely etc). The print button at the top will print the page you're on. Clicking on the main calendar bar (top left) allows you to choose a date to jump to. PLEASE NOTE – where an event is marked as 'ALL DAY' it may be best to check with the organisers in case they have not submitted a start and/or end time to us. To submit your event to the ECF calendar – https://britchess.wufoo.com/forms/submit-your-event-ecf-fide/
To submit your online event for online rating click here – https://britchess.wufoo.com/forms/register-your-event-for-ecf-online-rating/
This will be picked up and added to the ECF calendar as well if you tick the relevant box.

For a PDF of the ECF Event Calendar (updated every 4-6 weeks) – click here (PDF updated December 2021)
Official FIDE events … http://www.fide.com/calendar … and worldwide chess events from the FIDE website – http://www.fide.com/calendar/tournaments.html
To submit your FIDE-rated event to the FIDE Events Calendar, click this link – https://www.fide.com/calendar/tournaments.html?view=calendar&task=uregister
An amber wheelchair (below) means that the venue has at least some disability-friendly aspects, whereas a green wheelchair (also below) means it's particularly so. In all cases, but especially where no badge is evident, PLEASE contact the organisers for more details …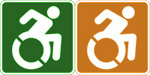 The links to external websites within the calendar are being provided as a convenience and for informational purposes only; they do not constitute an endorsement or an approval by the ECF of any of the products and services available or opinions expressed on or accuracy of these other websites …
There are no upcoming events to display at this time.