The calendar is now sortable by category and by tag, both at the top of the calendar. You can use the button at the foot of the calendar to add this calendar to your own (Google, Apple, Timely etc). The print button at the top will print the page you're on. Clicking on the main calendar bar (top left) allows you to choose a date to jump to. PLEASE NOTE – where an event is marked as 'ALL DAY' it may be best to check with the organisers in case they have not submitted a start and/or end time to us …
To submit your event to the ECF calendar – click here. This will also enable you to submit your event to the International Rating Office for registration with FIDE if it is FIDE-rated or has a FIDE-rated section(s) | For a PDF of the ECF Event Calendar (updated every 4-6 weeks) – click here (PDF updated September 4th 2019)
Official FIDE events … http://www.fide.com/calendar … and the rest – worldwide chess events from the FIDE website – http://www.fide.com/calendar/tournaments.html
To submit your FIDE-rated event to the FIDE Events Calendar, click this link – https://www.fide.com/calendar/tournaments.html?view=calendar&task=uregister
A new badge system has been introduced whenever possible from 26/3/18 onwards. An amber wheelchair (below) means that the venue has at least some disability-friendly aspects, whereas a green wheelchair (also below) means it's particularly so. In all cases, but especially where no badge is evident, PLEASE contact the organisers for more details …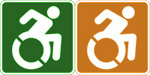 The links to external websites within the calendar are being provided as a convenience and for informational purposes only; they do not constitute an endorsement or an approval by the ECF of any of the products and services available or opinions expressed on or accuracy of these other websites …
Jan
25
Sat
2020
South of England Junior Chess Congress

@ Yateley Manor School 51 Reading Rd Yateley
Jan 25 @ 9:00 am – Jan 26 @ 5:30 pm
Contact: Amy Grieve Email: amy@southofenglandjunior.com Web: http://www.southofenglandjunior.com [MAP]
Prestigious junior chess event held over the last weekend in January each year at Yateley Manor School in Hampshire. U11 section is England Junior Squad qualifier.


1st Potters Bar Junior Chess Tournament – Series 2

@ Kingshott School, Stevenage Road, Hitchin
Jan 25 @ 11:45 am – 6:00 pm
Contact: Tony Corfe Email: tony@mrcorfe.co.uk [MAP]
Local coaching event with graded and ungraded sections. For graded players and those new to competitive chess | Entry form


Apr
15
Wed
2020
CCF Daytime Chess Summer 2020

@ 84-90 Chipstead Valley Road Coulsdon Surrey
Apr 15 @ 2:00 pm
Contact: Scott Freeman Email: chess@ccfworld.com Web: https://www.ccfworld.com/Chess/ChessClubHome/ChessClubSeniorsIndex.htm [MAP]
Wednesday 15th April 2020 to Wednesday 15th July 2020 from 2:00pm to 6:00pm. Results will be submitted monthly to FIDE @ the ECF. An Open FIDE-rated LP competition for any available players, primarily set up to accommodate retired players. It gives a chance to have competitive FIDE-rated chess at a time of day that older players hope to have more energy for!