The calendar is now sortable by category and by tag, both at the top of the calendar. You can use the button at the foot of the calendar to add this calendar to your own (Google, Apple, Timely etc). The print button at the top will print the page you're on. Clicking on the main calendar bar (top left) allows you to choose a date to jump to. PLEASE NOTE – where an event is marked as 'ALL DAY' it may be best to check with the organisers in case they have not submitted a start and/or end time to us …
To submit your event to the ECF calendar – click here. This will also enable you to submit your event to the FIDE ratings server if it is FIDE-rated or has a FIDE-rated section(s) | For a PDF of the ECF Event Calendar (updated every 4-5 weeks) – click here (updated 14/09/18)
Official FIDE events … http://www.fide.com/calendar … and the rest – worldwide chess events from the FIDE website – http://www.fide.com/calendar/tournaments.html
To submit your FIDE-rated event to the FIDE Events Calendar, click this link – https://www.fide.com/calendar/tournaments.html?view=calendar&task=uregister
A new badge system has been introduced whenever possible from 26/3/18 onwards. An amber wheelchair (below) means that the venue has at least some disability-friendly aspects, whereas a green wheelchair (also below) means it's particularly so. In all cases, but especially where no badge is evident, PLEASE contact the organisers for more details …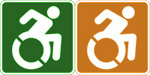 The links to external websites within the calendar are being provided as a convenience and for informational purposes only; they do not constitute an endorsement or an approval by the ECF of any of the products and services available or opinions expressed on or accuracy of these other websites …
Dec
8
Sat
2018
London Chess Conference

@ Irish Cultural Centre Blacks Road Hammersmith London
Dec 8 @ 11:00 am – Dec 9 @ 4:00 pm
Contact: John Foley Email: conference@chessplus.net Web: http://www.londonchessconference.com [MAP]
The 6th edition of the annual international London Chess Conference. The theme is the Future of Chess in Education. There are many developments in chess teaching methods and also many challenges facing our education systems. What will schools be like like in the future? What part will games play in education? How will children learn? An impressive range of experts will speak on a variety of related topics. Mark Price, until recently Minister of Trade and Industry, will explain how chess helped him in his early life and how chess prepares children for the digital age. He is presenting on Sunday at noon.


Dec
10
Mon
2018
ECU School Chess Teacher Training Course

@ Irish Cultural Centre Blacks Road Hammersmith London
Dec 10 @ 10:00 am – Dec 11 @ 4:00 pm
Contact: John Foley Email: training@chessplus.net | Web [MAP]
The ECU School Chess Teacher training course comprises two days of interactive presentations, group discussions and practical exercises. The focus of the course is on how to teach chess. The course is suitable for teachers and tutors who want to make chess an exciting and educational experience for children.
The ECU School Chess Teacher Certificate is available to those who complete the course and pass an online test taken at the end of the course. The Certificate is endorsed by the European Chess Union (ECU) to recognise that the individual has an adequate level of chess knowledge and is familiar with didactical methods for the classroom.
The course is innovative in content and delivery and was developed after a review of best practice in Europe. The course leader is IM Jesper Hall. Attendees give very positive feedback on the course.


Dec
12
Wed
2018
ECU Chess and Mathematics Teacher Training Course

@ Irish Cultural Centre Blacks Road Hammersmith London
Dec 12 @ 10:00 am – 5:30 pm
Contact: John Foley Email: training@chessplus.net | Web [MAP]
The ECU Chess and Mathematics Teacher training course is a one-day course of interactive presentations, group working and hands-on exercises. The purpose of the course is to prepare teachers to use chess to develop problem solving skills with a focus on mathematics . The course is suitable for teachers and tutors who want to make chess an exciting and educational experience for children.
The ECU Chess and Mathematics Teacher Certificate is available to those who complete the course and pass a test taken at the end of the course. The Certificate is endorsed by the European Chess Union (ECU) to recognise that the individual has didactical methods for the classroom.
The course is innovative in content and delivery and was developed after a review of best practice in Europe. The course leader is WIM Rita Atkins. This is the first time that the course has been run