The calendar is now sortable by category and by tag, both at the top of the calendar. You can use the button at the foot of the calendar to add this calendar to your own (Google, Apple, Timely etc). The print button at the top will print the page you're on. Clicking on the main calendar bar (top left) allows you to choose a date to jump to. PLEASE NOTE – where an event is marked as 'ALL DAY' it may be best to check with the organisers in case they have not submitted a start and/or end time to us …
To submit your event to the ECF calendar – click here. This will also enable you to submit your event to the FIDE ratings server if it is FIDE-rated or has a FIDE-rated section(s) | For a PDF of the ECF Event Calendar (updated every 3-4 weeks) – click here (updated 19/03/18)

Official FIDE events … http://www.fide.com/calendar … and the rest – worldwide chess events from the FIDE website – http://www.fide.com/calendar/tournaments.html
To submit your FIDE-rated event to the FIDE Events Calendar, click this link – https://www.fide.com/calendar/tournaments.html?view=calendar&task=uregister
A new badge system has been introduced whenever possible from 26/3/18 onwards. An amber wheelchair (below) means that the venue has at least some disability-friendly aspects, whereas a green wheelchair (also below) means it's particularly so. In all cases, but especially where no badge is evident, PLEASE contact the organisers for more details …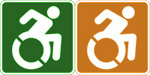 The links to external websites within the calendar are being provided as a convenience and for informational purposes only; they do not constitute an endorsement or an approval by the ECF of any of the products and services available or opinions expressed on or accuracy of these other websites …
Jul
2
Mon
2018
Chess Summer School for Teachers

@ The Science and Technological Park University of Girona Spain
Jul 2 @ 10:00 am – Jul 6 @ 4:00 pm
Contact: John Foley Email: info@chessplus.net Web: http://www.fundacioudg.org/ca/chess-summer-school.html [MAP] The ECU Education Commission in conjunction with the Erasmus Plus CHAMPS (Chess and Mathematics in Primary Schools) project to deliver the first professional development course for teachers of chess in schools across Europe. The course takes place at the University of Girona, Spain, on 2-6 July 2018. Attendees will learn from leading professors and educationists in the fields of pedagogy, psychology, mathematics, game theory and thinking skills. Those successfully completing the course will receive 3 ECTS points under the European Credit Transfer and Accumulation System.
Potential participants should be highly motivated to improve and broaden their chess teaching skills and materials. The course fee is €300 if booked by 15th April. Accommodation at the university starts at €19 for single occupancy and €27 for double occupancy. Places on the course are limited.
Jul
14
Sat
2018
International Chess Festival of Friendship

@ Yerevan, Armenia
Contact: Meri Grigoryan Email: OrganicChessLTD@gmail.com Tel: 07734 629931 [MAP] Open to every junior aged below 20. It's a 3 day event of FIDE-rated blitz and rapid tournaments, also master classes and simultaneous exhibitions given by top Armenian GMs, and 4 days of tourism: sightseeing, learning Armenian culture, history and cuisine. If interested please contact FIDE Trainer Miss Meri Grigoryan. More details will follow after Christmas 2017.