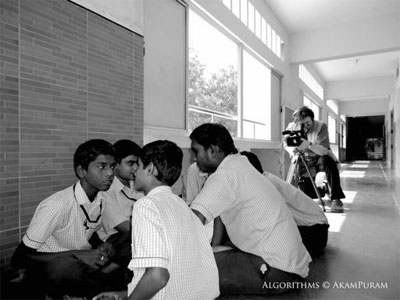 Algorithms | India | 2012 | B&W | 96 mins
English, Hindi, Tamil, Odiya with English subtitles
Dir: Ian McDonald | Prod: Geetha J
In India, a group of boys dream of becoming Chess Masters, driven by a man with a vision. But this is no ordinary chess and these are no ordinary players. Algorithms is a documentary on the thriving but little known world of Blind Chess in India.
A deal is being struck for 20 buy-one-get-one-free tickets for ECF members – please watch this website for details …
Download a PDF of screenings and details here
Filmed over three years from just before the World Junior Blind Chess Championship in Sweden in 2009 to just after the next championship in Greece in 2011, it follows three talented boys from different parts of India and a totally blind player turned pioneer who not only aims to situate India on a global stage but wants all blind children to play chess.
Algorithms travels with the boys to competitive tournaments and visits them in their home milieu where they reveal their struggles, anxieties and hopes. It moves through the algorithms of the blind chess world challenging the sighted of what it means to see. Going beyond sight and story, this observational sport doc with a difference elicits hidden realms of subjectivity. It allows for the tactile and thoughtful journey that explores foresight, sight and vision to continue long after the moving image ends.
Algorithms is the first ever feature documentary on Blind Chess. It has screened at 20 international film festivals and won six awards.
Algorithms is a contender for the Oscars, for the Academy Award for Best Documentary 2014.
Algorithms nominated for the Griersons, the prestigious British Documentary Awards 2014.
Algorithms in competition at Al Jazeera Documentary Film Festival, Oct 2014