Gawain Jones scored his best result of 2019 and one of his best ever tournament victories as he won the TePe Sigeman & Co Tournament in Malmo. The English no.1 scored an unbeaten 5/7 in this Category 17 event, which equated to a 2816 performance.
Jones began by outplaying the Iranian World Junior Champion, Parham Maghsoodloo, with the black pieces and also defeated Tiger Hillarp Persson and Ivan Saric, while remaining undefeated, including a comfortable final-round draw with the top seed, Pentala Harikrishna.
Leading scores: 1 Gawain Jones (England) 5/7, 2 Pentala Harikrishna (India) 4.5, 3 Nils Grandelius (Sweden) 4, 4 Liviu-Dieter Nisipeanu (Germany) 3.5, 5-6 Nihil Sarin (India), Parham Maghsoodloo (Iran), 7-8 8 Ivan Saric (Croatia), Tiger Hillarp Persson (Sweden) 2.5.
Jones's victory lifts him to 2709 on the live rating list. He has, at least for now, pulled out a small gap over the pack, Michael Adams currently lying second on 2695, just ahead of David Howell (2693), Matthew Sadler (2692), and Luke McShane (2688). It's a very exciting time for English chess and personally I can't wait for the 2019 European Team Championships, which are due to begin in Batumi, Georgia in late October.
Despite the absence of Jones, Guildford won their seventh successive 4NCL title in Telford last week, helped by all of Adams, who outmanoeuvred Howell in trademark fashion, McShane, who racked up 3/3 in the final weekend, and Sadler, who comfortably held as Black the highly creative danger that is Richard Rapport.
Tiger Hillarp Persson (2563) – Gawain Jones (2702)
Sigeman & Co, Malmo 2019
English Opening
1.c4 c5 2.Nc3 g6 3.g3 Bg7 4.Bg2 Nc6 5.Nf3 d6 6.0-0 e6 7.a3 Nge7 8.Rb1
A popular set-up for White. Jones has thus far countered as Black would the Closed Sicilian and now opts for a harmonious set-up with a second fianchetto.
8…0-0 9.b4 b6 10.e3 Bb7 11.Qb3 Rb8 12.Bb2 Qd7 13.d3 h6 14.Rfe1?!
14.Rfd1 g5 15.Ne2 to support d3-d4 looks more to the point.
14…g5!
Seizing the initiative.
15.Ne2 e5 16.Rbd1
The computer still likes White after 16.Qa4, but the famous Swedish player and creator of the Tiger Modern was likely afraid of 16…a6 when Black looks comfortable to human eyes and might even get in …b5.
16…Ng6 17.d4
The classic central counter to a flank attack. Now Black might go 17…e4 18.Nd2 f5, but Jones prefers to open the position.
17…g4 18.Nd2 exd4 19.exd4 cxd4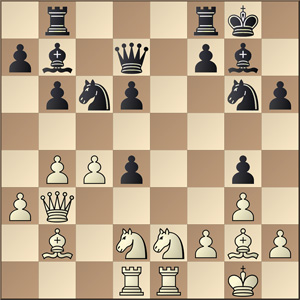 20.Ne4?!
It appears counterintuitive to advance on the flank where White is weakest, but after 20.f4! he controls e5 and 20…gxf3 21.Nxf3 brings his knight back into play, with roughly level chances.
20…Rbe8
This rook, as the f-pawn may yet advance. Black has seized a strong initiative which he never lets go of.
21.Nxd4?
The obvious move, but tactically flawed.
21…Nxd4 22.Bxd4 Bxd4 23.Rxd4 f5! 24.Rxd6 Qxd6!
The problem. Black obtains two rooks for the queen and the white king finds itself far too exposed.
25.Nxd6 Rxe1+ 26.Bf1 Ne5 27.c5+ Kh7 28.f4 Nf3+ 29.Kf2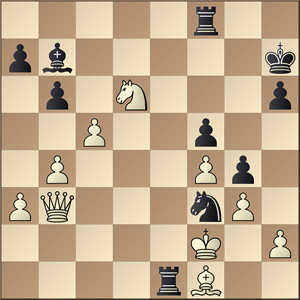 Jones now wrapped up matters with a simple tactic.
29…Rxf1+! 30.Ke3 Re1+ 31.Kf2 Re2+! 0-1
— Malcolm Pein, ECF International Director
Replay