— from Stephen Greep (Hull CC) and Mark Jordan (ECF Publicity Manager)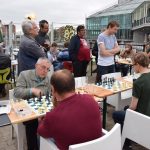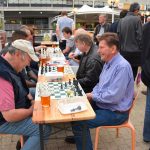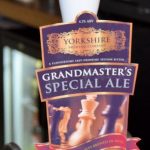 The second ECF Chess master @ The Local event, organised in collaboration with Hull CC, took place at Furley @ Co in Hull on Thursday August 11th and the star of the show was International Master and Grandmaster prospect, James Adair, from York. The venue, a popular bar with a high reputation for its craft beer and food, is located in a converted industrial building in Hull docklands and provided an ideal environment for this sort of event.
On a warm but rather windy evening around 60 people turned up to play chess. The evening got off to a good start with the introduction of a specially named beer from Yorkshire Brewery, "Grandmaster Ale" and by the end of the evening, somewhat helped by 36 free pints available through local sponsorship, the bottom of the barrel was in sight! There was a hard core of local club players but during the evening over 30 members of the public of all ages joined in. The event was advertised on Furley & Co's Facebook and Twitter, a poster was on display at the venue and elsewhere weeks beforehand (several were stolen from display so it must have been good!) and on the morning of the event the Hull and District Chess Association's President and Secretary, Steve King and Stephen Greep, were interviewed on Radio Humberside's popular "Burnsy Show". The interview, which was scheduled for 10 minutes but went on for 15, not only helped to publicise the event but touched on broader chess topics and chess in general in Yorkshire and the UK.
The visibility of the event was much helped by the presence of a giant chess set which proved very popular with the public. The main event was a 15 board "rolling simultaneous" performed by James in which opponents were replaced as boards became available. He remained undefeated throughout the event and was only prevented from achieving a 100% score by one of Hull's top players, John Cooper (201), who managed a draw. Three Best game prizes of £10, judged by James, were rapidly converted into Grandmaster ale! Apart from the club players quite a few members of the public took James on and enjoyed the experience. Aside from the simul, clocks and additional boards were available and plenty of blitz and rapidplay was on show, proving to the uninitiated that chess does not have to be a slow game. Some members of the public really got in to the swing of things, as evidenced by the "Champagne game" (see photos), and a fair number of people took part who had not heard about the chess and had just popped in for a drink.
As the evening drew on many people took advantage of the warmer conditions inside Furley & Co, but even late into the evening people were still playing under the street lights outside.
Over 3 hours of public chess enjoyed by all: a great chess evening!
ECF are keen to sponsor a number of these events with some already scheduled. Any local clubs or associations who would like to see a similar event organised in a suitable venue should contact us at manager.publicity@englishchess.org.uk. Don't delay though as funding only allows so many of these events.