— by Mark Jordan, Manager of Publicity Email: manager.publicity@englishchess.org.uk
British Blitz Championships
IM Ameet Ghasi won the British Blitz Championship with a score of 9/11 on Sunday 31 August. Sharing 2nd were GMs Tamas Fodor and Keith Arkell and FM Charles Storey. There has been a short delay in officially announcing the results as an appeal was made which may have affected the placings. Having been considered carefully by the Appeals Committee the claim was set aside and the results remain the same — http://chess-results.com/tnr231120.aspx?lan=1&art=1&rd=11&flag=30&wi=821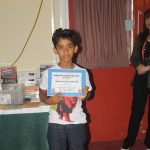 Arjun Kolani wins the Neil Carr Scholarship Prize
9-year-old Arjun Kolani (left, picture by Arnold Lutton) has been awarded the Neil Carr Scholarship Prize for coming equal 1st in the Under 10 section of the British Championship. The prize is in memory of Neil Carr who, tragically, died in May 2015 at the young age of 47. He was one of the strongest junior players in the country in the late 70s and early 80s and may well have become a GM had he decided to pursue a career in the game.
The prize entitles Arjun to one year of funding for the 3 year ECF International Programme which he will begin in January 2017. He achieved his win and prize on the very day of his 9th birthday. The joint winner, Jacob Yoon, is already on the International Programme.