Viktor was born 23 March 1931 and died 6 June 2016 [picture from Getty Images]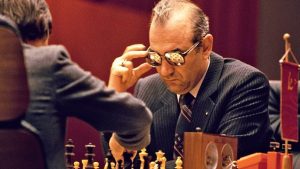 He was a great grandmaster and is often referred to as the strongest player never to have been World Chess Champion. His indomitable will to win was possibly forged during The Great Patriotic War. He survived the siege of Leningrad, although hospitalised during it with malnutrition.
He played in Hastings in 1971-2 and tied for first place with Anatoly Karpov with 11/15. At that time the British took up the last 5 places. I remember playing bridge with both K's at The Queen's Hotel. My partner, Michael Franklin hadn't played for 10 years. I put him into a small slam. It depended on a finesse. This Michael correctly took, but Viktor failed to cover, much to the amusement of the spectators. He never did get better at that game. So, at that time, Tolya and Viktor were quite friendly.
All that was to change in 1974 when they met in a match to decide who would be challenging Bobby Fischer. The Soviet authorities felt the younger man had the better chance and put their resources behind him. Two of Viktor's principle assistants became Ray Keene and Michael Stean, neither yet GMs. The match concluded 3 wins for Tolya and 2 for Viktor with 19 draws. Of course, in retrospect it proved to be the World Championship as Bobby didn't defend his title.
In 1976 Viktor defected and eventually settled in Switzerland. His wife, Bella, and son, Igor were not allowed to leave for some years. Despite this, Viktor again fought his way through to the World Championship match. Michael and Ray were again his seconds and he also had support from his mistress, Petra Leeuwerik, who had herself spent 10 years in a Gulag. The match took place in Baguio City in the Philippines in 1978. The bitterness perhaps even exceeded the 1972 match and attracted huge publicity. It was the first to win 6 games and Tolya was 5-2 up. But Viktor again fought back and levelled the match at 5 wins each. As is not uncommon in sports, he lost the very next 32nd game.
Again he challenged in Merano in 1981, but this time at 50 he wasn't good enough and lost heavily to the younger man. The musical 'Chess' is based partly on these two matches and his relationship with Petra who he married after divorcing Bella. They then remained together until the end.
Viktor played in the 1980 Phillips & Drew/GLC Kings Tournament. The Soviets refused an invitation. By now the English were a force to be reckoned with. Ulf Andersson, the late Tony Miles and the late Viktor Korchnoi finished first equal with 8.5/13. 14 year old Nigel Short was invited. When the second round took place he was still adjourned against Tony in a much better position. The media attention was enormous. It was quite impossible to start play. I asked the two of them to play a pretend few moves, pressing the clock, for the benefit of the cameramen. This they willingly did. We then reset their game and started play on all boards a few minutes later. I suggested to the youngster that he go to the toilet and wash his face. This he did and, when he returned, Viktor picked up the clock and apportioned the elapsed time equally. A small act of kindness and generosity that I have never forgotten. Looking at the Daily Mail photo of that scrimmage, brings back memories of how much attention we were able to generate for chess in those days.
The next great occasion featuring Viktor in London was the Acorn Computer Candidates Semi-finals in 1983. The two matches were Kasparov v Korchnoi and Smyslov v Ribli. Michael took Viktor to Oxford to consult the late Adrian Hollis about the 4 Qc2 Nimzo-Indian line. Garry won the match, although Viktor did take the lead after the first game.
There have been many other chess events in England that Viktor competed in such as the Lloyds Bank Masters and 4NCL. He also played in Gibraltar several times and the first World Senior Team Championship in The Isle of Man in 2004, which I organised and played in. Viktor kibbitzed my game against the late Bob Wade and made some comments afterwards. Viktor's scoresheets were almost completely illegible. But John Saunders said he was perfectly willing to help him input each game.
He had a perfectly justified reputation as being something of a fierce character. But then one remembers these small acts which demonstrate another aspect of his nature.
Our condolences to his son, Igor, and wife, Petra.
— Stewart Reuben