18 Mar 1933 – 11 Dec 2014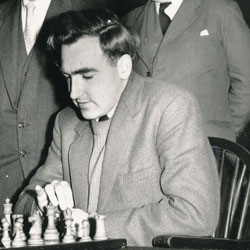 FIDE and British Master P.H. Clarke will be best remembered as biographer to Tal and to Petrosyan, but he was so much more. The young Clarke played for Ilford CC in the London League and for Essex at county level. Doing national service he was to learn the Russian that was to so shape his writings. For a brief period in the late 1950s, and early sixties, he was the number two player in England, ahead of the vastly more experienced Alexander and Golombek. He played, of course, below Jonathan Penrose, a partnership that bore fruit when preparing openings; latterly they both became Correspondence Grandmasters.
At the British Championships itself he finished second on his first appearance; he was to tie for silver medal on no less than five occasions, appearing, almost without a break for thirty years, a run that ended in 1982. He represented the BCF – as it then was – in eight Olympiads, playing on top board in 1966.
The Clarke family moved to the West of England in the late Sixties. PHC played in thirteen WECU Championships, and lost only twice. As a player he could be cautious, agreeing too readily to draws. Accuracy and respect meant more to him than ambition. The biographer became a journalist as illness cut short his playing career. In his time he beat Larsen, Penrose and Szabo.
In 1962 he married BH Wood's daughter, Peggy. They had three daughters. In 1975 my mother happened across Peter and Peggy on Morecambe prom.  "Never" she was later to tell me, "have I seen a couple more in love."
– see more at: http://www.britishchessmagazine.co.uk/obituary-ph-clarke/#sthash.TObPwcnh.dpuf
Text and picture reproduced with the kind permission of the BCM

Funeral details (added 22/12/14)
Monday 29th December
Firstly: Graveside Committal 2:30 pm at Poughhill Cemetery, Poughill, Nr Bude, Cornwall EX23 9EL
Parking near St Olaf's Church, Poughill
Afterwards at the Bush Inn, Crosstown, Morwenstow, Bude, Cornwall EX23 9SR where there will be a short, non-religious memorial service and a collection …  no flowers or mobile phones, please