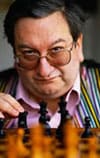 Over the past few months The Times has considerably increased its online coverage, to complement the daily print version, with Ray Keene's chess column.
Now the online version of The Times includes –
1) an on-screen interactive daily game – no board or pieces required to play it through
2) the daily winning move puzzle
3) considerably enhanced prizes for every Saturday chess column
4) monetary prize for The Sunday Times weekly Spot the Move puzzle
5) an online archive of previous chess columns – also interactive
6) introduction of a regular Twitter site. Go to www.twitter.com then @times_chess and press the follow button. This service is absolutely free, and readers receive Ray Keene's regular news updates, tips on how to improve your results plus an additional instructive game of the day (also on-screen and interactive), with Ray's notes.
At weekends, @times_chess gives between 4 and 6 extra on-screen instructional games. So far, @times_chess is followed by around 700 chess fans and is one of the fastest-growing Twitter sites devoted to chess