Congratulations to the Kent U11 Team for scoring an unprecedented 51.5 out of 60 to take the National EPSCA title in style. This is the highest score achieved by any team in recorded history, since the competition began in 1967.
The triumphant team was Rohan Shiatis (Team Captain), James Meredith (Dulwich College Prep School), Alexander Selway (Eltham Junior School), Arul Gupta (Eltham Junior School), Michael Gilbert (Mersham Primary School), Girinath Haridas (Dulwich College Junior School), Zara Hussain (The Granville School), Anantha Anilkumar (Cumnor House School), Jackson Wen (Bickley Park Prep School), Zakary Warsop (Dulwich College Prep School), Rohan Datta (Fosse Bank School), Peter Mant (Townsend Primary School), Francesco Bernardini (Bishop Challoner School), Sachin Balaji (Eltham College Junior School), Adam Fidler (Amherst School), James Elgar (Amherst School), Ryan Cherian (Dulwich College Junior School), Daniel Carstairs (Southborough Primary School), Hasan Rahij (Home Educated), Ammar Kisat (Amherst School), Ethan Staunton (Dulwich College Junior School), Zeeshan Kisat (Amherst School), Jesse Creasey (Dulwich College Prep School), Kiran Shiatis (Home Educated), with a special mention to Harry Chathli and Danyal Warsop who also helped the team to reach the finals.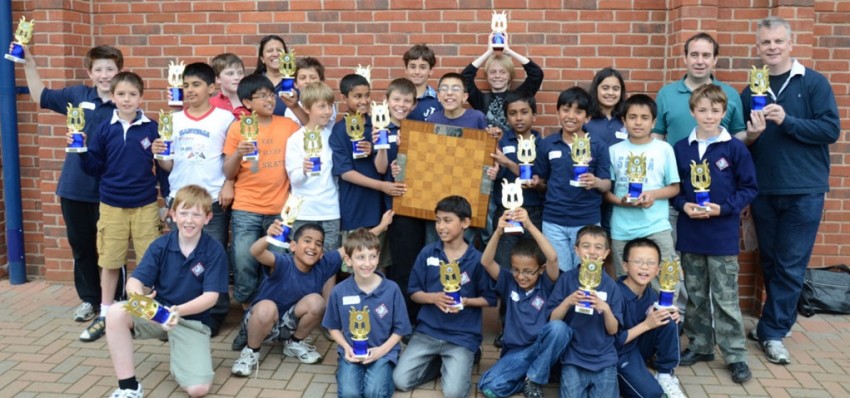 It was a very exciting day and a pleasure seeing so many children representing counties from all around the country, having fun playing chess.
The Kent team arrived in Northampton on time and raring to go. It was a solid and respectable start for many of the teams, which saw Wey Valley and Barnet leading the way after round 1 with a score of 16 out of 20. Kent were nicely tucked in third place just half a point behind.
After having missed out on the title for the last two years by just half a point, this result brought out the fighting spirit in the Kent Juniors and the team put all their training and discipline into practice to secure an even better second round performance achieving a score of 17.5 out of 20. At this point, Wey Valley still led the way with 33.5 out of a possible 40, with Kent advancing into second place, although still half a point adrift on 33, closely followed by Barnet and Sussex both on 30.5 points.
A truly exceptional third round performance by the Kent juniors saw them score an awesome 18.5 out of a possible 20 to take the National EPSCA U11 title.
With this excellent, record result, the Kent Juniors have cemented their reputation for currently being one of the most consistent and formidable teams in the country.
Final scores were as follows:
1st Kent  – 51.5
2nd Wey Valley – 49
3rd Sussex – 45.5
4th Barnet – 44.5
5th Berkshire – 36.5
6th Nottinghamshire – 36.5
7th Hertfordshire – 34.5
8th Richmond – 33.5
9th Essex – 30
10th Birmingham – 29
11th Cheshire and NW – 23.5
12th Northamptonshire – 23
13th Yorkshire – 22.5
14th Oldham – 20
15th Lancashire – 18
16th Manchester – 17
17th Lincolnshire – 14
18th Staffordshire –  11.5
The venue was excellent and everything flowed smoothly. Many thanks to EPSCA, the organising team in Northampton for such a lovely day and to Chris Ward GM for presenting the trophies. Also, a very big thank you to all the children and parents who took part and helped out.
– Krishna Shiatis and Michael Gilbert, KJCA U11 team managers