The National Clubs Finals were split between Golden Lane in the Barbican and Syston Social Club on July 12th 2009. I am grateful to Brian Smith and David Sedgwick for taking care of the events in London whilst Cyril Johnson controlled the matches at Syston for me.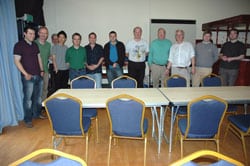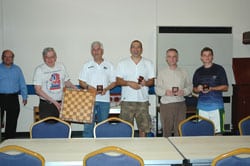 The Golden Lane Community Centre hosted 4 matches. The final match of the Open, which would determine the prizes saw Wood Green retain their title by 4-2 with wins by John Emms and Richard Pert with draws by Nick Pert, Chris Ward, Neil MacDonald and Desmond Tan, a remarkable achievement in not losing a match against a strong Mushrooms for whom Ian Snape, Ron Harris, Bill Linton and David Wilson drew, all against higher rated opponents.
The Major final saw another victory without losing a game by Wanstead and Woodford 4-1 against St Albans. Ian Hunnable, Larry Marden and Philip Staniland all won with draws by Ian Reynolds and David Spearman. St Albans fought valiantly but draws by Jacek Winter and Jeremy Fraser-Mitchell were not enough.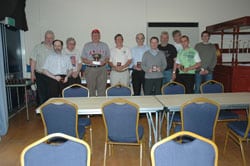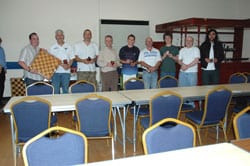 Snodland followed their win of the Small Club of the year with a close win by 2½ – 1½ against Hackney. Wins for the men of Kent by Matthew Bunn and Chris Marshall with a draw by David Nicholls overcame a spirited defence of their title by Hackney for whom Mark Rivlin won and Dashiell Shaw drew.
The U100 Plate between Forest of Dean and Thurrock was won by the men of Essex 3½ – ½ with wins by Andrew Offord,
Robin Smith and Ron Prickett with a draw by Mike Bradford whose draw with Raymond Francis was scant consolation for the Foresters
An excellent set of matches, in a good venue well organised by Brian Smith and controlled by David Sedgwick, to whom my grateful thanks
At Syston, the three matches were all interesting. The U100 Championship match between Hackney and Bushbury was decided after an hours with wins by the London team on Boards 1 and 3. A further win on board 4 meant that the final win by Bushbury was a consolation, yet all fours were very close games. Mr A Schroeder, the Bushbury top board put in a remarkable performance, the oldest player in this event for many years at the age of 94.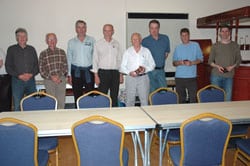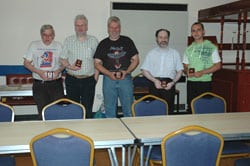 For a long time, Cyril thought we might have a replay in the Minor Plate final between Bedford and Newark, especially as the bottom boards were drawn and the other games also looked drawish. Eventually Bedford won the top board and the match, but Newark ensured that the match was decided on board count by winning board 2.
The Major Plate final went right down to the wire. An early draw on board 4 in a double edged position was followed by a win on time for Wood Green on board 5, followed by another in for the London holders on board 3. Bushbury won an exciting game on top board, leaving it all down to a very open game on board 2, with the arbiter keeping score in anticipation of a 10.2 claim .Bushbury's board 2, whilst being very short of time, ignored a draw by repetition which would have cost the match and then won his opponent's queen. The power of two passed pawns on the 6th coupled with mutual time shortage caused a flurry of moves and an agreement of a draw, which meant that Wood Green retained their title by 3-2
– Julie Johnson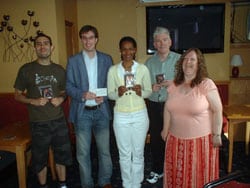 OPEN – final match of Round Robin – WOOD GREEN versus MUSHROOMS
| | | | | | | |
| --- | --- | --- | --- | --- | --- | --- |
| BD | WOOD GREEN | GRADE | SCORE | MUSHROOMS | GRADE | SCORE |
| 1 | Nick Pert | 240 | ½ | Ian Snape (W) | 193 | ½ |
| 2 | John Emms (W) | 231 | 1 | Chris Briscoe | 193 | 0 |
| 3 | Chris Ward | 231 | ½ | Ron Harris (W) | 178 | ½ |
| 4 | Neil McDonald (W) | 223 | ½ | Bill Linton | 169 | ½ |
| 5 | Richard Pert | 227 | 1 | Rory O'Kelly (W) | 172 | 0 |
| 6 | Desmond Tan (W) | 196 | ½ | David Wilson | | ½ |
| | | | 4 | | | 2 |
MAJOR FINAL – St ALBANS versus WANSTEAD & WOODFORD
| | | | | | | |
| --- | --- | --- | --- | --- | --- | --- |
| BD | St ALBANS | GRADE | SCORE | W & W | GRADE | SCORE |
| 1 | Jacek Winter (W)* | 169 | ½ | D Ian Reynolds | 174 | ½ |
| 2 | Chris Majer | 169 | 0 | Ian Hunnable (W) | 172 | 1 |
| 3 | Jeremy Fraser-Mitchell (W) | 162 | ½ | David Spearman | 160 | ½ |
| 4 | David Bower | 145 | 0 | Larry Marden (W) | 160 | 1 |
| 5 | Ian Cross (W) | 122 | 0 | Philip Staniland | 128 | 1 |
| | | | 1 | | | 4 |
MAJOR PLATE FINAL RESULT – BUSHBURY versus WOOD GREEN
| | | | | | | |
| --- | --- | --- | --- | --- | --- | --- |
| BD | BUSHBURY | GRADE | SCORE | WOOD GREEN | GRADE | SCORE |
| 1 | L Grinsell | 182 | 1 | David Cutmore | 170 | 0 |
| 2 | A Cromblehome | 170 | ½ | Ali Kikoyo | 168 | ½ |
| 3 | D Laight | 150 | 0 | Martin Cutmore | 170 | 1 |
| 4 | R Parry | 139 | ½ | David Keen | 155 | ½ |
| 5 | P Baggott | 138 | 0 | Dervish Kiamal | 129 | 1 |
| | | | 2 | | | 3 |
MINOR FINAL – HACKNEY versus SNODLAND
| | | | | | | |
| --- | --- | --- | --- | --- | --- | --- |
| BD | HACKNEY | GRADE | SCORE | SNODLAND | GRADE | SCORE |
| 1 | Dashiell Shaw (W) | 138 | ½ | David Nicholls | 150 | ½ |
| 2 | Robin Oakley | 131 | 0 | Matthew Bunn (W) | 118 | 1 |
| 3 | Pepe Vives (W) | 118 | 0 | Chris Marshall | 118 | 1 |
| 4 | Mark Rivlin | 109 | 1 | David Fowler (W) | 112 | 0 |
| | | | 1½ | | | 2½ |
MINOR PLATE FINAL RESULT – BEDFORD versus NEWARK
| | | | | | | |
| --- | --- | --- | --- | --- | --- | --- |
| BD | BEDFORD | GRADE | SCORE | NEWARK | GRADE | SCORE |
| 1 | G Valerio | 138 | 1 | G Ladds | 148 | 0 |
| 2 | J Harbour | 131 | 0 | R Blake | 140 | 1 |
| 3 | C Hill | 128 | ½ | G Wollerton | 122 | ½ |
| 4 | N Walker | 83 | ½ | G Harper | 82 | ½ |
| | | | 2 | | | 2 |
U100 FINAL RESULT – BUSHBURY versus HACKNEY
| | | | | | | |
| --- | --- | --- | --- | --- | --- | --- |
| BD | BUSHBURY | GRADE | SCORE | HACKNEY | GRADE | SCORE |
| 1 | A Schroder | 112 | 0 | P Burgoyne | 122 | 1 |
| 2 | J Button | 113 | 1 | D Perryman | 101 | 0 |
| 3 | R Brodie | 90 | 0 | S Tracey | 98 | 1 |
| 4 | S Jones | 75 | 0 | M Gonzalez | 50 | 1 |
| | | | 1 | | | 3 |
ECF NATIONAL CLUB U100 PLATE – FOREST of DEAN versus THURROCK
| | | | | | | |
| --- | --- | --- | --- | --- | --- | --- |
| BD | Forest of Dean | GRADE | SCORE | THURROCK | GRADE | SCORE |
| 1 | Raymond Francis | 111 | ½ | Mike Bradford (W) | 116 | ½ |
| 2 | Steve Rogers (W) | 111 | 0 | Andrew Offord | 87 | 1 |
| 3 | Ian Jenkins | 69 | 0 | Robin Smith (W) | 81 | 1 |
| 4 | Ron Buffton (W)* | 60 | 0 | Ron Prickett | 74 | 1 |
| | | | ½ | | | 3½ |
[* – estimated grade]