— from Geoff Brown, General Secretary, Sheffield & District Chess Association

Face-to-face chess returned to Sheffield last Sunday for the first time in over a year. The last game played in the Sheffield and District Chess Association was a First Division clash between Chesterfield and Darnall & Handsworth on March 12th 2020. The Association's general secretary and tournament controller Geoff Brown captained his Darnall side to victory on that occasion and was involved again organising two Covid-controlled mini-events outside Sheffield public houses at Kelham Island.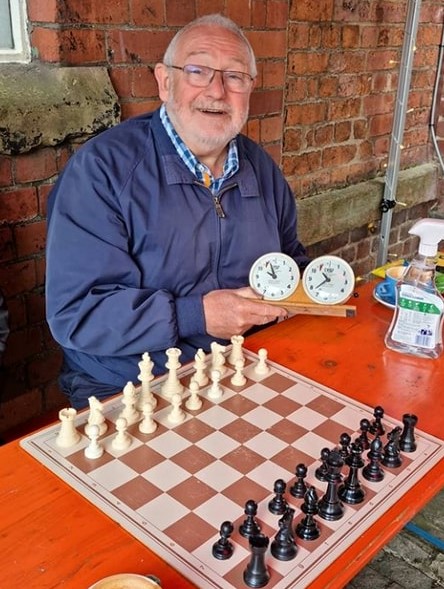 SASCA's Jonathan Arnott won the Millowners Arms event with a maximum score while Brown and Ian Barker, also Darnall, were joint winners at Yellow Arch Studios. Just four players took part at each open air venue with the participants wearing masks, and ensuring boards and pieces were cleaned before and after each game. Also taking part at The Millowners Arms were Andrew Birtwhistle, from Hillsborough, Woodseats' Dan Sturman and Craig Chatterton from Darnall. Rotherham's Oliver Brennan and Nat Holroyd-Doveton were the other two players at the Yellow Arch event.
Local businessman and entrepreneur Liam Bardell said, 'It was great to be able to use my venues for this event, supporting and encouraging local chess.' After the success of the mini-competition it is hoped to organise further outdoor events on a larger scale, involving more venues, with the next one provisionally scheduled for May 23rd. More than 30 teams, and nearly 400 players, from Sheffield, Rotherham, Barnsley, Chesterfield and Worksop normally play in the league during the chess season but everything came to a halt because of the pandemic.
Geoff Brown said, 'We are only taking baby steps at the moment but all being well we can build up the numbers during the summer and providing there are no more lockdowns we are hoping to get back to something like normal in the autumn. People have been playing in online events but everyone thought it was great to be facing each other over the board again instead of playing via a computer screen.'
Main picture – Craig Chatterton (left) and Dan Sturman kicking off the event at The Millowners Arms | second picture – 'Can anyone remember how to set the increments on these things?'