Born 20th March 1955 in New York City – died 3rd November 2018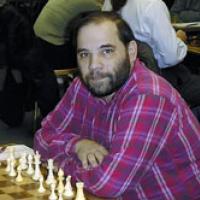 Eric was a player, trainer, arbiter, organiser and author. He was something of a polymath. His PhD was in linguistics. His musical performances included studying conducting in Vienna and working with a pop group when they played chess against their audiences.
I first met him in Malta at the Chess Olympiad in 1980. He was also coaching 10 year old John Jarecki who played for the British Virgin Islands. He was an arbiter in the sector of which I was in charge. Later he came to England and stayed for some time. He was heavily involved with the Kasparov v Kramnik match in Hammersmith in London in 2000. He was the arbiter at the Staunton Memorial at Simpson's in the Strand in 2005, 2007 and 2008. He was also one of the arbiters in Gibraltar 2006 and took over from me conducting an arbiters' course when I was hospitalised during the event. He also organised three internationals in Hawaii.
He wrote 100 chess books and was a major contributor to Batsford Chess Openings, as were Garry Kasparov and Ray Keene.
Sadly diabetes destroyed his health. According to him it was because he could not afford the meds. Eventually he lost three of his four limbs. This did not prevent him travelling, by himself, from California via London to Gibraltar where he played one last time in that great tournament. As my sister said, 'What wonderful spirit he showed making such a journey'. After his return he still coached chess and sometimes communicated by email.
Our condolences to his siblings
— Stewart Reuben