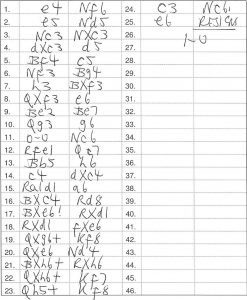 John was born in Bradford and attended Bradford Grammar School with his brother Andrew. He was a very strong chess player and moved to Kendal to work as Lake District Planning Manager.
We met in a county match between Yorkshire and Cumbria. John played the Marshall
Attack in the Ruy Lopez and won easily. He then gave me a lift back to Ambleside!
John and I were members of Windermere Club and we did well in the National Club event. For many years Windermere dominated the Cumbrian team Championships.
John had great qualities. He was a real gentleman and always willing to help younger players to improve.
My sincere good wishes to Sylvia, the family, and all his many chess friends and other acquaintances.
The funeral will be held at 1.00pm on Tuesday 5th December 2017 at Burneside Church near Kendal in Cumbria [MAP – please confirm with Peter Cloudsdale ]
Funeral Directors are Hayes and Parkinson of Kendal.
— Peter Cloudsdale, York, 24th November 2017
The score sheet above (click to enlarge) shows John's win over Bernard Cafferty in 1981 at the British in Swansea – a good example of John's strong play …