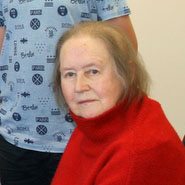 Margaret Eileen Elizabeth Clarke (born 29th October 1937, died 15th September 2018. She was the only daughter of Barry Wood OBE, proprietor and editor of Chess Magazine, organiser of the two week Chess Festival which ran for many years and one-time BCF FIDE Delegate. Peggy had three brothers who were, and in some cases still are, quite serious players. At least once, they played as a 6 player team in the National Club Championship.
In 1962, as Peggy Wood, she married the British Master, FM Peter H Clarke. With Hampshire's Gillian Moore, she tied for first place in the British Ladies in 1966, but circumstances prevented a playoff ever taking place.
She became an International Correspondence Lady Master. Peggy came 12th in the 1984-92 Ladies World Correspondence Championship. Her FIDE rating was 2060, but this is misleading as she was not internationally active this century. She was a Woman Candidate Master.
She was a finalist in 'Brain of Britain' and leaves three girls. She and Peter made their home in the West of England. Peter and Peggy founded Hexagon Equipment Ltd. But they did not restrict themselves to this, also selling books and running chess tournaments.
There is an amazing coincidence in her chess career — Peggy, Margaret E E Wood, after being a schoolgirl in the Midlands, went to Oxford University. Margaret E Wood, daughter of Frank Wood lived in Oxford, but went to London University. They were of a very similar age and playing strength. Imagine the problems of the graders in the 1950s and 1960s! Of course, Peggy solved the problem by marrying Peter Clarke, long-time England number 2. Margaret E married the English number 1, Jonathan Penrose.
Peggy was a delight to be around, as incidentally was Margaret. She also did some chess arbiting work at her father's festival. Peggy was also the organiser of at least one British Championship.
Our condolences to her brothers, daughters and grandchildren.
— prepared by Stewart Reuben and James Pratt