Finals held at Imperial College, London 29th March 2017
Report and results [Report compiled by Trefor Thynne (Torquay Boys' G.S.), 30.3.17]
For the fourth time since the inauguration of the competition in 2014, the ECF held the finals of its Schools' Team Challenge in the Maths Learning Centre at Imperial College, London. This event, the brainchild of ECF Secondary Schools' Chess Manager, Neill Cooper, is aimed at stimulating secondary schools chess where little or no chess activity has been detected and is certainly having an impact with some of the regional qualifying tournaments attracting over a dozen teams to an event which can be run during a single afternoon or after-school session.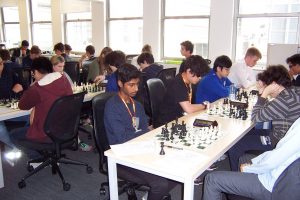 In the finals of this fast-moving competition players had 10 minutes each per game plus a 2-second increment per move so that no game lasted more than 25 minutes and five rounds could be fitted into a three hour session.
Fourteen regional winners sent teams to the London final representing an impressive geographical spread with teams from as far away as West Lothian (Scotland), Middlesborough, Canterbury and Torquay. As last year the standard of the top teams was frighteningly high – top seeds Hampton School had a total grade of 743 for the four players with three-time winners Manchester Grammar not far behind on 731. In all, eight of the fourteen teams had an average grade of 140 or more and at least one game was contested between players graded over 200.
In contrast to 2016 when Manchester G.S. ran away with the event, the outcome of the competition was in doubt until the final round with half a point separating four teams (Hampton School, Manchester G.S., Queen Elizabeth School Barnet and Reading School) going into the final round but while Manchester and Barnet fought out a 2-2 draw Hampton [below, with Prof Mestel] beat Reading 3½ – ½ to capture the title.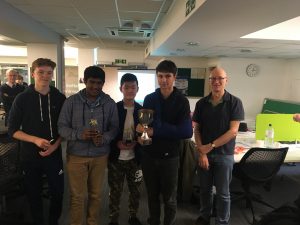 A very enjoyable afternoon of rapidplay chess for all participants, win or lose and a most worthwhile addition to the schools' chess calendar as can be judged by teams' willingness to travel long distances to London to take part. Thanks are due to Arbiter Chris Howell for his calm management of proceedings, to Imperial College for the use of their excellent facilities and, of course, to Neill Cooper for his efficient management of the event from its inception.
The results were as follows …
1st: Hampton School 15½ points (out of 20)
2nd Queen Elizabeth School, Barnet 13½
3rd Manchester GS 13
4th/5th= Reading School; Sir Thomas Rich's GS, Gloucester 12½
6th Millfield School 11½
7th Mill Hill School 11
8th/9th = Torquay Boys' GS; Yarm School, Middlesborough 10½
10th Wilson's GS, Wallington 8½
11th Simon Langton GS for Boys, Canterbury 8; 12th Linlithgow Academy, West Lothian, Scotland 6; 13th Basildon Upper Academy, Essex 5½; 14th Bourne GS, Lincolnshire 2
---
1 Thames Region – Basildon Upper Academy, Saturday 1st October 2.00 – 5.00pm
Contact: Jason Vitone Email: jvitone@basildonacademies.org.uk
Winner: Basildon Upper Academy, 6 teams from 3 schools played.
2 South London Region – Wilson's School, Wednesday 12th October 4.00 – 6.30pm
Contact: Neill Cooper Email: nsc@wilsonsschool.sutton.sch.uk
Winner: Wilson's School, 10 teams from 7 schools played.
3 South West London Region – Hampton School, Wednesday 9th November from 4.30pm
Contact: Alasdair McBay Email: a.mcbay@hamptonschool.org.uk
Winner: Hampton School, 4 teams from 3 schools played.
4 East Kent Region – King's, Canterbury, Thursday 10th November 2.00 – 5.00pm
Contact: Jon Hutchings Email: jmh@kings-school.co.uk
Winner: Simon Langton BGS, 6 teams from 3 schools played.
5 West London Region – Eton College, Thursday 10th November 5.00 – 7.30pm
Contact: Justin Moston Email: j.moston@etoncollege.org.uk
Winner: Reading School, 2 teams from 2 schools
6 South Midlands Region – Radley College, Wednesday 23rd November 4.15pm – 6.30pm
Contact: Kevin Mosedale Email: kam@radley.org.uk
Winner: Magdalene College School, 8 teams from 4 schools
7 North East – Yarm School, Thursday 1st December 4.15 – 6.30pm
Contact: Michael Pointon Email: MIP@yarmschool.org
Winner: Yarm School, 6 teams from 3 schools
8 North West Region – Manchester Grammar School, Wednesday 11th January 4.30 – 6.30pm
Contact: Andrew Davies Email: A.R.Davies@mgs.org
Winner: Manchester GS, 2 teams from 2 schools
9 Essex Region – King Edward VI Grammar School, Chelmsford, Friday 13th January 2017
Contact: Tim Worrall Email: tworrall@kegs.org.uk
Winner: QE Barnet, 6 teams from 4 schools
10 South East London Region – Sevenoaks School, Tuesday 17 January from 3-6pm
Contact: Miss Y Yin Email: yxy@Sevenoaksschool.org
Winner: Sevenoaks School, 3 teams from 2 schools
11 Somerset Region – Millfield School, Tuesday 17th January 4.00 – 6.00pm
Contact: Matthew Turner Email: matthewturner@millfieldprep.com
Winner: Millfield School, 2 teams from 2 schools
12 North London Region Mill Hill County High School, Tuesday 24th January 2017 4.00 – 7.00pm
Contact: Sarah Hilton Dennis Email: HiltonDenniss@mhchs.org.uk
Winner: Mill Hill County High School, 5 teams from 4 schools
13 East Midlands Region Bourne Grammar School, 31st January 2017
Contact: Phill Beckett Email: dep.manager.secondary@englishchess.org.uk
Winner: Bourne GS, 2 teams from 2 schools
14 West Region – Bristol GS, Monday 6th February 2017, 4 – 6.30 pm
Contact: Graham Iwi Email: giwi@bgs.bristol.sch.uk
Winner: Sir Thomas Rich, 14 teams from 7 schools
15 South West Region – Torquay Boys GS, Tuesday February 7th 2017
Contact: Trefor Thynne Email: tthynne@tbgs.torbay.sch.uk
Winner: Torquay Boys GS, 14 teams from 6 schools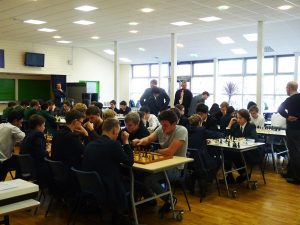 16 Lothian Region
Winner: Linlithgow Academy
---
Contact: Neill Cooper Email: manager.schools@englishchess.org.uk
Team Chess Challenge is a competition open to any British school with pupils in any of years 7 to 13 (English year groups). Each team taking part consists of four pupils who attend the same school and are in year 6 or above. Team Chess Challenge has been developed as a chess tournament which ALL secondary schools might like to enter.
The structure of Team Chess Challenge is that regional finals will be held on afternoons during the Autumn term of 2016 or early Spring 2017. The winning school at each regional final will qualify for the one day national final [this structure is based on the existing Team Maths Challenge run by the UK Maths Trust for year 8/9 pupils, familiar to many schools]
The hosting school will decide the details of the regional final. Typically at each regional final between four and sixteen teams will participate. Each school is allowed to enter one or two teams, except that the host school might be required to enter an extra team to ensure an even number of teams take part. Schools may only enter one regional final, and can only send one team to the national finals.
The regional final is organised as an afternoon tournament lasting between 2 and 3 hours. Each event shall have four rounds (unless only 4 teams are playing) each lasting 25 minutes. "Swiss" pairings will be used to so that in the later rounds the leading teams play against each other, and similarly the weaker teams play each other. Every game counts so the maximum score is 16 points. The winning team is that which scores the most points (out of 16). The host school can decide the starting time of their final, which may be during afternoon school or after school has finished. The principal aim of the regional final is that large numbers of school teams enjoying playing chess. The production of a winner to play at the national final is an important subsidiary to this main aim.
There is no entry fee for the tournament but the host school may make a small charge for the provision of the refreshments, and possibly trophies, at the regional finals. Games are not graded and there is no requirement for your team players to be members of any chess organisation.
I am delighted that the Mathematics Department of Imperial College, London will again host the finals on Wednesday 29th March 2017.