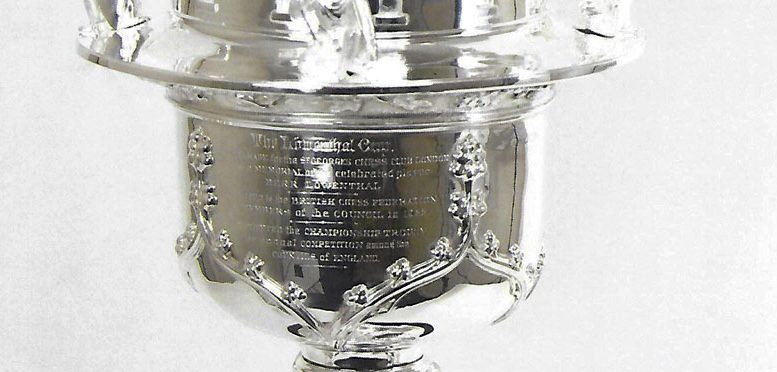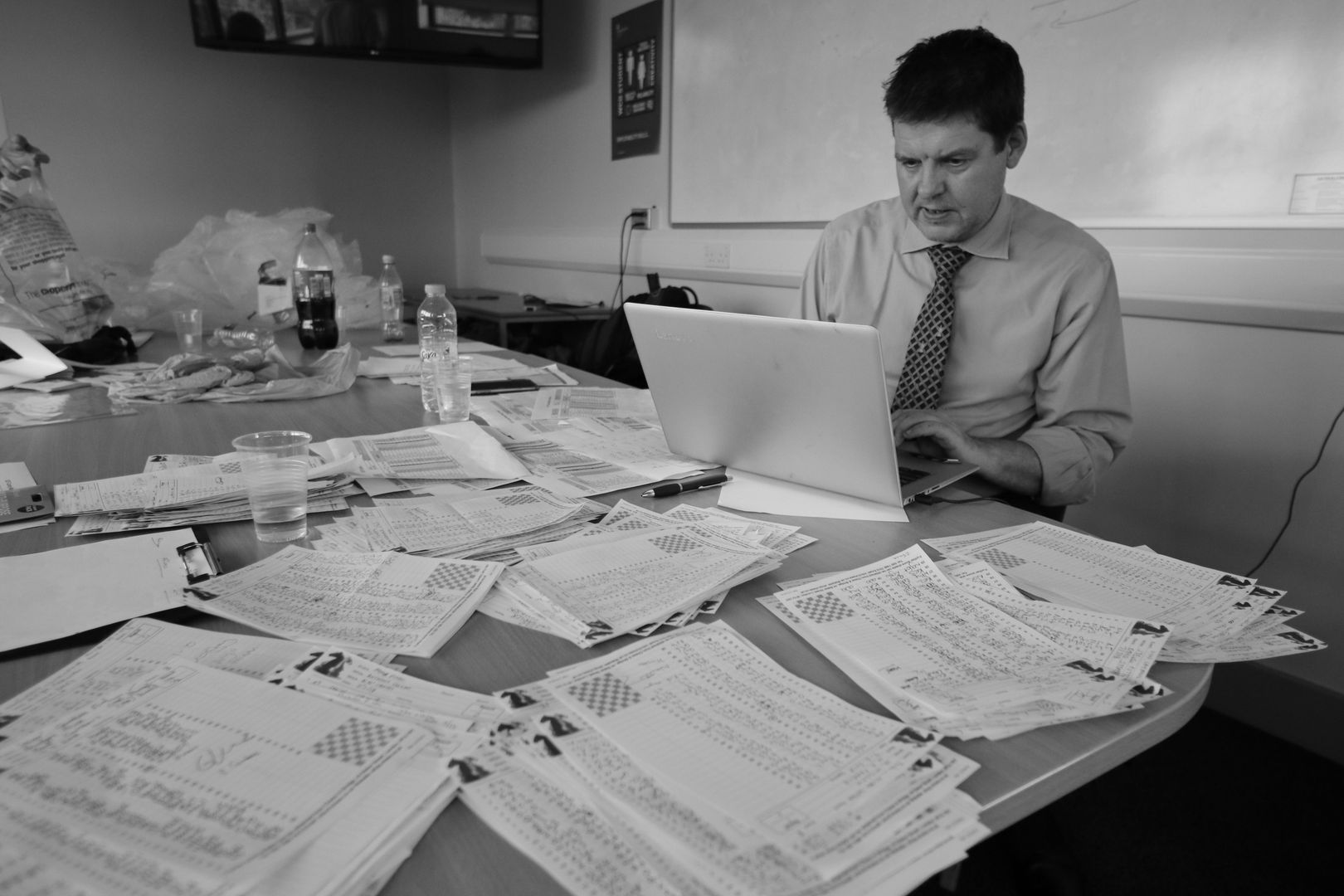 Above … the trophy awaits … and right, CoChamps Controller Mark Murrell
Introduction
On 12th December 1908 Middlesex and Yorkshire contested the first final in the Counties Championship. 99 years later, Yorkshire face Surrey on the 13th July, the 100th such contest.  Yorkshire are competing for their 9th title and Surrey their 8th.  Cambridgeshire, Kent, Lancashire, Middlesex and Yorkshire all have a hat-trick of successive Open titles to their credit. Only 12 counties have won the Open Championship, with Middlesex (29) and Lancashire (22) well ahead as to the most won.
The Championship has evolved over the years and will no doubt continue to do so.  It was once the preserve of Union Champions only (until 1958).  It took until 1921 for the competition to have a trophy (depicted above). There has even been a combined county team (Northumberland and Durham) back in 1932.  Now an end of season event, prior to the Second World War the Championship was held in the winter of the following season.  Second and third teams too have participated, with separate titles at different times for the most successful among these teams. The Clarendon Suite in Birmingham hosted the first Finals Day in 1996.
Today's grade limited competitions below the Open and Minor competitions were introduced in 1992 by the late Bryan Fewell, Director of Home Chess at the time, which gave the County Championship a new lease of life as weekend tournaments and rapid chess increased exponentially providing greater competition over the weekend, which was added to following the emergence of national weekend leagues. Bryan's rebranding of the competition expanded the number of competitions to cater for all playing abilities.
The Counties Championship one constant has been matches contested over multiple boards that distinguish this competition from any other. In the past 100 board matches were not uncommon. In modern times 16 or 20 have been the norm with 12 in today's U120 and U100 sections.
— Mark Murrell, Controller Counties Championship with acknowledgments to Anthony Fulton, Middlesex Open Captain and Southern Counties Chess Union archivist, whose personal take on the first 100 years of competition can be read here
Historical winners list (1908 – 2017) | Archive of previous years
Controller's Blog
Congratulations to all our National Champions and particularly to centenary Open champions Yorkshire, reinforcing their dominance of recent years with their 9th Championship.
Open  – Yorkshire
Minor – Lincolnshire
U180  – Essex
U160  – Middlesex
U140  – Yorkshire
U120  – Essex
U100  – Staffordshire
6:35 – All over – Middlesex hold their nerve to pip Suffolk, who looked like they had it sewn up earlier in the afternoon.  They will rue that no show (thought he was playing on Sunday!).  Yorkshire make it a Championships double too, and a comfortable one at that.  A quiet afternoon for the arbiting team, just as the Controller likes it.
6:15 – As you will no doubt have seen before me, Yorkshire are uncatchable in the Open too, but both their teams are still in play. U180s conclude with Lancashire winning the final game, to leave Essex with the narrowest of winning margins.
6:05 – U160s now down to the last game, 7.5 all. Essex U180 skip falls, but he will not be too disappointed.
5:55 – Middlesex draw level in U160s, just 3 to play. Just 10 games outstanding across all sections … make that 2 to play in the U160s and 9 to go.
Time for latest scores —
Open – Yorkshire 8 – 4 Surrey; U180 – Essex 8.5 – 5.5 Lancashire; U160 – Middlesex 5.5 – 6.5 Suffolk; U140 – Yorkshire 9.5 – 5.5 Worcestershire; U120 – Yorkshire 4 – 8 Essex (Champions); U100 – Staffordshire 7 (Champions) – 5 Nottinghamshire
5:40pm – Middlesex pull one back in the U160s, just one behind Suffolk now with 4 games to play.
5:30pm – Final scores in the 12 board matches —U100 – Staffordshire 7 – 5 Nottinghamshire; U120 – Yorkshire 4 – 8 Essex
5:25 pm – Essex too see one team home, just the U180 skip and President in play! Shortly followed by their U120 team to make it a double celebration, acting skip Andrew Offord scores the win needed (board count was against them of course).
5:15pm – Yorkshire have one team home, another U140 win takes them over the finish line. Suffolk extend their lead in the U160s, 2 up with 5 to play.
5:05pm – Staffordshire U10os over the winning line, just 1 game in play there. In the U120s, Essex 2 up with 2 to play. Worcestershire land their first win as they pull one back in the U140s, still lots to do. No change in the U160s. With wins for both sides, Essex are 2 up with 4 to play in the U180s.
4:50pm – Essex take the lead in the U180s for the first time this afternoon, but lose ground in the U120s (1 up, 3 to play there). Yorkshire on the cusp in the U140s (6 up with 6 to play) and with a win a piece in the U160s. Suffolk maintain their slender advantage.
4:40pm – Essex U120s and Yorks U140s extend their leads. In the U100s down to the last two games, 6 – 4 to Staffordshire.
4:30pm – All level again in the U100s, just 4 games to go. Essex hanging on to their slender point lead in the U120s with half the results in, and Yorkshire win two to pull away in the U140s (3 up). A flurry of results in the U160s including two wins from Suffolk takes them into the lead and Essex gets its first win to draw level in the U180s.
4:00pm – With half the U100 results in, Nottinghamshire are pulling clear, two ahead.
3:45pm – It's a similar story in the U100s for Nottinghamshire.
3:30pm – Essex U120s level the score and then quickly take the lead. Not such good news in the U180s where an early loss is  conceded to  Lancashire.
3:20pm – First blood to Staffordshire in U100s and Yorkshire in U140s – far too many early draws in this section!
2:28pm – Sees the first result in, with an early win for Yorkshire in the U120s followed swiftly by a draw in the U180s where Lancashire play their fourth Essex team in this year's competition. An early draw too in the U100s, where Nottinghamshire stalwart Neil Graham was delighted for one of his teams to reach Finals Day in what is believed to be his last year at the helm.
Play gets underway at 1:33pm.   One hour from clock starts saw only one defaulted board, by Suffolk in the U160s.
Home Director, Adrian Elwin opened proceedings.  Respects were paid to the late Marcus Mission of Cambridgeshire and Bryan Fewell of Hertfordshire, whose contribution to the Counties Championships is noted on these pages.
In the Open, Surrey won the toss and elected to take black on odds, surely they were not thinking of the third tie-break?
Devon elected not to contest the Minor Counties, faced with tougher logistics than in previous years by reason of a more easterly venue, here at Kettering.  It was not possible to raise more than a 12 board team who were able to commit the whole weekend to the event (a particularly tough ask) against a very strong Lincolnshire team that was bang on the maximum permitted average over 16 boards, one of three such teams in the top half of the draw.
Photographs
For a suite of photographs by Stephen Forbes, click here