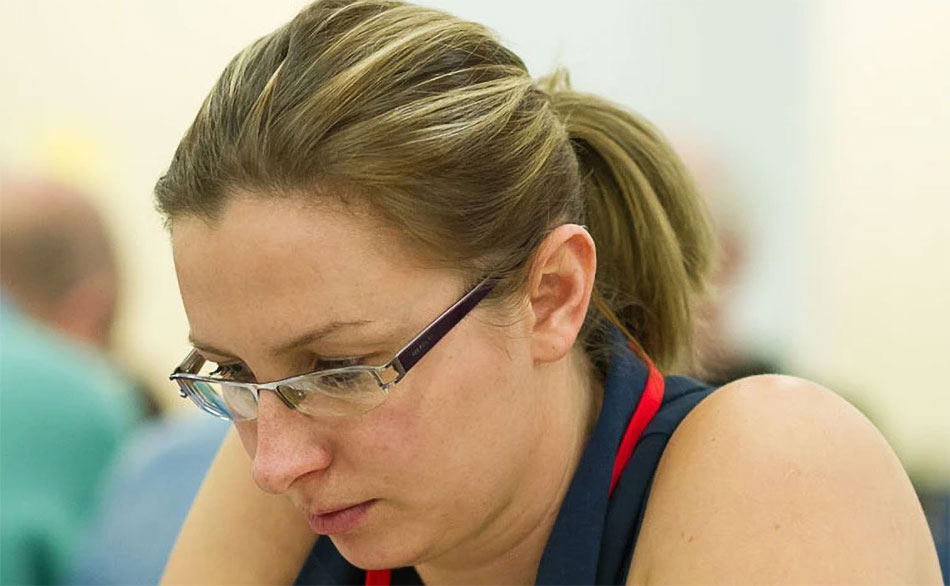 The ECF is committed to increasing the number of women and girls taking part in social and competitive chess. We are very pleased to see increasing numbers of female members and increased participation in ECF organised events, online clubs, and chess events in general. Our Women's Chess initiative is led by Director of Women's Chess Aga Milewska [email], pictured left
This community page features some helpful links covering membership opportunities and events which are specifically for female players and which add to the general events on offer for all chess players. We have also collected some links covering top female players, which we hope will be of interest, together with previous ECF women's events.
Latest news
International Women's Day | Shohreh Bayat IWOC | Queen's Gambit Scheme

Queens Gambit Scheme
The Netflix mini-series The Queen's Gambit has led to increasing interest from women and girls as part of a more general world-wide increase in the game's popularity. The ECF's new Queen's Gambit Scheme offers FREE Supporter membership for women over 18 to complement the Free Junior Silver membership for junior players. Further details may be found here – https://www.englishchess.org.uk/ecf-launches-the-new-queens-gambit-scheme/
Lichess ECF England Women's Team
The Lichess England Women's team is led by WGM Jovanka Houska and IM Lawrence Cooper. This is a well-subscribed club for women and girls on Lichess.org with a regular schedule of club and international events. More details can be found here – https://englishchessonline.org.uk/england-womens-team/.
To take part in ECF women's and girls' events you will need to have an account on Lichess.org and apply to join the Lichess women's and girls' team here – https://lichess.org/team/england-women. The ECF strongly recommends that parents of juniors wishing to join Lichess consider setting up their child's account in Lichess 'kid mode', which should disable chat and messaging – this can be set up from the 'account preferences/kid mode' option here – https://lichess.org/account/kid
She Plays to Win
She Plays To Win is a UK girls' chess project supported by the ECF and led by England Women's coach IM Lorin D'Costa, to try and encourage more girls to learn, play and benefit from chess. Every girl in England should have the opportunity to learn and play chess, which is recognised as having huge educational benefits. The ECF is very happy to support Lorin to work towards this goal and we are delighted that She Plays To Win is offering free chess training for girls. Further details are here – https://www.sheplaystowin.co.uk/
Links
The best female chess players of all time – https://www.chess.com/article/view/best-female-chess-players-of-all-time
Events
English Women's Championships – 2019 | 2018 | 2017 | 2016
11th CSC London Chess Classic English Open Women & Girls Rapid Championship
2019 Teesside Invitational
UK Blitz 2019 Women's Final
BOCC 2020/21 – British Women's Online Championship
The Caplin British Women's Online Championships was held as part of the BOCC 2020/2021, which ran from 18th December 2020 to 3rd January 2021. International Arbiter Shohreh Bayatt was Chief Arbiter for the whole event and organiser for the British Online Women's Championship, together with FIDE Arbiter Aga Milewska. You can find full details of the event on the ECF web page here – https://www.englishchess.org.uk/british-online-chess-championships/, and the games from the women's event can be found here – https://www.chess.com/events/2020-british-womens-online-championship
The first British Online Women's Champions are as follows —
Standardplay – GM Ketevan Arakhamia-Grant
Rapidplay – IM Harriet Hunt
Blitz – WIM Trisha Kanyamarala
Final standings can be found here for the three competitions —
http://chess-results.com/tnr543521.aspx?lan=1&art=0&flag=30 – Standardplay
http://chess-results.com/tnr543524.aspx?lan=1&art=4&flag=30 – Rapidplay
http://chess-results.com/tnr543525.aspx?lan=1&art=4&flag=30 – Blitz